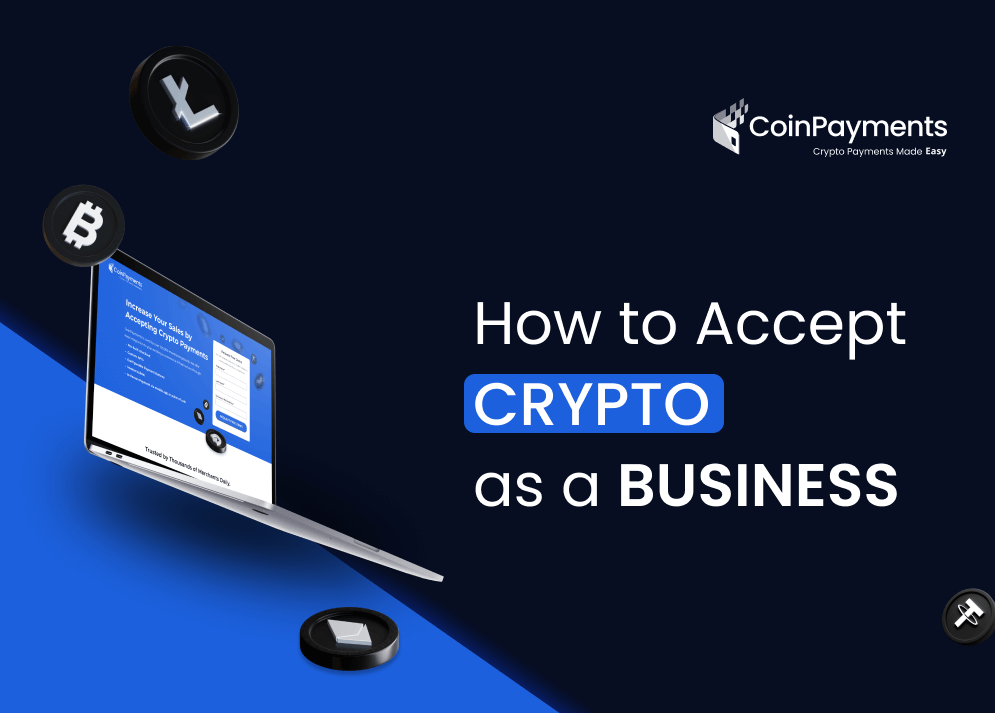 eCommerce business owners with their fingers on the pulse of the economy and forward-thinking business plans are starting to accept crypto tokens as forms of payment – and that's a good thing! Accepting crypto as a business can provide your eCommerce venture with several benefits, including increased payment flexibility, more profits, and more outstanding service to your customers.
However, it can be tough to know how to start accepting Bitcoin and other crypto tokens on your website if you haven't done it before. Today, let's break down how to accept crypto as a business in a step-by-step process.
Make a Crypto Wallet (or Use CoinPayments)
No matter what payment processor you use, you'll need a crypto wallet to store your Bitcoin or other crypto tokens and to pay other people with cryptocurrencies should you so choose. Crypto wallets are secure places where cryptocurrencies are stored and kept safe using encryption and other security features.
Most crypto wallets are entirely digital, but you can also invest in physical crypto wallets on thumb drives or similar devices that you can detach from the Internet at any point. Regardless, you have to have a crypto wallet before you can accept cryptocurrencies; otherwise, anyone trying to pay you in a crypto token will have nowhere to put their currency.
You can either sign up for a separate crypto wallet or use an all-in-one platform like CoinPayments, which provides a dedicated crypto wallet already connected to our various crypto token networks. Even better, using a crypto wallet on CoinPayments means you can control all of your crypto payments from the same dashboard and control interface.
In this way, exchanging your cryptocurrencies for other tokens is quick and straightforward, and you don't have to sign up for multiple services.
Sign Up for an Exchange
The next step is to sign up for a crypto exchange. While CoinPayments isn't a dedicated crypto exchange through and through, we facilitate exchanges for various crypto tokens with others we support. You can check out our list of supported crypto tokens right now for more information.
Alternatively, you can sign up for a crypto exchange outside of CoinPayments. Regardless, each crypto exchange just allows you to swap your crypto tokens for other coins or to exchange your cryptocurrencies for fiat currencies like the dollar, euro, and more.
Many business owners may wish to do this, at least for the next few years. While cryptocurrencies are rising, many B2B businesses or vendors may not accept crypto tokens as tender. In that case, you can accept Bitcoin or other cryptocurrencies, change them into dollars, then use those dollars to pay for what your business needs to thrive.
Get a Payment Gateway/Processor
The next step is to use a payment gateway and processor. These are two distinct parts of the electronic payment system:
A payment gateway encrypts payment data through your website or payment page and sends it to a payment processor
A payment processor then takes the information and adds it to the blockchain network for the token you have accepted.
The blockchain network performs vital work and verifies that the transaction is legitimate. The network adds the transaction to the broader blockchain if it is legitimate.
Then the sender's wallet is pinged, cryptocurrencies are retrieved, and the tokens are finally sent through the secure payment gateway to your business's crypto wallet.
Although this seems like many steps, it's swift and takes only a couple of seconds at most. Many crypto tokens pride themselves on less than a second from start to finish transaction times. You should see your cryptocurrency in your business wallet very rapidly – it's always much faster than receiving currencies through credit or debit card transactions.
Payment gateways and processes are available around the Internet, and CoinPayments offers both of these services on the same platform. It's just another way CoinPayments is the clear choice for merchants who want to start accepting cryptocurrencies ASAP and with a minimum of hassle.
Choose the Coins You'll Accept
There are thousands of different digital tokens your business can potentially accept. Before you start taking crypto tokens for your products and services, however, you should narrow down what tokens you will accept so you can list them on your website.
Generally, it's smarter for merchants to accept proven or popular cryptocurrencies like Bitcoin, Litecoin, Ethereum, and similar tokens, at least for now. These tokens are most likely to be accepted by other merchants and are most likely to be easily exchanged on your chosen crypto exchange platform.
In other words, tried-and-true cryptocurrencies are more likely to return as fiat currency if you wish to exchange them, so your finances will be safer in the long run.
Make Your Purchase Options Clear on Your Business Site
Once you've got your payment gateway, processing service, and other elements set up, it's time to revamp your eCommerce site and make sure your customers know that they can start paying with crypto tokens soon.
CoinPayments's merchant tools include several handy widgets and controls you can use to add payment buttons, QR codes, and other features to your website to facilitate fast payments. On your payment page, be sure to list what crypto tokens you have chosen to accept, so a customer doesn't try to pay with a lesser-known token and end up disappointed.
Experiment with your crypto payment button to ensure that the system works perfectly. If someone shows up to your site and tries to purchase with Bitcoin, only to run into a technical issue, they may leave and never return to your eCommerce business.
Start Accepting Crypto
After you set up your payment page and new crypto accepting buttons, you're all ready to go! You can start accepting crypto tokens for your products or services, then store those cryptocurrencies on your business's merchant wallet.
Once you've accumulated enough cryptocurrencies, you can either keep them in your wallet or exchange them for other tokens or a fiat currency of your choice. The sky's the limit once you can accept cryptocurrency!
If people don't start spending crypto right away, you can add that you accept Bitcoin and other cryptocurrencies to your marketing campaign. However, the odds are that if you accept crypto, word will spread relatively quickly.
At the same time, you shouldn't remove any other payment methods from your website. Even though cryptocurrency is becoming more popular, credit or debit card transactions are still the most popular way to shop online in most industries.
Why Accept Crypto in the First Place?
Simply put, you should accept crypto because you may receive more profits as a result. Business owners have known for a long time that the more payment options they provide their customers, the more customers they draw to their stores.
In essence, if you only accept US dollars, you'll only draw US customers to your eCommerce site. But if you accept US dollars, euros, and Bitcoin, you can potentially attract customers from each of those pools. The more ways you give to pay, the more pay you may very well receive!
Furthermore, crypto transactions are nearly instantaneous and give you a way to accept international business like never before. Since crypto tokens are becoming more popular around the world, it might be a wise business decision, in the long run, to start accepting these tokens sooner rather than later.
If you are ahead of the curve, any competitors in your niche who don't accept crypto tokens will start to lose business to you with time. Even if they pivot after the fact, they likely won't be able to recapture the business they lost because of their slowness.
Bottom line: cryptocurrencies are here to stay, and they will soon become even more popular payment alternatives than fiat currencies.
Summary
As you can see, getting started accepting cryptocurrencies is pretty easy, primarily when you use a merchant-friendly platform like CoinPayments. We pride ourselves on making it easy to start taking Bitcoin and other crypto tokens as forms of payment, especially for business owners who haven't delved into the crypto market before. Not only do we have a quick and simple sign-up process (that only takes a few minutes from start to finish), but we also offer in-depth tutorials and customer service specialists to walk you through setup. Contact CoinPayments today, check out our merchant tools, and set your business up for success by accepting crypto!