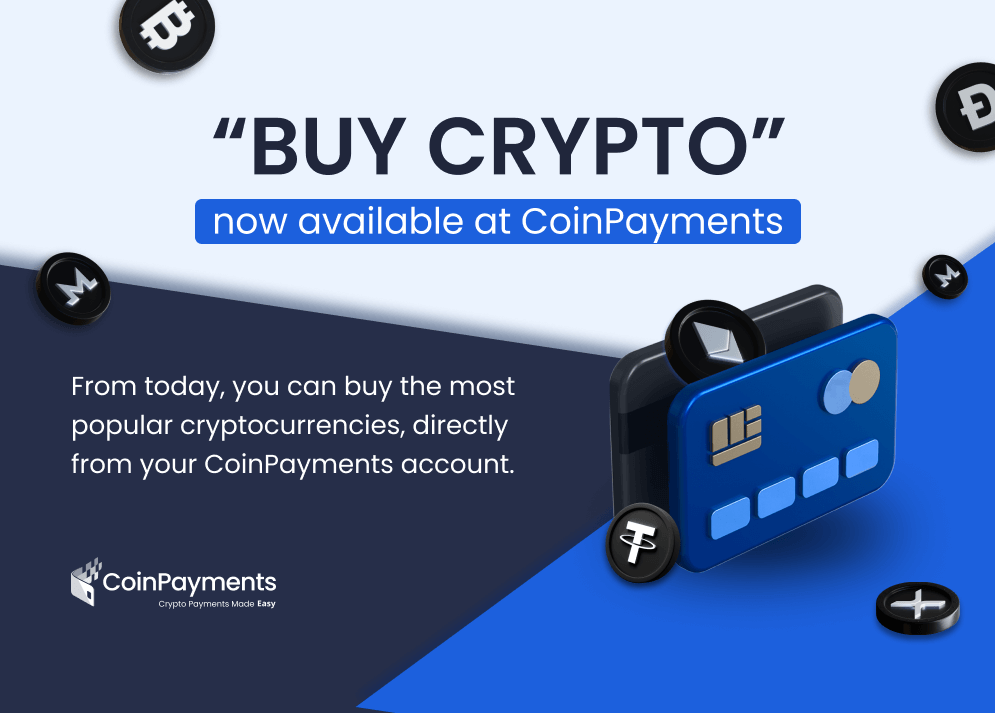 We are delighted to announce that, as of today, cryptocurrency purchases are available at CoinPayments.
Thanks to the agreement established with the well-known exchange Paybis, both merchants and users of the CoinPayments wallet will be able to buy crypto from their accounts.
Want to know more? Keep reading because below we break down everything you need to know about this partnership and the new "Buy Crypto" feature.
You can buy with your credit or debit cards up to 10 of the most popular cryptocurrencies including Bitcoin, Ethereum, Cardano, and stablecoins like Tether or USD Coin.
In addition, you can store more than seven different digital currencies in your wallet, or even sell Bitcoin directly through the methods mentioned above.
When will the new service be available on CoinPayments?
The "Buy Crypto" option will be activated in your dashboard from the 22nd of June 2022.
From now on, you will not only be able to accept crypto payments or store cryptocurrencies in the wallet, but also buy the most popular coins.
Important things to know about CoinPayments' Buy Crypto feature
Cryptocurrencies that can be purchased
At the moment, the "Buy Crypto" feature allows purchasing the following 10 coins:
Bitcoin (BTC)
Bitcoin Cash (BCH)
Litecoin (LTC)
Binance Coin (BNB), through the BNB and BSC networks
Dogecoin (DOGE)
Ethereum (ETH)
Tron (TRX)
USD Coin (USDC)
Tether (USDT), through the Ethereum (ERC20) and Tron (TRC20) networks
Ripple (XRP)
However, more cryptocurrencies are expected to be added to the list.
Payment methods
At the moment, the supported payment method is credit and debit cards. However, more ways of payment will be added soon.
Purchase limits
The purchase limits set for the new "Buy Crypto" feature range from a minimum of $5 to a maximum of $20,000.
Wallet
Purchased cryptocurrencies will be received by default in the CoinPayments wallet.
Supported fiat currencies
You will be able to buy cryptocurrencies with any of the following 42 fiat currencies:
EUR, USD, GBP, AED, ARS, AUD, AZD, BDT, BYN, CAD, CHF, CRC, CZK, DKK, DOP, DZD, EGP, GEL, HKD, HRK, HUF, INR, JPY, KRW, KWD, MAD, MYR, NGN, NOK, PEN, PHP, PLN, RON, SAR, SEK, SGD, THB, TND, TRY, UAH, XAF, and ZAR.
Supported countries
This service is available for all our supported countries, except those which are a restricted jurisdiction.
If you want to know if this service is available in your country, please make sure that your jurisdiction is not in any of the countries on this list.
And now that you know all the important information about the new "Buy Crypto" feature, why don't we show you how simple the purchase process is?
How does the "Buy Crypto" feature work? Step-by-step overview of the process
Before buying cryptocurrencies in CoinPayments through the "Buy Crypto" function, two essential steps are necessary:
Having a CoinPayments account.
Completing the KYC verification process.
If you don't have an account on our platform yet, you can register in a couple of minutes here. Just make sure you choose the right account to create: Business account if you are a merchant or have a business, or Personal account if you want to be a wallet user only.
If you already have your account and have completed verification, log in to your account and proceed to the next step.
1. Go to the option "Buy Crypto"
Once you are in your CoinPayments dashboard, click on Your Wallet, and then choose the "Buy Crypto" option.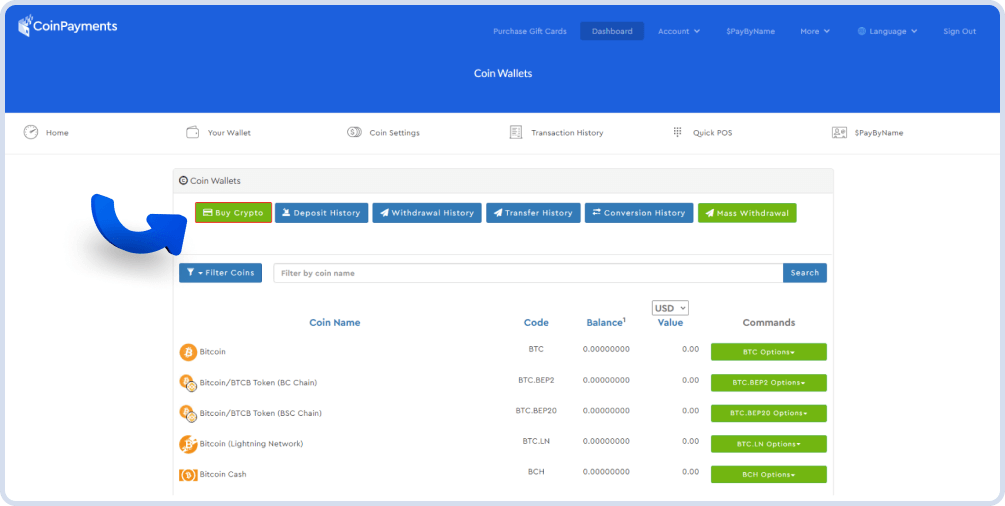 2. Select the coin
After clicking on "Buy Crypto", a page will be displayed with the cryptocurrencies available for purchase through this feature.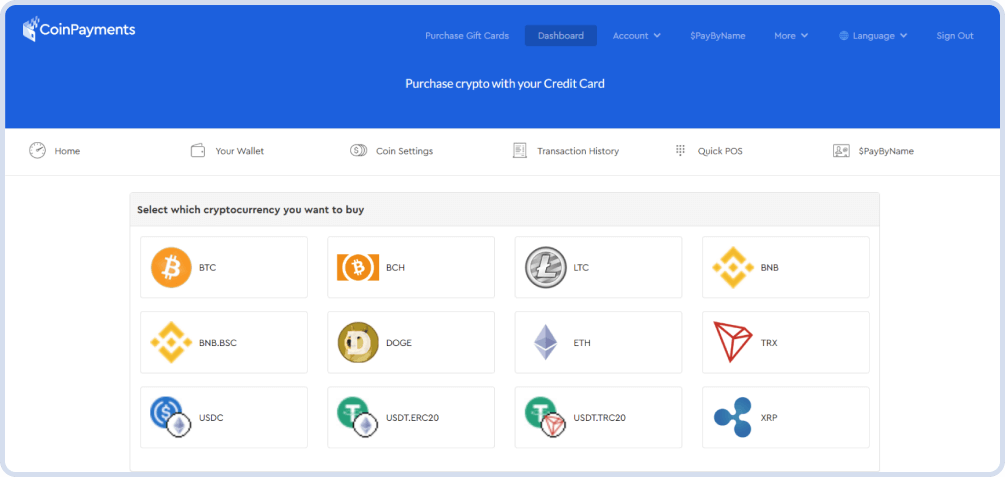 3. Enter the amount
When you choose the cryptocurrency you want to buy, you will be redirected to a page where you will be asked to select the amount you want to spend (in USD).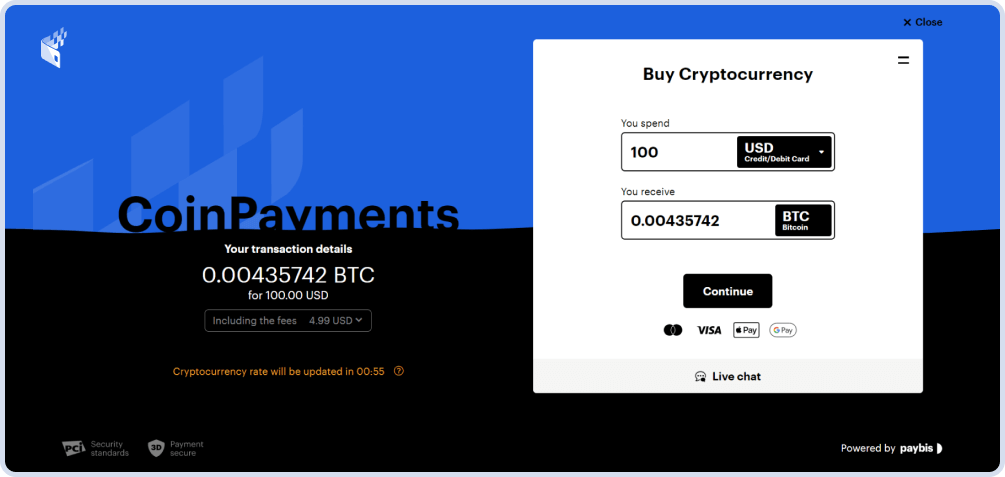 You will be shown in real-time the amount you will receive from the chosen cryptocurrency, along with the fees of the transaction. Both of them are based on the exchange rate at the time of purchase.
4. Pass the 2FA process
At this point, a 6-digit verification code will be sent to the email address you used to register at CoinPayments.
Simply copy and paste it into the "Verify Email" page.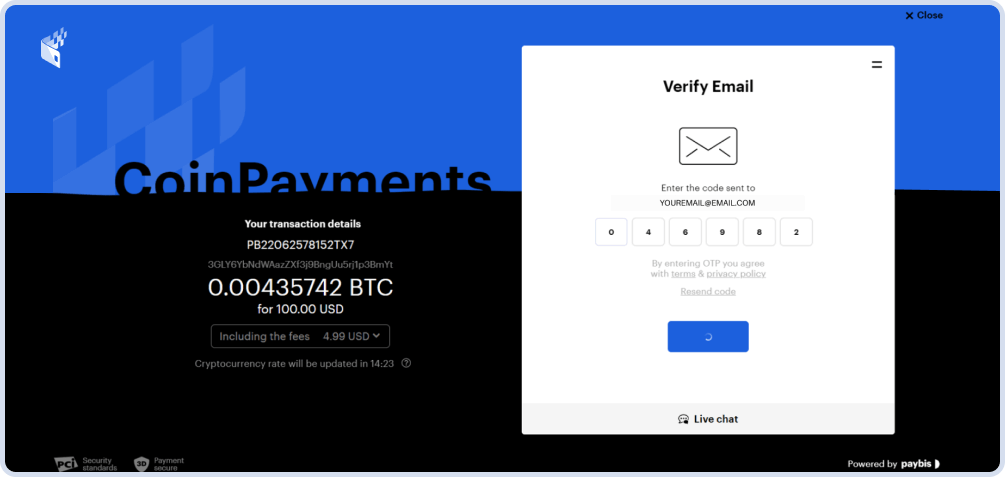 5. Choose the payment method and pay
Once the two-factor authentication (2FA) has been completed, the next step is to choose a valid payment method among credit/debit cards.
If this is the first time you use the "Buy Crypto" feature, you will need to create at least one payment method by adding your details.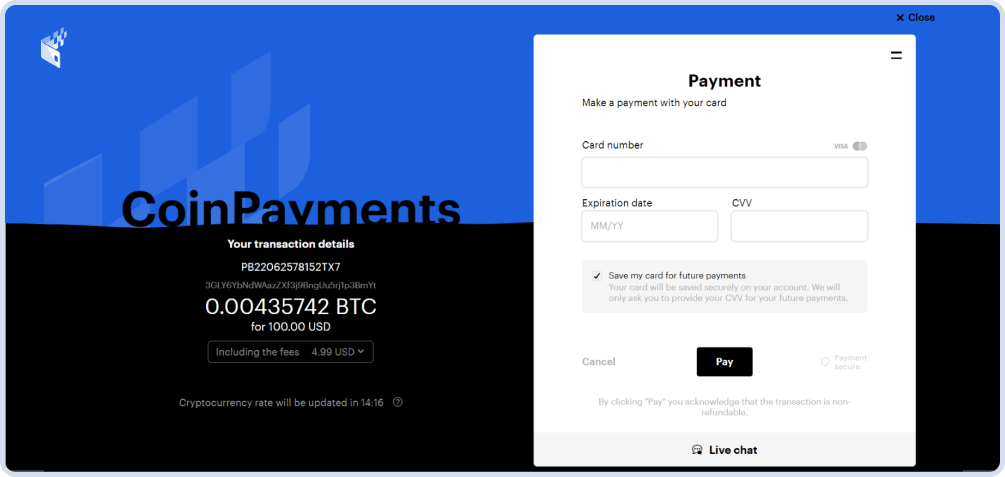 You can add as many cards as you want, and the good news is that they will be saved for your future purchases.
Choose the card you are going to use this time and click on "Pay".
6. Pass the Identity Verification process (KYC) – if needed
Users buying more than $1,000 in crypto with credit & debit cards are required to complete the Identity Verification process (KYC).
Users who have already completed this process for CoinPayments, will be able to buy crypto without any additional information required.
However, if you haven't verified your identity yet, the system will prompt a Verification screen like the following one.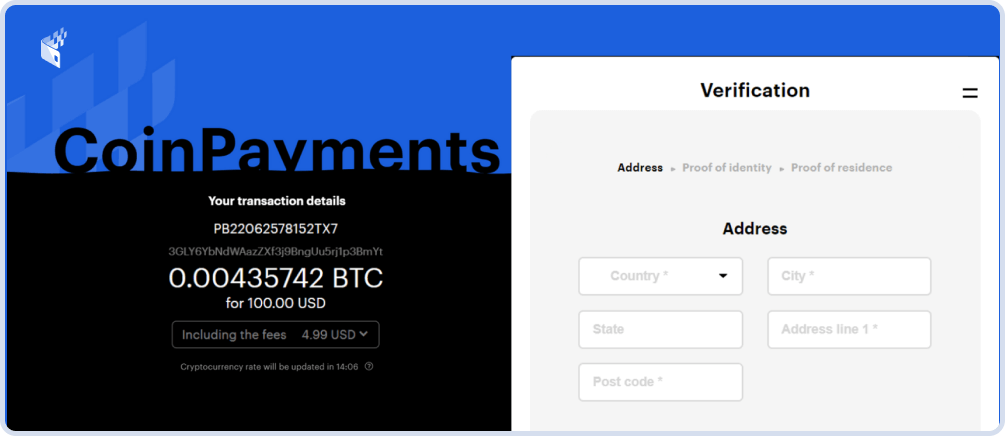 On this screen, you will have to fill out the form with your details, and provide two documents: a Proof of Identity and a Proof of Address.
That's it!
After your records are verified, your payment will be confirmed, and you will be shown a screen with the transaction details.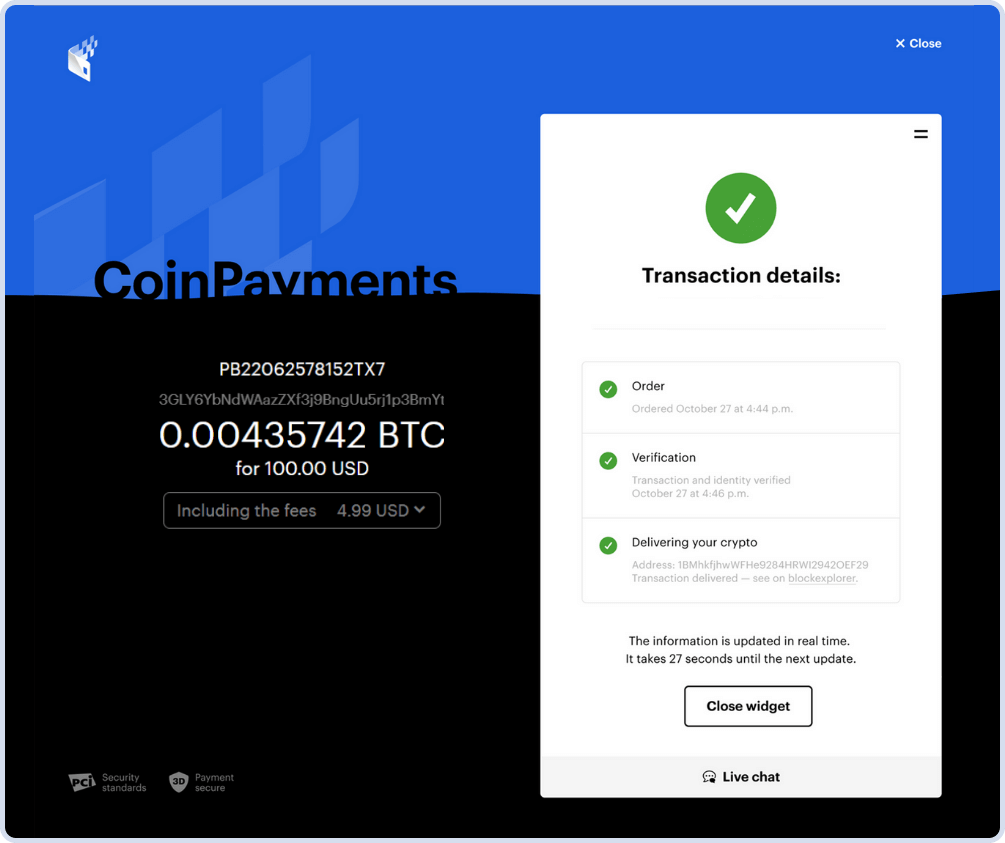 You will also receive an e-mail confirmation of the completed transaction.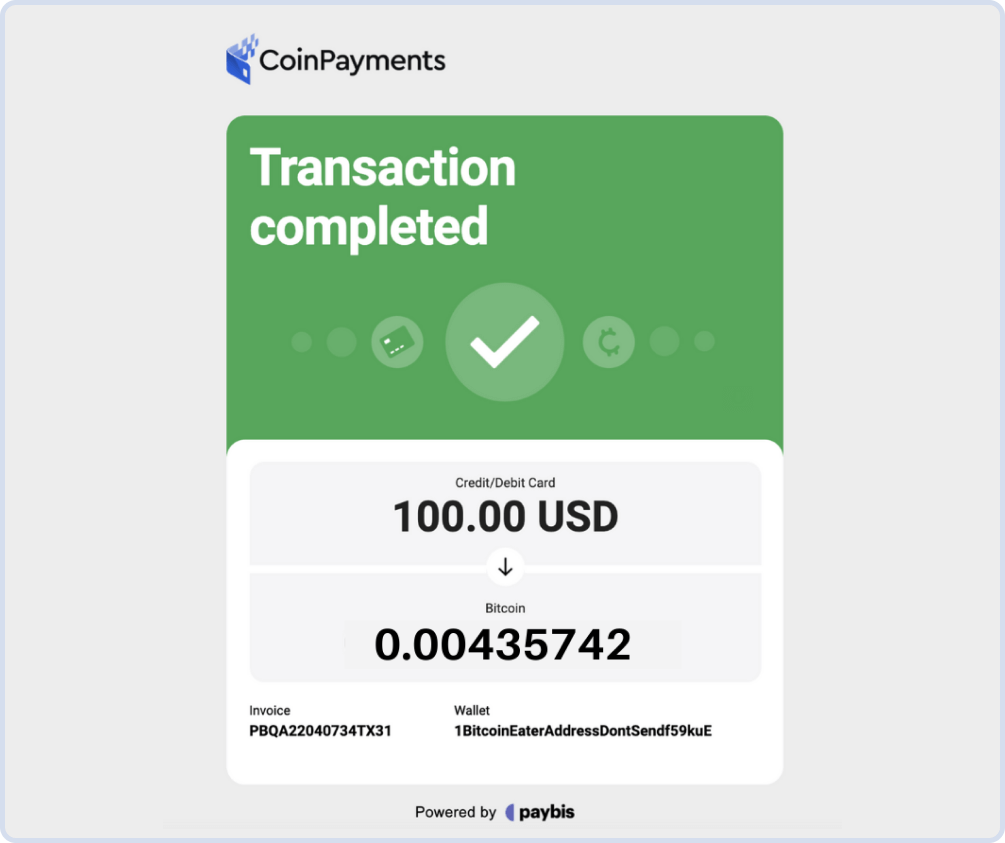 In a few minutes, your cryptocurrencies will be in your CoinPayments wallet.
In Summary
You can see how easy and fast it is to buy cryptocurrencies at CoinPayments.
If you're already a CoinPayments user, this service is already available as of June 22.
Don't have a CoinPayments account yet? Register now and start buying cryptocurrencies the easy way today.