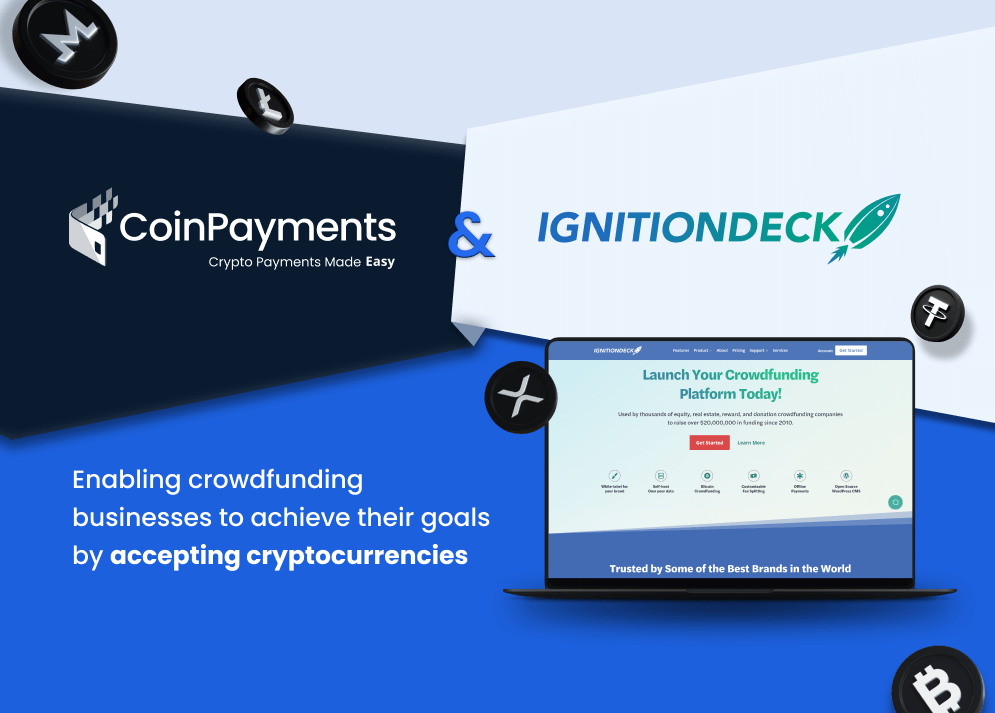 Crowdfunding has never been easier than it is today. Since the advent of the Internet, multiple new platforms have emerged with innovative methods to collect funds.
At CoinPayments, we are pleased to announce that today we are taking the crowdfunding industry to the next level.
We have been integrated by IgnitionDeck, one of the best platforms for self-hosting a branded crowdfunding business. From now, thousands of entrepreneurs and businesses can start accepting crypto to finance their projects. 
Want to know more about this partnership? Read on to find out all about it, but first, let's meet IgnitionDeck.
Know IgnitionDeck
IgnitionDeck is the most trusted and longest-running platform for managing any crowdfunding-related need.
Since its inception, they have helped hundreds of fundraisers with their services, including influencers, community leaders, businesses, and entrepreneurs.
You can get to know them in more detail by visiting their website*. In addition, you can follow all their news on their social media profiles** through Instagram, Facebook, and Twitter.
Solutions for better and easier fundraising

IgnitionDeck has been trusted by some of the best brands in the world, such as Reebok, AWBW, Circular Innovation Lab and Green Crowds. And that's thanks to what they call "the three critical ingredients in the IgnitionDeck recipe":
Open-source software that provides a fully functional white-labeled crowdfunding platform solution where its users are in control. IgnitionDeck customers host the software on their own servers, control their own data, and own a perpetual license to the code. It's a truly self-sovereign solution end-to-end with no trusted intermediaries required.
"Valet" Service, a done-for-you service where everything is set up for the user. Customers provide temporary access to their hosting environment, and IgnitionDeck does the rest.
Customization service for users whose projects need some extra features not included in the platform.
In addition to all these solutions, they have crowdfunding plugins, themes and modules to make the fundraising experience even better. But what's more, IgnitionDeck users now have a feature available that promises to give fundraising a new twist.
Crypto funding, now available thanks to CoinPayments
Cryptocurrency functionalities have arrived to thousands of businesses and entrepreneurs using IgnitionDeck.
Through integration with CoinPayments, their users will now have the opportunity to accept Bitcoin payments easily. 
This collaboration between the two companies was a natural fit, especially since IgnitionDeck realized that the adoption of Bitcoin in retail was inevitable, according to their partner, Jay Gibb.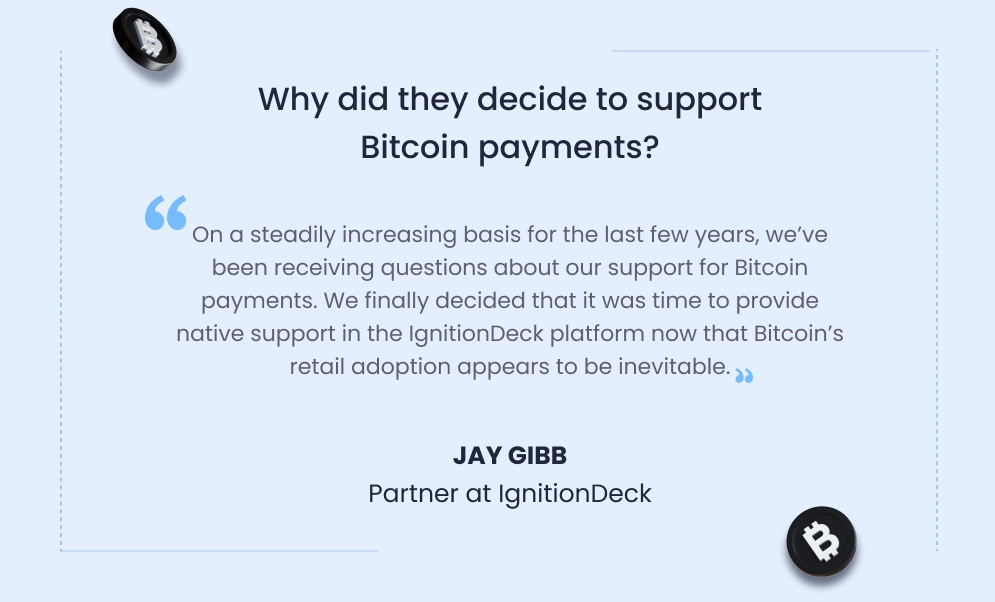 The purpose of this partnership is to open up a new source of crowdfunding for companies and entrepreneurs.
For now, IgnitionDeck encourages its customers to accept the world's most popular and widely used currency, which is Bitcoin (BTC). However, CoinPayments makes it possible for them and their users to accept more than 120 cryptocurrencies.
Benefits of integrating with CoinPayments
Accepting crypto for fundraising projects with CoinPayments has many advantages, such as:
Reaching out to new contributors. People getting paid, spending and fundraising with cryptocurrencies is on the rise in recent years.
Transparent fundraising. Blockchain – the technology behind crypto – is a public ledger where everyone can see all payments made and received.
More secure payments. Cryptocurrencies allow payments that cannot be reversed.
Faster transactions. Get almost instant funding, even on weekends and public holidays.
Increased brand awareness. By simply accepting crypto payments, organizations can increase their visibility, making them stand out from the crowd.
These are just some benefits of CoinPayments, however, on the platform, you can also find several tools and APIs that will allow you to provide a unique crypto experience to your customers.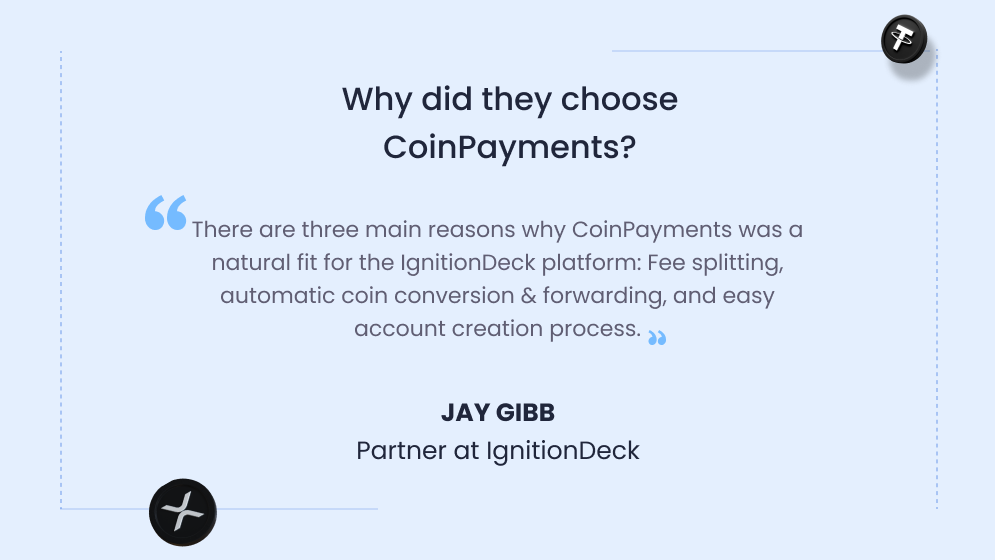 You can also start embracing crypto in a simple way
You've already seen the advantages of integrating CoinPayments and how easy it is to start accepting crypto in your fundraising projects.
If you're a business, an entrepreneur, a community leader, or an influencer in need of fundraising, you can start accepting Bitcoin, Ethereum, and over 120 other cryptocurrencies. 
Want to take your fundraising to the next step? Just visit now coinpayments.net/register and sign up for your business account today.

*IgnitionDeck website: https://www.ignitiondeck.com/
**IgnitionDeck social media profiles on Instagram, Facebook, and Twitter.