Even though we are 10 years into the creation of a cryptocurrency market, there is still a lack of information for the general user of digital currencies. Cryptocurrency as a method of payment is still not as common as traditional cash/debit/credit cards used by the average person, and since more cryptocurrency holders choose to trade and speculate, this has hindered adoption from lack of spending. This creates a situation where it's difficult to find companies that will accept cryptocurrency as payment and with so many holders of cryptocurrency, it would be ideal to have all the businesses accepting crypto payments in one handy spot.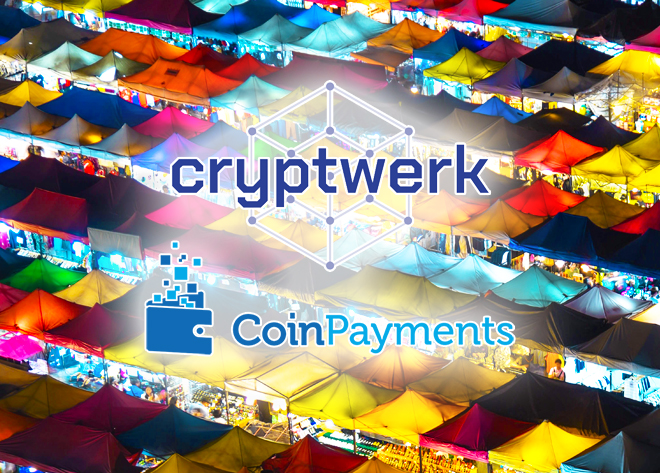 Online Crypto Store Directory
CoinPayments is happy announce our partnership with CryptWerk a crypto store directory to find out where to spend bitcoin and altcoins. As a cryptocurrency payment solution, CoinPayments believes that spending cryptocurrency is vital to increasing user adoption and we wish to create this bridge between merchants and consumers to pave the way forward.
CoinPayments wishes to aim to support the creation of a strong and populated online database of cryptocurrency supporting merchants that spans globally. This partnership is beneficial to both sides, as CryptWerk will benefit from CoinPayment's extensive merchant base which will be gradually listed in the store directory, and CoinPayments will be able to help increase user and merchant payment volume by having a comprehensive directory.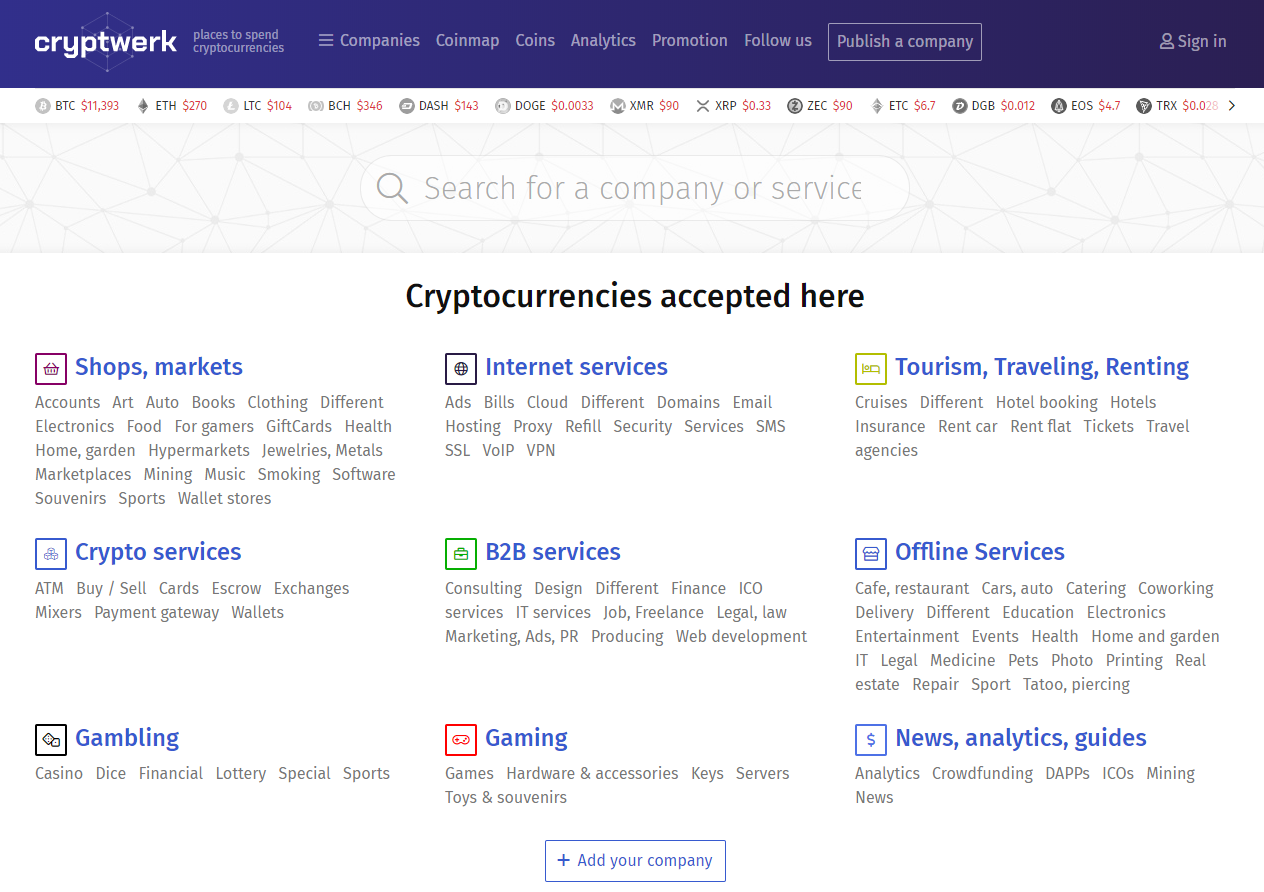 Some of the directory features include:
A handy map or list view for searching through the various categories of merchants
An in-depth company page for CoinPayments with various links to help get new merchants started accepting cryptocurrency payments
A rating system for merchants to communicate their quality and trustworthiness to customers in a transparent way
A certification badge for CoinPayments merchants that have completed over 500 transactions
A link to view the transaction feedback for CoinPayments merchants
A list of coins accepted by merchants along with links to their store and other parts of their site for easy navigation
And many more…
Benefits for Merchant
Merchants may find it difficult to advertise their acceptance of cryptocurrency payments through traditional marketing channels as the crypto market is a new space of its own. Having an online portal such as a directory with information on merchants accepting cryptocurrency payments is something that cryptocurrency holders and potential customers will naturally seek out, to find out more information about crypto-friendly stores. For merchants, an online database can be a great marketing tool for your business and will also bring some new customers to your store that may never have considered it before.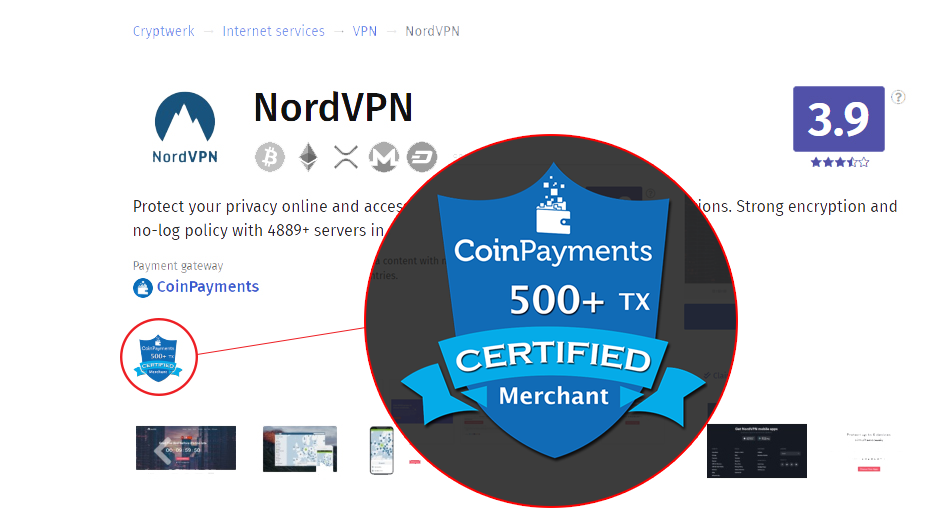 CoinPayments merchants with over 500 verified transactions will also receive a special badge on their merchant profile to help boost their reputation on the Cryptwerk store directory as a trusted merchant! The longer a merchant does business with CoinPayments, the more prestige they will get! Furthermore, all merchants can get a 20% discount on premium placements, branding, or banner ads when they use the code CPSWERK when submitting a promotional request.
Also, when you fill in your CoinPayments merchant ID, a link to your CoinPayments feedback profile will appear on your store directory profile.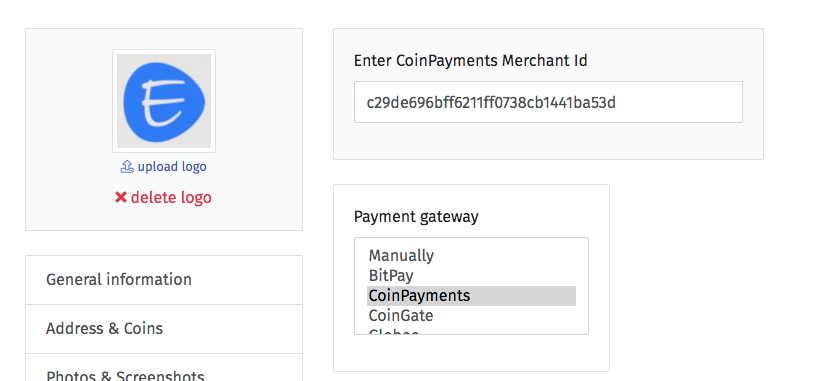 Benefits for Crypto Holders
Until now, it's been a constant struggle for individuals who hold cryptocurrencies to find high quality merchants who accept cryptocurrencies for their goods and services. Having an online store directory is a great resource if properly curated to find information on cryptocurrency friendly businesses across a range of categories and locations all in one convenient location. With a trustworthy store directory, a consumer won't have to worry about where they spend their cryptocurrency. On Cryptwerk, people can leave reviews and ratings for each merchant they do business with, and the more this happens the more accurate the quality of businesses will become to users.
Summing It Up
This partnership's goal is to better inform the typical cryptocurrency holder on the current state of the marketplace and the merchants that make it up. Through better channels of information that are reliable and valuable, there will be more activity in the market and people will be more likely and willing to spend their cryptocurrencies. CoinPayments and Cryptwerk are working together to realize this goal and help join together cryptocurrency merchants and customers across the globe.
Next Steps
If you're a cryptocurrency holder and want to start spending your crypto to buy products and services, then head over to the store directory to start shopping!
If you're a merchant already accepting cryptocurrency payments, then head over to the directory to create your free listing.
If you're a merchant that's interested in starting to accept cryptocurrency payments, then read our step-by-step integration guide to get started using CoinPayments to accept cryptocurrency payments.
You can also help us to improve our service with your feedback by leaving us a review right on our directory page!