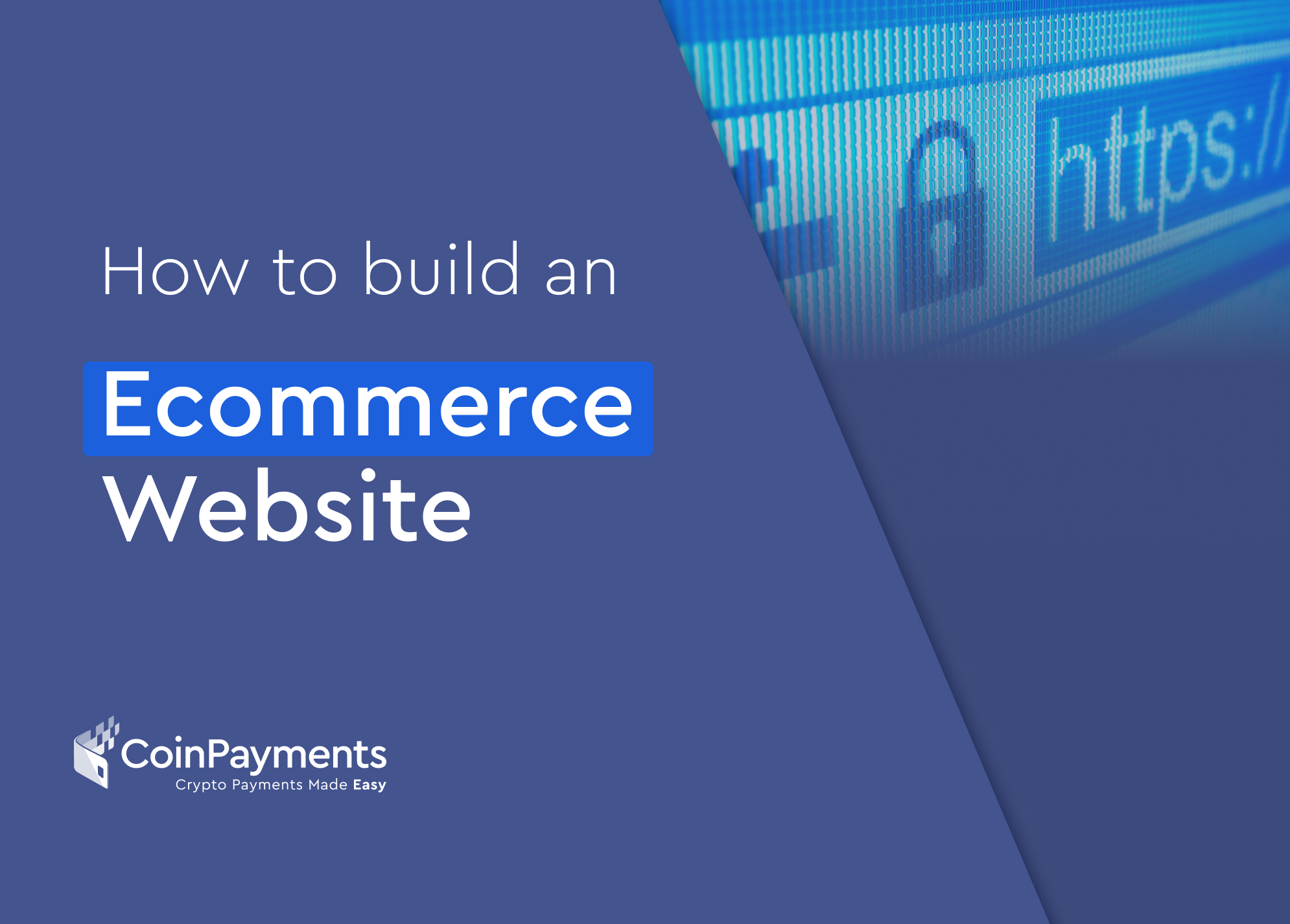 The e-commerce market is growing faster than ever, and it might be the best time to build your own e-commerce website. The right e-commerce website can let you advertise and sell products to people around the globe, especially if you leverage cryptocurrency transactions.
But what if you don't know how to build an e-commerce website from scratch? In that case, you've come to the right place. Below, we'll break down how to construct an e-commerce website of your very own step-by-step.
How Do I Build an E-Commerce Website?
Many business owners hire freelance developers or web development firms to build eCommerce sites for them. However, this approach, while effective, this approach can take a lot of time and can be quite expensive.
If you have a startup idea and don't have the scratch necessary to hire a professional, don't worry; you can still build your own e-commerce website with a minimum of technical know-how. Here's how you can get started building your e-commerce website.
Choose the Site Builder You Want To Use
First, choose from one of several e-commerce website builders available. There are many e-commerce website builders to choose from these days, and each has its own advantages, disadvantages, and attractive features. Here are a few website builders you can select:
BigCommerce is a software as a service or SaaS website builder that's great for scalable companies. It offers 24/7 customer support and multilayered security.
Shopify is a popular e-commerce website builder that's fully hosted, and that is very quick and easy to set up. It also comes with plenty of plug-ins to customize your experience.
WooCommerce is arguably the best choice if you plan to use the content management system WordPress. This open-source website builder is a WordPress plug-in, meaning it's totally free to install and is very flexible and customizable
Buy a Domain Name of Your Choice
Next, you'll need to pick the domain name for your e-commerce website. Think of the domain name as the street address for your e-commerce website. It needs to be memorable, related to your niche or brand, and not taken by anyone else.
You should visit a domain name registrar to purchase a domain name for your website. Most registrars will also let you check to see whether a domain name is taken before you put down any cash.
Try to make sure your domain name is easy to type out and remember so your customers can find your site easily. You should also try to avoid creative domain name spellings, which can be tricky for your customers to recall.
Choose a Site Theme
No matter what website builder you select, they will offer several themes for you to choose from. Site themes streamline the website creation process and affect the following:
Aesthetic of your site
Site layout
Available features and pages
Generally, you should try to match the site theme with what your brand offers. For example, a modernized and sleek theme is best if you provide products to tech-savvy shoppers.
If you sell homemade crafts and goods, a more down-to-earth, homey look is better, complete with cursive writing or fonts.
Alter Your Settings
Setting up your website and choosing its theme is just the start. You'll then need to customize and tweak the website thoroughly. Navigate to your site's settings page and look at everything you can adjust.
Odds are you'll want to adjust settings like:
Security
Site tracking metrics (i.e., visitors, traffic, conversion rate, etc.)
How many resources the website uses in general
Add Your Products and Descriptions
Now's the time to add your e-commerce products and very detailed descriptions. It's a good rule of thumb to add as detailed descriptions as possible. These will allow your customers to make more educated buying decisions and lower the likelihood of returns.
Try to list your products with:
High-quality images, each in the same size. This will prevent your site gallery from being misaligned
SEO or search engine optimization Keywords when possible
By doing this, you'll not only increase your website's rankings with Google. You'll also make your product description copy attractive and memorable for your visitors.
Add Any Additional Main Pages
Your website will probably need a few extra pages to be fully rounded out, including:
A contact page includes an email address and live chat feature, so your visitors can easily reach you.
An "About Us" page tells visitors more about your brand.
A checkout page so your eCommerce business can make money.
Perhaps a testimonial page. Testimonial pages are useful since they can display positive reviews for your brand. Many people won't try a new e-commerce business without knowing the positive reviews beforehand.
Lastly, be sure to set up quality, well-designed landing page with excellent graphics and a clear purchasing funnel for anyone who arrives at it.
The landing page is where your online ads will direct customers when they click on them. The landing page is the most important page on your entire site, so spend a lot of time getting it right.
Set Up Your Payment Processing System
If you plan to run an eCommerce store, you'll have to accept online payments. That means you'll need a payment processing system.
Payment processing systems are comprised of two parts:
The payment processor
The payment gateway
Many payment-processing providers offer both services in the same package. Examples include Square, Due, Adyen, Stripe, PayPal, Apple Pay, and more.
However, keep in mind that each payment processing system or provider charges different fees and accepts different forms of electronic transactions. Most payment processors only let you accept transactions through credit or debit cards or electronic checks.
If you want to accept cryptocurrency at your online store (and you should), you'll need a crypto payment gateway provider like CoinPayments. Crypto payment processing works similarly to standard payment processing – it just allows you to accept crypto tokens like Bitcoin and thus widen your customer base.
Decide How Shipping Will Work
Unless you sell exclusively digital products, you'll also need to decide how you'll handle shipping for your customers. Your shipping policy should include the fees for customers (unless you plan to offer free shipping) and name your carriers.
Generally, it's beneficial to offer free shipping to your customers if you think you'll make a profit. However, if your profit margins are too narrow for your liking, you can charge a small fee to make things a little more manageable.
Depending on which rates are best for your needs and your customers ' locations, you can select from tried-and-true shipping providers like FedEx, USPS, and UPS.
Select a Shipping Partner as Needed
We recommend choosing a shipping partner based on their cost, shipping schedules, and packaging policies. These will all impact your bottom line and determine how quickly your customers get their ordered products. People love it when they get their products quickly, so it's wise to balance speed and cost when possible.
As a small business owner, the industry standard of free shipping and one or two-day turnarounds could seem impossible or insurmountable. If you're stuck in a bind and can only choose one or the other, pick free shipping over speed. Customers are more likely to make a purchase when they don't have to pay extra for shipping.
Alternatively, you can offer expedited shipping for an increased fee, but keep your standard shipping policy totally free for all consumers.
Make Sure Your Site Is Secure
No e-commerce website is complete without top-tier security, especially regarding the GDPR and other online legislation. These days, you could get into major trouble and face many expensive fines if your customers' private data is compromised, like their credit card numbers or Social Security numbers.
Therefore, you should ensure your website is bolstered by antivirus security software or plug-ins. Many website builders will have recommendations for what plug-ins work with their eCommerce platforms, so follow these to the letter.
Additionally, you should invest in SSL certification. SSL certification is indicated by a padlock symbol at the top of your website's address bar. It's not too expensive to get SSL certification, and some web hosting companies or website builders include free SSL certification with their packages.
SSL certification gives your customers peace of mind and is a good base layer of security you shouldn't go without.
Test Your Systems
You can't launch your e-commerce website without giving it a thorough test beforehand. To do this, use your website builder or hosting provider's testing features to see what the live pages will look like before making the website live overall.
It might be a good idea to have a few friends or family members visit your site and receive their feedback. Then you can fix anything they notice or make tweaks as necessary.
Fix Any Glitches
Take the time to navigate your website and make sure that there aren't any noticeable glitches, either aesthetically or functionally. For example, make sure that any links (such as buttons or other links between blog posts) lead to functional pages. If you have broken links, your website will be penalized by Google and won't appear at the top of search engine results.
Open Your Site
Once you've made it to this step, congratulations – your e-commerce website is ready to go. Click the "Launch" button on your website builder or hosting provider and start marketing.
What Should I Take Into Consideration Before Building My Site?
As you can see, a lot goes into building a functional and profitable e-commerce website. You should keep a few things in mind as you build your site so you can make wise, cost-effective choices.
Shipping Costs Depending on Partner
The cost for shipping to your customers will vary heavily depending on your partner. For example, FedEx provides the cheapest shipping for packages exceeding 3 pounds in most cases, and it offers to ship to all 50 US states.
But you might also consider looking for a carrier that offers live rates. Live rates are shipping costs calculated in real-time based on product weight, destination, and other details. Choosing a shipping provider with live rates could be very cost-effective, especially in the early days of your business when you are still trying to make a significant profit.
Accepted Methods of Payment
You should also consider what methods of payment you will accept. Generally, you'll make more money as you accept more forms of payment, including fiat currencies like the dollar and euro and cryptocurrencies like Bitcoin.
Why? Simply put, people like using their preferred money to make purchases. If you accept multiple forms of currency, you'll also open yourself up to international purchases. People worldwide can buy things from your store if you accept crypto tokens, for example.
The more people who can buy from your store, the more people possibly will buy from your store. Fortunately, accepting crypto tokens on your e-commerce site is easier than ever with CoinPayments.
Will You Ship Internationally?
However, some e-commerce business owners may wonder whether shipping internationally is a wise idea. Shipping internationally is typically more expensive than shipping domestically, but it could significantly increase your customer base and brand awareness.
In the earliest days of your business, you might want to stick to domestic shipping to keep costs low. However, as your brand grows and as people become more aware of your company, expand your shipping to international customers to bring in more money.
Shipping costs usually become more affordable as you gain more orders – the economy of scale comes into play, and you'll overcome the higher costs for international shipping over time.
How Long Does It Take To Build an E-Commerce Website?
Generally, you should expect to take anywhere between one month and six months to build a high-quality, customized e-commerce website from scratch, even if you use a great website builder.
Most website builders will advertise that you can build a website in a few minutes. While this is technically true, that doesn't count the time you have to spend:
Taking pictures of your products and coming up with product descriptions
Creating content and placing keywords for good SEO
Integrating all of your links throughout your site and making sure they work
Getting a PPC and social media marketing campaign up and running
Making sure your antivirus and SSL certification measures are working
Testing your website
Refining your website and adjusting the landing page
It's typically best to take your time building your e-commerce website. If you rush your website, you face the possibility of a disastrous launch and a bad first impression of your e-commerce brand.
Can Beginners Build Their Own Site?
Absolutely, especially with the advent of online website builders. Beginners can build their own sites from scratch using premade templates and themes, then customize the websites using drag-and-drop interfaces.
These sites won't be as unique or customizable as websites drawn up and created by professional developers. However, they can still serve quite well for e-commerce store platforms. In many cases, it may be more cost-effective to build your own website anyway, as most of your customers won't care whether your website was custom-built or made using an online builder tool.
You'll just want to make sure your platform has a user-friendly interface, has a good shopping cart, and offers as good a customer experience as brick and mortar stores if you're a B2C business. But even B2B businesses must ensure a good shopping experience for buyers.
Are There Any Risks of Building My E-Commerce Website?
Of course. When you build your own e-commerce website, you're responsible for testing it, making sure it is secure, and ensuring that everything works properly. If you skip any of the above steps, or you don't take the right time to test everything out, you could do a lot of damage to your brand before it really takes off.
Plus, if you run into any technical difficulties, it might take some time to find the right answer using a website builder's customer support system.
Is It Cheaper To Build an E-Commerce Site By Myself?
Yes, always. Professional e-commerce site development costs thousands of dollars at a bare minimum. You can technically build an e-commerce site by yourself for a few hundred dollars when counting the cost for an SSL certificate and a domain name.
Costs To Be Mindful Of
That said, you should still be mindful of a few important costs, such as:
The domain name and more popular names are more expensive
Ongoing server hosting costs, either monthly or annual fees
Annual costs for SSL certification
Costs for ads
The Bottom Line
Ultimately, you can build an e-commerce website from scratch starting right now with the right builder and plan. Come up with a great brand idea, make sure you hit all the steps above, and your e-commerce site might just launch without a hitch. But be sure to offer as many payment methods as possible for your customers to maximize your profit potential.
CoinPayments makes it easier than ever to start accepting cryptocurrencies on your e-commerce site. With our dedicated merchant tools and fast sign-up process, you can add cryptocurrency payment processing to your site in a matter of hours. Contact us today for more information.