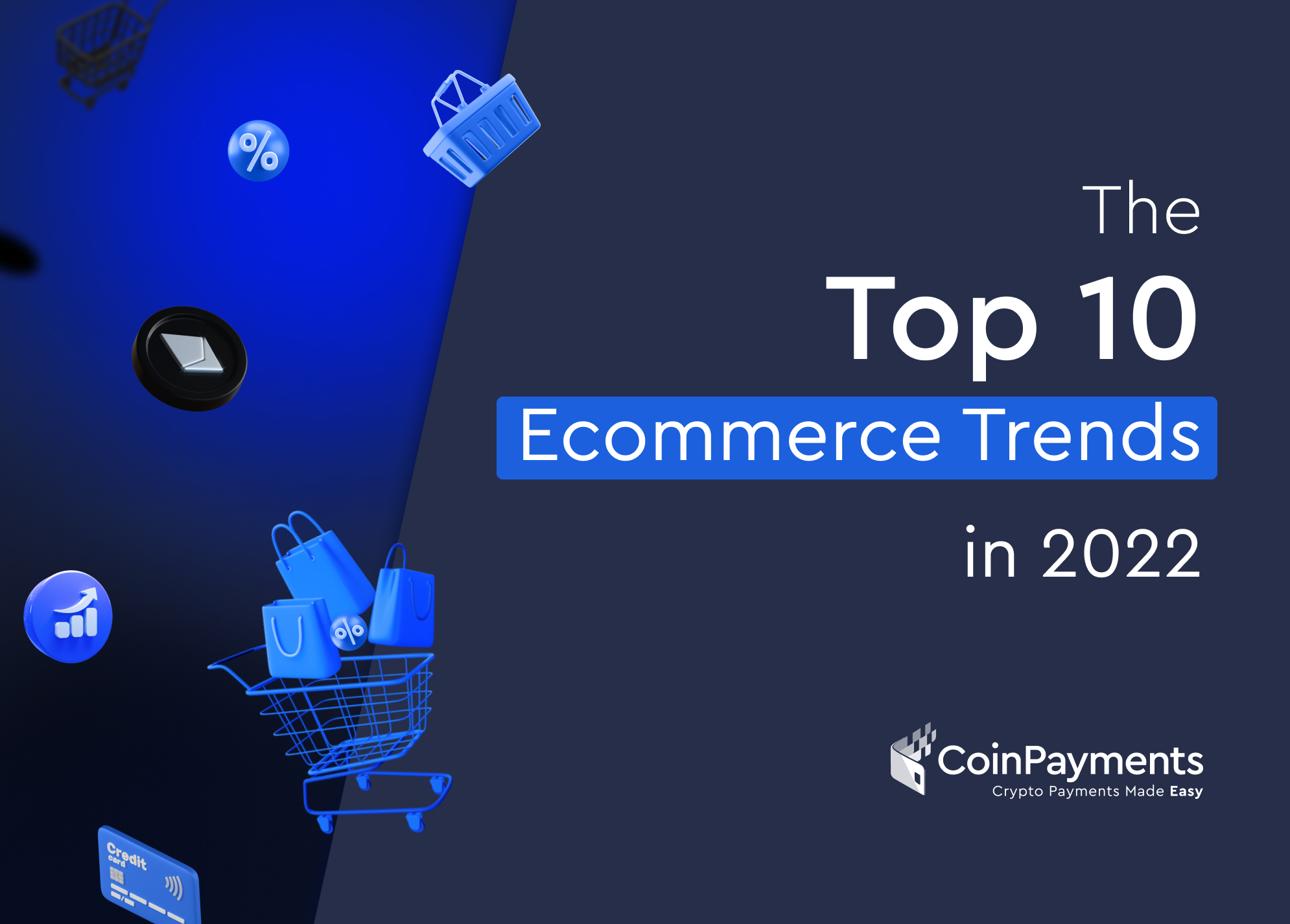 The e-commerce market is growing faster than ever, and a lot of that growth is due to specific trends. E-commerce business owners or those looking to break into this market for the first time need to know these trends so they can take advantage of them and maximize their growth potential.
Not sure what e-commerce trends are most important? Today, let's take a look at the top 10 most important e-commerce trends for 2022 and beyond.
What Are the Latest Trends in eCommerce?
Like other markets, the e-commerce industry is constantly fluctuating and evolving. Over the last few months, many major trends have begun or grown thanks to prior market factors.
1. Voice Search
The first critical e-commerce trend to keep in mind is voice search functionality. The typical example of this is someone looking for an eCommerce brand or product and speaking the request into their smartphone device.
Voice search takes the place of traditional type-search requests in address bars or search engines. It's often connected with smart devices or systems like Amazon Alexa or Siri.
However, users are also using voice search and speech recognition technology for navigating websites. This is great for individuals who may have difficulty navigating with a traditional mouse or keyboard for one reason or another.
Fortunately, e-commerce business owners can easily include speech recognition capabilities in their websites using a few additional lines of code. Be sure to implement this functionality ASAP to make your website as welcoming and navigable for as many people as possible.
2. More Payment Options
Of course, e-commerce brands are also leaning into offering more payment options to their consumers. Gone are the days of only allowing credit or debit card transactions online. Now you should allow credit and debit card transactions, electronic check transactions, transactions through payment platforms like PayPal, and more.
Additionally, you may wish to allow cryptocurrency payment functionality on your website ASAP. That's because crypto tokens, like Bitcoin, can be used for international purchases and will broaden your customer base to a worldwide audience.
The easier people can buy things on your website, the better the chances that more people will buy things on your website. Adding more payment options to your eCommerce store is a great way to boost profits and make your site more accessible.
Fortunately, you can accept cryptocurrencies on your website through CoinPayments starting today. As a combined payment gateway and processor for crypto tokens, CoinPayments offers merchant account tools and other controls you need to ensure crypto acceptance quickly and easily
3. Use of AR For Product Purchase Viewing
AR or augmented reality technology is also blooming. As opposed to VR or virtual reality technology, AR technology involves bringing digitized images or icons to users' customer experiences/environments.
For example, a customer may use AR tech to preview a product or experience on their local desktop computers. Or they may use AR tech to interact with products in a deeper, more meaningful way than they can do just a standard, still photograph.
AR tech and integration are more important than ever for sites like e-commerce clothing and apparel stores. You can and should leverage AR tech to make your website more attractive to your customers and to lower the likelihood of returns (which usually take a bite out of your profit margins).
4. Subscription Options
These days, subscription e-commerce products and services are more popular than ever. This is definitely seen in areas such as software as a service or SaaS businesses. Subscription options are gaining popularity because they are easier for customers to sign up for and then forget. They don't have to remember to constantly buy a staple product or software service over and over again.
Subscription options are beneficial for business owners as well. In many cases, you'll make more money from having subscriptions than you will from reminding customers to make a purchase every month through email marketing or other measures. Subscriptions can be useful for both B2C and B2B enterprises, as online shoppers will appreciate convenience in either case.
Of course, subscription options are only possible for some businesses. Consider adding a subscription package option to your business if you provide consumable products like makeup or food or a subscription option if you provide digital services like web hosting.
5. Sustainability
Modern consumers are also rightly concerned with the environment's health and the planet. Brands can leverage this and gain the loyalty of their customers by focusing on eco-friendliness and sustainability.
Sustainable e-commerce businesses are leaning into a greener future by:
Making packaging or wrappers with sustainable, recyclable materials like paper instead of plastic
No longer offering free shipping
Donating some of their profits to eco-friendly organizations or charities
Working with eco-friendly server hosts
Depending on your target audience and their values, it might be beneficial for your brand to pivot to a focus on sustainability. Sustainability can increase your customers' connection to your brand, do your part for the planet, and potentially lead to greater profits in the long term.
6. Enhanced Customer Support Options
People are no longer content to wait for days before responding to their customer service tickets. If you want your e-commerce brand to not only survive but thrive in the competitive market, you'll need to offer enhanced customer support options.
Enhanced customer support options can include:
A detailed ticketing system for customer requests or questions
Live chat support, oftentimes used in conjunction with chatbots to answer simple questions
A detailed FAQ or knowledge base so customers can answer simple questions themselves
A robust and thorough customer support branch for your e-commerce business will do wonders for boosting brand loyalty. Plus, the rise of software as a service or subscription-based business means that customer support is more important than ever.
Make sure you have at least one person on hand to answer technical questions about your products or services when needed.
7. Faster Shipping
Amazon has certainly cemented one or two-day shipping as the gold standard in the e-commerce industry. While this can be tough to match, it's often necessary to keep your target audience's business.
Therefore, your e-commerce site should lean into faster shipping whenever possible. In some cases, it may even be beneficial to require paid shipping from your customers, provided it gets their products to them within one or two days.
One of the main benefits of e-commerce shopping, in general, is convenience. Customers feel that convenience most when they get their products delivered to their doors promptly without having to wait a week.
8. Small Business Support
Many small brick-and-mortar or exclusive retail businesses are now branching into the e-commerce sphere. This new trend reflects a truism in the modern market; everyone needs a website of their own, especially businesses.
Therefore, e-commerce platforms can provide small business support by:
Making it easier for customers to contact brick and mortar stores
Showcasing customer testimonials or positive reviews
Offering pictures or other visual media products to convince people to stop by a physical store
Allowing limited product ordering through an online portal
Many small businesses are taking full advantage of the extra profit yields that e-commerce can bring to the table. This small business support may allow small eCommerce businesses to continue to run smoothly even in this market era dominated by big companies and conglomerates.
9. More Consumer Privacy
Discussions about consumer privacy and data protection are very common these days. Plus, legislation like the GDPR and CCPA highlights the importance of online businesses protecting their customers' data and personal information at all costs. Otherwise, they may face major fines and injunctions from state or national governments.
Therefore, many e-commerce businesses are focusing more on consumer privacy than in earlier years. You should make sure your e-commerce platform leverages SSL certification and other security measures. Plus, you need to make sure your staff doesn't fall for phishing scams or other common digital threats, which can place the data and privacy of your customers at risk.
10. Improved Mobile Shopping Experience
Lastly, the e-commerce market is seeing a continued trend toward a boosted mobile shopping experience. More than half of all Internet traffic comes from mobile devices these days, and many people do their e-commerce shopping mostly or even entirely on smartphones or tablets.
To that end, successful businesses will be to make sure their eCommerce sites are navigable and enjoyable to use on mobile devices like iPhones or Android phones. For your business, this could include revamping your website's layout, making sure the font is easy to read, and avoiding big videos or pictures that can slow down page load speed.
Plus, you should make sure your e-commerce store checkout system is optimized for mobile users. As a bonus, optimizing your e-commerce store for mobile users will make it rank more highly with Google.
Of course, there are other notable trends, such as artificial intelligence and machine learning for product recommendations, analyzing shopping habits, inventory management, and customer satisfaction.
However, these ten trends are the most crucial and impactful for online marketplaces.
What Factors Drive Trends in eCommerce?
What factors drive these trends, and what factors might drive future trends in the industry? Let's take a look at some key factors to consider.
Consumer Behavior
Naturally, consumer behavior drives most of the trends in e-commerce. The e-commerce market (like all markets) is driven primarily by customer likes and dislikes.
For example, if consumers primarily do their shopping on mobile devices, they will naturally prefer e-commerce sites that are optimized for mobile navigation.
Other e-commerce websites will then follow suit, driving an industry-led trend with a start point that's impossible to determine.
If you want to be at the cutting edge of new development, look at consumer behaviors and offer surveys to your customers to see what they think and appreciate most about their experiences on your site.
Product Demand
Of course, the flip side of this is product demand. As consumers demand new products, businesses will then create those products in an arms race against one another to offer the best and cheapest solutions for consumer pain points.
As an example, cloud computing and software as service products are in-demand, so many companies are now offering these solutions to their clients. As a broader example, fashion never stops; it just changes. When a new fashion item becomes popular among certain groups, e-commerce websites will then start offering the item with their unique spins to drive profits.
Once more, doing research and asking your consumers what they like or what they are looking for can help you anticipate future product demand in advance.
Resources
Available resources, such as server space or technological resources, also affect the e-commerce market at large. For instance, businesses once weren't able to offer live chat services to their customers.
But once live chat technology took off, it became a standard or staple feature for eCommerce platforms around the web. New tech and additional resources will continue to drive evolutions of the e-commerce industry.
Infrastructure
Server infrastructure or IT technology can also impact an e-commerce site's offerings and ability to meet customer demand. Generally, you should try to upgrade your server capacity and resources and your IT infrastructure every few years at a minimum.
In this way, you can keep up with infrastructure changes as it drives trends in e-commerce. For instance, you might use shared hosting when you first start your e-commerce site. But as you gain profits, you'll want to change to dedicated hosting for additional resources, scalability, and less likelihood of a website crash.
Social and Environmental Influences
Then there are social and environmental influences, which can also drive consumer behavior and e-commerce trends. The clearest example of this is the push toward eco-friendly marketing and product development. As the environment warms, that becomes an influence on consumers, who then demand change from their favorite companies.
Is eCommerce Growing?
Yes, undoubtedly. According to the US Department of Commerce, digital spending during the holiday season (Q4) increased by 9.2% year-over-year. This added to a large jump in e-commerce spending overall of 14.2% for the year of 2021.
As this data indicates, e-commerce continues to grow even in the middle of a potential recession and rising inflation rates. For example, consumers spent over $870 billion online at US merchants alone in 2021. This doesn't count the worldwide spending that occurred at e-commerce markets internationally.
Why Is eCommerce Preferred?
E-commerce is preferred by modern consumers for a variety of reasons, but the most important one is convenience. There's nothing quite as relaxed and convenient as browsing great products online, selecting those items you want, then ordering them to have them shipped to your door in a day or two.
However, e-commerce is also increasingly preferred because of concerns about personal safety. During the COVID-19 pandemic, people had to do much of their shopping online. They became accustomed to it and found it to be a superior experience in many ways compared to shopping in person.
Shopping with e-commerce can also be a little better for shoppers' time. It often takes less time to find the right item when shopping online since one doesn't have to commute, and shoppers also frequently benefit from increased product selection.
Will eCommerce Remain On the Rise?
It's impossible to say for certain, but it's likely. Barring any major economic downturn, like a recession, the eCommerce market will probably continue to grow in online sales and the industry will continue to rise given the market's profitability, innovation, and continued feature growth.
The Bottom Line
At the end of the day, e-commerce is here to stay, and the market will only continue to grow, evolve, and adapt to consumer preferences and trends. Understanding e-commerce trends is important so your online website can continue to bring in great profits year-over-year.
But you should also take steps now to improve your profit margins and maximize your available consumer base. Accepting cryptocurrencies on your website can be both objectives at once, and it's easier than ever with CoinPayments.
Signing up for CoinPayments just takes a couple of minutes, and setting up your crypto payment processing system is just as fast. Try it today or contact us for more information.