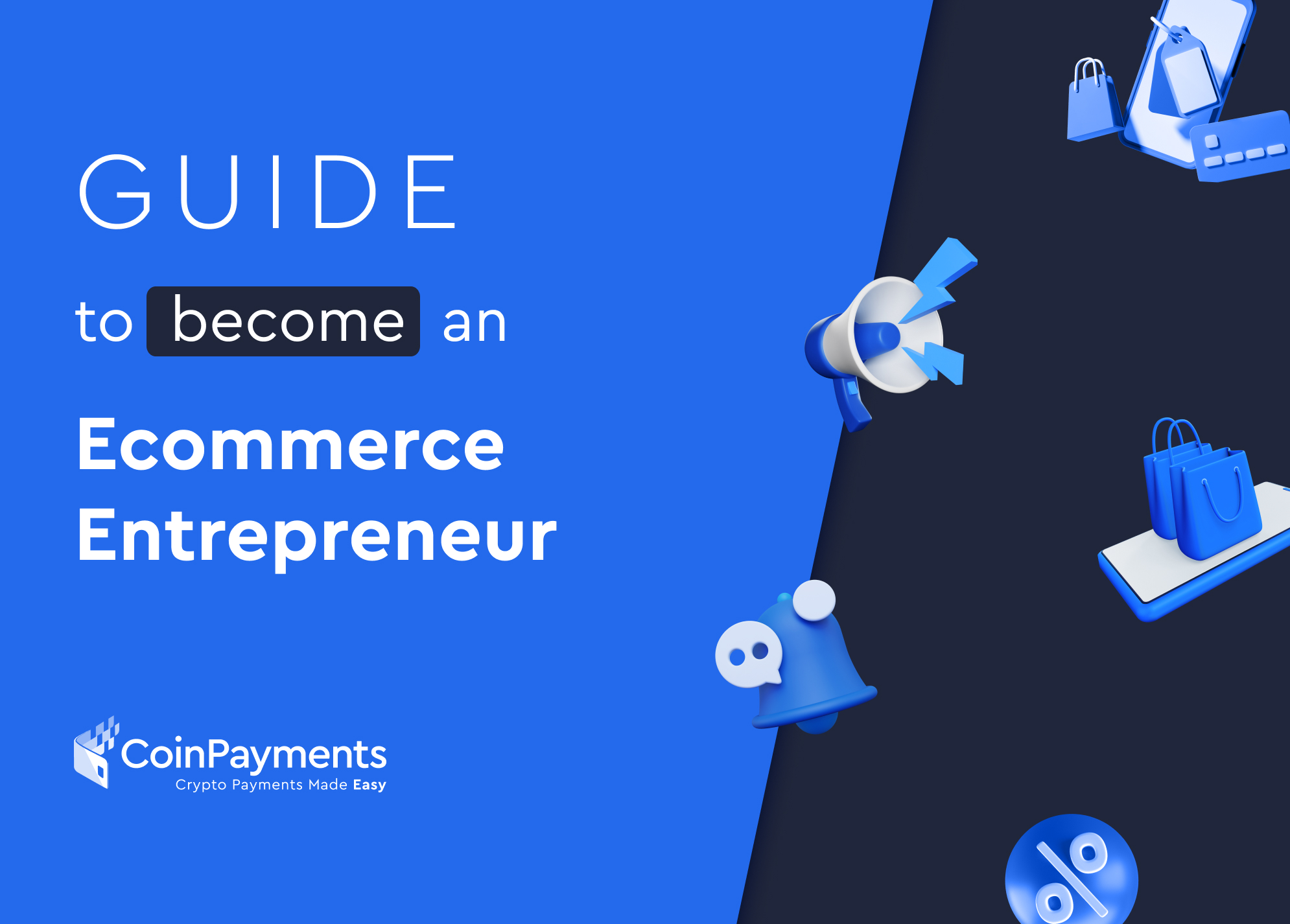 You want control of your finances, your professional destiny, and to bring something new to the world. It sounds like your ideal career is that of an eCommerce entrepreneur.
 The eCommerce market offers unprecedented freedom and flexibility, especially for prospective business owners with imagination and the drive to succeed. Anyone can become an eCommerce entrepreneur, but only some will succeed.
Not sure where to start? Read on for a detailed guide to becoming an eCommerce entrepreneur for beginners.
What Is eCommerce?
In a nutshell, eCommerce is any business transaction that takes place over the web. More practically, eCommerce means owning an online store or buying a product from an online store.
Ecommerce stores can range from the gargantuan, like Amazon and eBay, to small business stores like a website dedicated to your specific brand and product offerings. You also don't have to make your own website to be an eCommerce entrepreneur; instead, you can use online sales platforms such as Etsy to run an online store without having to create a website from scratch.
Regardless, eCommerce gives you access to an international audience, doesn't require you to buy or build brick-and-mortar real estate, and could help you reach your wildest career dreams.
What Does It Mean To Be An eCommerce Entrepreneur?
Therefore, an eCommerce entrepreneur is an entrepreneur with a focus on business operations online. Ecommerce entrepreneurs can include:
Small business owners who run their own online sites and storefronts
Craftspeople who sell homemade goods or products on Etsy or on their own eCommerce businesses
Server hosting resellers
Dropshippers, who sell products from the manufacturer to an end consumer
Freelancers, including writers, designers, web developers, and more
The great thing about pursuing eCommerce entrepreneurship is that there are no limits to what you can do. If you have a dream, odds are you can fulfill it as an eCommerce entrepreneur. Plus, you'll gain all the benefits of entrepreneurship, including:
Total control over your schedule
Not having to respond or obey a boss
Freedom and flexibility to pursue new ideas or products
And more
How Can I Become An eCommerce Entrepreneur?
Although eCommerce entrepreneurship can be a great career path, it can be tough to succeed in, given its competitiveness. Additionally, as an eCommerce entrepreneur, the buck stops with you, and you are responsible for both your successes and failures.
Here are some steps to get started on the path to eCommerce entrepreneurship.
Do Your Research
Firstly, you'll need to do lots of market research. This is similar to what you would need to do as an entrepreneur for a retail or brick-and-mortar business. You can't sell products or services without knowing who you should sell to, after all.
Specifically, you should figure out:
What products or services are needed but are not offered by competitors
A target audience, which is the demographic of people most likely to buy your chosen products or services
For example, the clothing industry is incredibly oversaturated in eCommerce. But you could potentially create a clothing eCommerce store if your clothing has a unique spin, like:
All the clothes are made from recycled materials
Your clothes are more affordable than others
You offer subscription shipments for random clothing items to fashion experimenters
Something else entirely
The target audience for such a business would likely be:
Women aged between 20 and 45
Tech-savvy people who know how to find Internet subscription companies in the first place
By doing market research, you'll know that your eCommerce venture has a potential market, and you'll know how to get your marketing off to the right start.
You'll then be able to take those insights and make a business plan and business model. A successful eCommerce business is contingent on a good plan, so don't skip this step.
Take Time To Learn About Marketing
Speaking of marketing, you should learn everything you can about digital advertising before you launch your business.
Digital marketing can include several major facets or methods, including:
PPC or pay-per-click Google Ads. PPC ads require you to bid on a certain keyword that only pays the bid price when someone clicks on an ad at the top of Google search results
Search engine optimization or SEO, which involves weaving keywords into your website content or product descriptions
Facebook and other social media ads, especially on platforms like Instagram
The more you learn about marketing, the more effective your marketing campaigns will be. This is particularly important in the earliest days of your eCommerce venture, as you won't have much of a marketing budget to work with until you make some profits.
Know Your Audience
As touched on above, you need to know your target audience as well as you can. Fortunately, tool suites like Google Analytics let you gather data to analyze visitors based on their age, sex, time spent on the website, and other key factors.
As you advertise and bring people to your site, you'll be able to refine your target audience. Then you can take that information and make your marketing campaign or materials all the more effective.
Become Familiar With Trends
It's also important to become familiar with important eCommerce trends. Some of the most important recent trends include:
A shift toward mobile shopping. Most people do their online shopping on mobile devices like phones, so your website should be optimized for mobile navigation and page load speed
Free shipping, in addition to fast shipping (usually within one to two business days)
Dedicated customer support channels, including email and phone at a minimum and often including live chat or chatbot support
By understanding current eCommerce trends, you'll make sure your own entrepreneurial enterprise is modern and touches on consumer pain points.
Perfect Your Products
Naturally, you'll also need to ensure that your products or services are high-quality and perfect for your target audience. Whether you make products, resell products, or offer a service, make sure that your eCommerce output:
Is attractive to your target audience
Is sold at a price point that is both reasonable and profitable for your business
This may take some time to get right. Fortunately, you can adjust your pricing model as you gain data and learn the behaviors and preferences of your target audience.
Be prepared to spend some time perfecting your product and adding features or inclusions to make it stand out from the competition, especially in crowded industries or niches like software, marketing, clothing, food, and so on.
Craft Your eCommerce Site
Regardless of your entrepreneurial goals, you can't run a successful online business without a website. Therefore, you'll need to craft an eCommerce site for your entrepreneurial enterprise to get up and running fully.
Fortunately, you have two options:
Build your own eCommerce site using a website builder, such as WooCommerce or Shopify
Hire a web development team to construct a website for you
Either approach can work, but you should know that hiring a professional web development and design team will cost a lot more.
In general, if you don't have a lot of money or your business idea is unproven, you'll have more success building your own website using a website builder.
On the plus side, building your own website is relatively straightforward and easy. You don't need to worry about running into too many roadblocks or not being able to design a great-looking website. These website builders have modifiable themes and layouts that you can use to design a website that is easy to tweak yet unique across the Internet.
Regardless, expect to take at least a few months to build your website from scratch. Even though you can technically get a website up and running in a matter of hours, you'll need extra time to make sure all the links are working, to put the required effort and passion into its various pages and products, and so on.
When building your website:
Be sure to choose a web domain with a unique, available name. You can purchase and register a unique domain name on domain registrars. Ideally, your domain name will be related to your brand or business idea but easy to spell and remember.
Choose web hosting that meets your specific goals. Shared hosting has you share server resources with other websites, but it's very affordable. Eventually, you'll need to move on to VPS or dedicated hosting for more server resources and scalability.
Make sure your eCommerce website can accept multiple forms of currency. In this day and age, it's wise to accept cryptocurrencies on your eCommerce site so you can do international business quickly and easily without being limited by fiat currencies. Crypto payment processors like CoinPayments can help you set this up in no time.
Once you've knocked out all these steps, congratulations – you'll have a potentially profitable eCommerce business ready to go, and you'll have taken your first step on your career journey.
How Can I Be More Successful?
But that's just the beginning. Even after you launch your entrepreneurial endeavor, you'll need to know how to cultivate and maintain success over the long term.
Here are some ways you can remain successful as an eCommerce entrepreneur.
Consider An Accountability Partner
Firstly, you might consider hiring an accountability partner. In a nutshell, an accountability partner is a right-hand person who acts as your business supporter and advisor. In many cases, the CFO is the accountability partner for the company's CEO or founder.
An accountability partner:
Makes sure that you pursue your goals as they were originally intended and aren't sidetracked
Helps you make tough business decisions
Keeps you accountable to your workers and your shoppers
Accountability partners can be very helpful for new entrepreneurs who don't have business leadership experience.
For example, you can get your friend who already has a successful eCommerce business to be your accountability partner in exchange for a small stake in your upcoming company. You can alternatively seek out:
Successful eCommerce entrepreneurs
Investors
Close friends
Be Patient
No matter the value of your idea or your initial success, stay patient. Patience is vital in any entrepreneurial enterprise, especially in the eCommerce sphere. It might take several months or even several years to see a real profit (and indeed, many companies don't make a profit for the first couple of years of their operations).
Stick with your idea and have faith in yourself. Don't make massive changes to your business plan or operations if you don't make tons of money right off the bat. The best success usually comes after consistent effort.
Stay Committed
Stay committed to your business and its original concepts. Odds are you had a great idea initially; don't let the challenges of running a business convince you that your ideas are bad or that you need to chase fads or other trends practiced by other companies.
Keep what makes your company unique and remain committed to your vision above all else.
Find a Reliable Supplier and Shipping Partner
The best way to maximize your budget and ensure your profit margins are reasonable is to find a reliable supplier for your products, plus a good shipping partner. The ideal supplier will be honest and forthcoming in their dealings with you and help you get the materials you need to make your products regularly.
Similarly, a good shipping partner will be affordable, communicative, and a good business partner all around. In the earliest days of your company, don't be afraid to try out multiple suppliers and shipping partners as you figure out which companies are the best matches for the future.
Keep a Set Work Schedule
The most successful business people around the world have set work schedules. Try to keep your work schedule the same and don't overwork yourself, as you'll burn out and make bad decisions in the process.
It can be tempting to keep in a regular schedule, but in the beginning, it's probably wise to stick to the Monday through Friday schedule you already know.
Maintain a Work and Life Balance
As touched on above, keeping a good work/life balance is vital for your mental health and your decision-making skills. Be sure to set aside time for recreation and relaxation, plus enough time to maintain important relationships with your friends and family members.
Network
Networking is vital in entrepreneurship, especially in the eCommerce sphere. Take note of everyone important you meet during business hours and try to attend eCommerce seminars or meetings in your local area to meet other business owners.
Who knows? You might meet other business people who can become your suppliers, shipping experts, or other members of your team. Many business partnerships start in social arenas, so get out there and socialize. It's like the old saying: it's not what you know, but who you know that makes the difference.
Finetune Customer Experience
Your customers are the lifeblood of your company, no matter its focus. Therefore, you should spend a lot of effort throughout your business's lifespan fine-tuning the customer experience from start to finish.
Make sure that:
Your website is easy to navigate through
It's very easy for customers to purchase after clicking on an ad
All your customers have easy access to customer service or support resources, like live chat
Your ads are engaging and never insulting to your target audience
If you commit to these goals, your customers will likely form lifelong connections with your brand.
Have a Customer Support System
Speaking of customer support, make sure you have a system in place. Your customers need to be able to contact you if they have questions about your product or company, or if they need to request a return, need technical support, or something else.
You should have a work email that serves as a customer support channel. You should offer additional eCommerce customer support channels, like a phone line or live chat on your website as your business grows.
Is It Hard To Become An eCommerce Entrepreneur From Scratch?
Yes, undoubtedly. However, it's also one of the most rewarding career paths ever. As an eCommerce entrepreneur, you'll be accountable to no one and will be able to chart your professional course for years to come. 
Plus, being an eCommerce entrepreneur exposes you to many interesting people and may open up additional career options in the future.
The Bottom Line
No matter what, believe in yourself. If you've always wanted to become an eCommerce entrepreneur, you can do it. The eCommerce market is open to everyone, so write down your ideas and develop a business plan to get started. You should also take heavy advantage of the many tools available to you, including website builders and CoinPayments: the best way to accept cryptocurrencies on your eCommerce website. Get started with CoinPayments today with our quick sign-up process, and don't forget to check out our merchant tools.