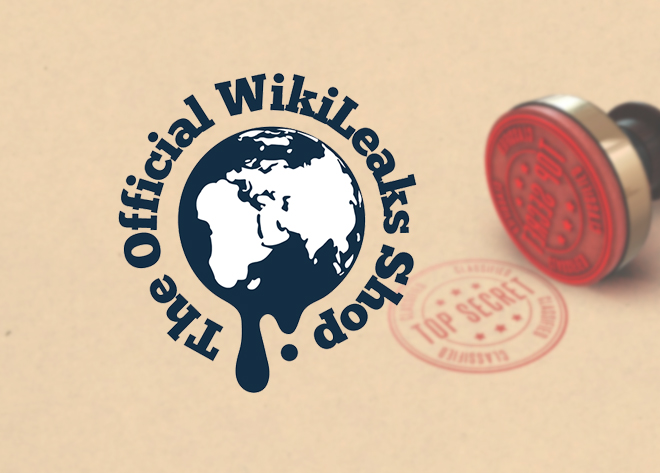 At this point, most people have heard of Wikileaks and its polarizing founder, Julian Assange. The hype around this notorious platform centers on its mission to uncover hidden government secrets and publish them to the world as they relate to war, spying, and corruption. Since 2006, it has published over 10 million documents, and continues to do so even with Mr. Assange in prison. According to Mr. Assange, "WikiLeaks is a giant library of the world's most persecuted documents. We give asylum to these documents, we analyze them, we promote them, and we obtain more."
Given the mission of the company in a world where government skepticism continues to rise and the flow of information and increased transparency become greater priorities for people, it's no wonder that a company like Wikileaks has gained so much popularity. The Wikileaks Shop was created to help promote the Wikileaks message, and to allow people to show their support for both the company and its founder.
Wikileaks Shop's Relationship to Cryptocurrency
There are many value overlaps between those who use cryptocurrencies and the people who support Wikileaks in their mission. Both strive for greater transparency in many ways, while also protecting the individual. When it comes to institutions, however, each are of the mind that there should be no secrets hidden to the public if it is in the best interest of them to know. Due to the decentralized nature of Bitcoin and cryptocurrencies, the Wikileaks shop has added CoinPayments as a payment option to support an alternative currency which is not controlled by a central government or banks. Thanks to the large user base and reputation of CoinPayments, the reach and reliability of the Wikileaks Shop is even more enhanced.
As a cryptocurrency holder, there are many types of merchandise that can be bought through the Wikileaks Shop. The usual clothing items are available with several eye-catching phrases and graphics. There are also accessories such as mugs, journals, bags, hats, and phone cases. An unusual item that you don't see in many merchandise webstores, but that also aligns with cryptocurrency, is the option to buy a CryptoKitty. The shop only accepts Ethereum for this certain item, though, but is another indication of its relationship with the crypto industry.
Check out the Wikileaks Shop to buy some unique shirts and fight the power or find out more on their crypto store directory listing on Cryptwerk.