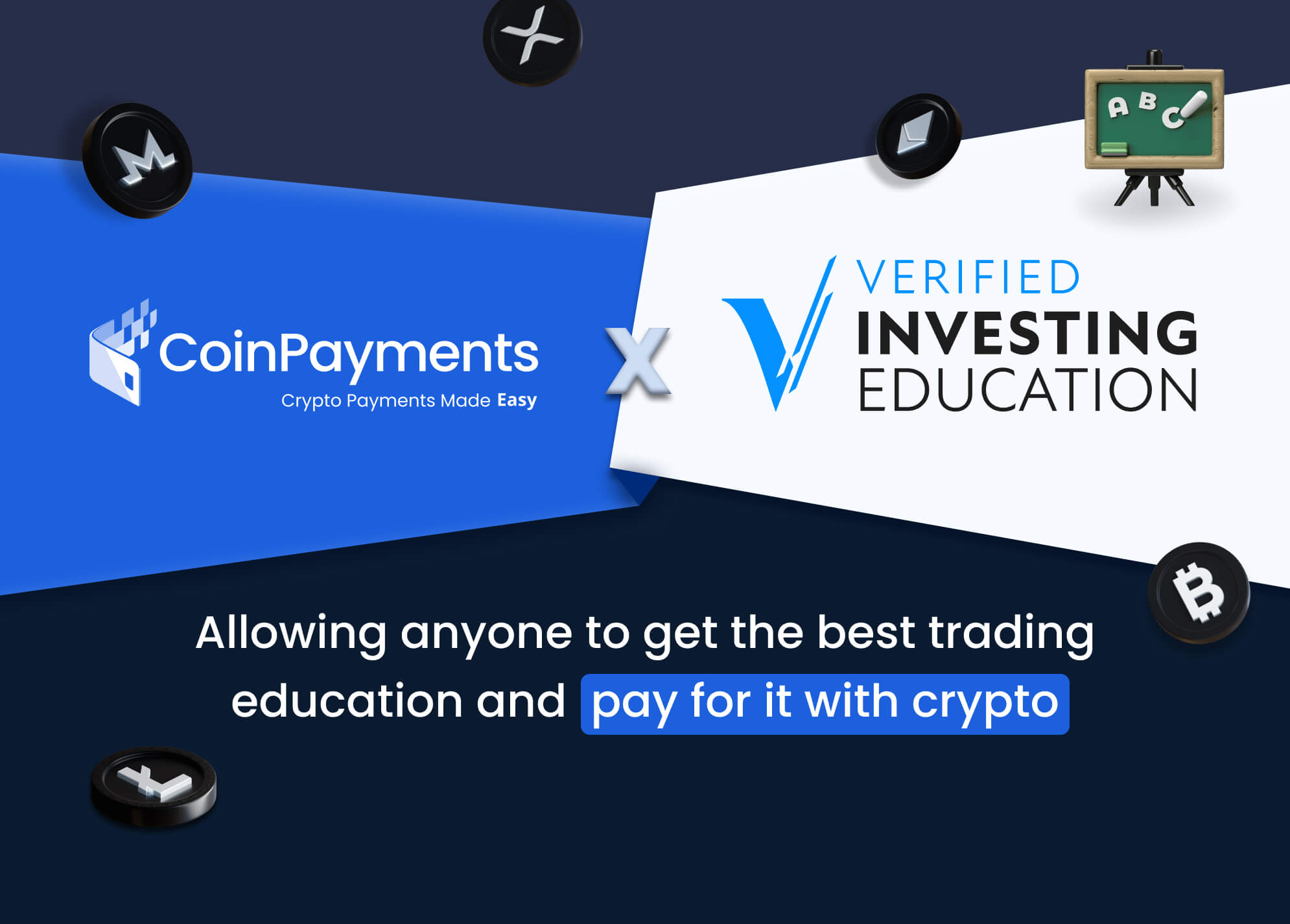 Crypto payments adoption is growing fast and globally, especially after the pandemic. Likewise, two industries have experienced exponential growth in recent years: e-learning and trading.
At CoinPayments, we are delighted to support both sectors simultaneously thanks to our latest partnership. Today we announce that our crypto payment gateway has been integrated by Verified Investing Education, one of the best educational platforms for stock and cryptocurrency trading.
Now, users can learn how to become winning traders with Verified Investing Education's first-class trading courses and then pay for those courses with cryptocurrencies.
Want to know more? Here are all the details, but first let's get to know our new partner in more detail.
About Verified Investing Education
Verified Investing Education is an educational platform co-founded by Gareth Soloway, a master trader with over 20 years of profitable trading experience.
Throughout his career, Gareth has given investors major tops and bottoms in the stock market, gold, silver and cryptocurrencies. He has also helped thousands of traders achieve financial freedom through his proven 80+% win rate on trade alerts and his highly accurate technical analysis.
Now, newcomers and experienced traders alike can learn how to become winning traders in stocks, crypto, commodities, or forex in this new 3-course series designed for traders of all levels to go from never having placed a trade to ultimate trading mastery.
The bundle to master trading
IIn collaboration with Kitco Media and The Better Traders, Verified Investing Education has created The Winning Trader Series by Gareth Soloway, a 3-course series that includes:
Strategies of a Winning Trader, where you can learn how to trade the right way for building a solid and profitable trading foundation.
Setups of a Winning Trader, where Gareth Soloway will teach you advanced technical analysis techniques that will help you become a winning trader.
Secrets of a Winning Trader, where you will gain full access to Gareth's favorite and most advanced signals, confirmations, go-to chart patterns, and his most closely held secret ingredients for ultimate trading mastery.
Each course can be purchased separately as a stand-alone solution that provides high-level, quality trading education. However, Verified Investing Education has created the ultimate trading learning package: the Master Trader Bundle.
With this bundle, you will have access to all 3 courses, as well as to a number of exclusive benefits such as
18 hours of livestream training with Gareth Soloway.
Additional rewards and opportunities.
Special discounts & exclusive bonuses.
For a complete A-Z roadmap to mastering stock and cryptocurrency trading, see the Verified Investing Education website* and the social media details** at the end of the blog post.
Learn trading, pay with crypto
The widespread adoption of cryptocurrencies is rising exponentially, reaching all sectors. Now it is also a reality in the e-learning trading industry.
Thanks to the integration with CoinPayments, cryptocurrencies are available as a payment method for the Master Trader Bundle and The Winning Trader Series courses.

A partnership that opens up an incredible opportunity, as Verified Investing Education says.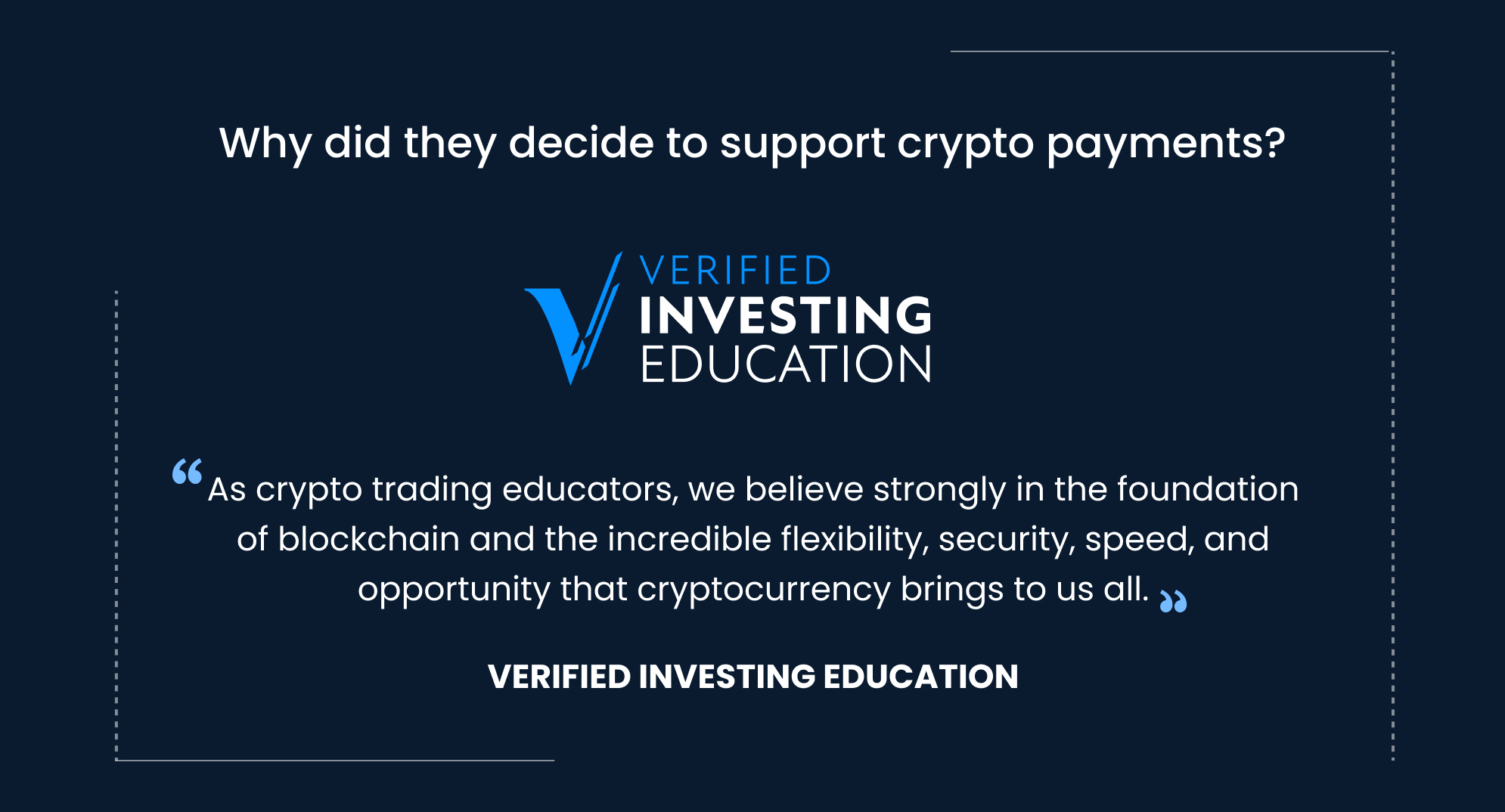 At tAt the moment, Verified Investing Education allows paying for its courses with 4 different cryptocurrencies:
Bitcoin (BTC)
Ethereum (ETH)
Solana (SOL)
Tether (USDT) via Ethereum network -ERC20-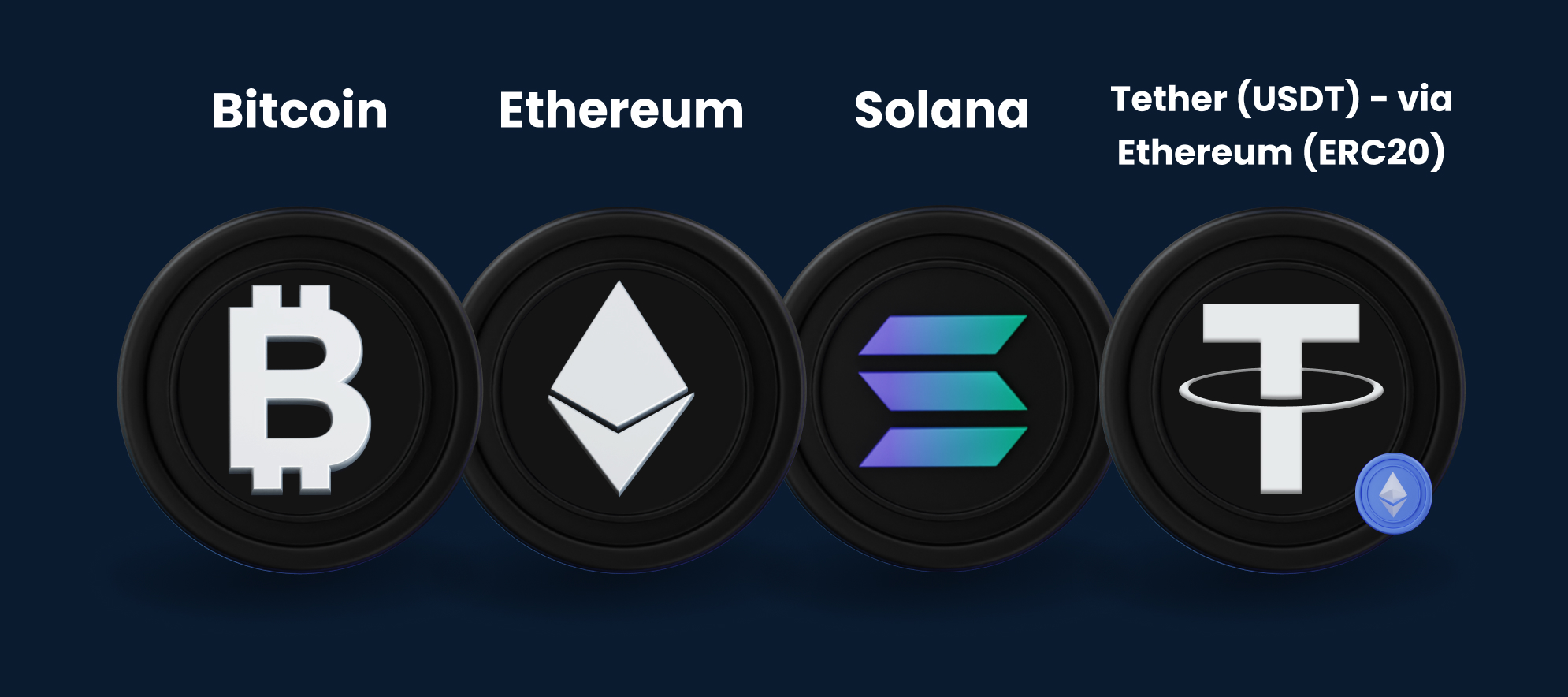 However, they could enable up to 120 different cryptocurrencies to be accepted thanks to the versatility of CoinPayments system.
This is one major advantage of integrating the world's leading cryptocurrency payment gateway, but there is more.
Advantages of accepting crypto with CoinPayments
Reaching a new audience. An increasing number of people worldwide want to pay for their online purchases with cryptocurrencies.
Reduce transaction fees. While credit cards charge 2-4% transaction fees, CoinPayments charges only 0.5%, the lowest in the industry.
Raising the bottom line. According to a study by Zippia, 40% of customers who pay with crypto spend twice as much money.
No more delays. Crypto payments are received within minutes, even if it's after 5 pm, on weekends or holidays.
Avoiding friendly fraud. Thanks to Blockchain technology, any crypto payment is impossible to be returned, unlike traditional payment methods.
These and other advantages of accepting cryptocurrencies with CoinPayments have motivated Verified Investing Education to open this new payment method for its courses.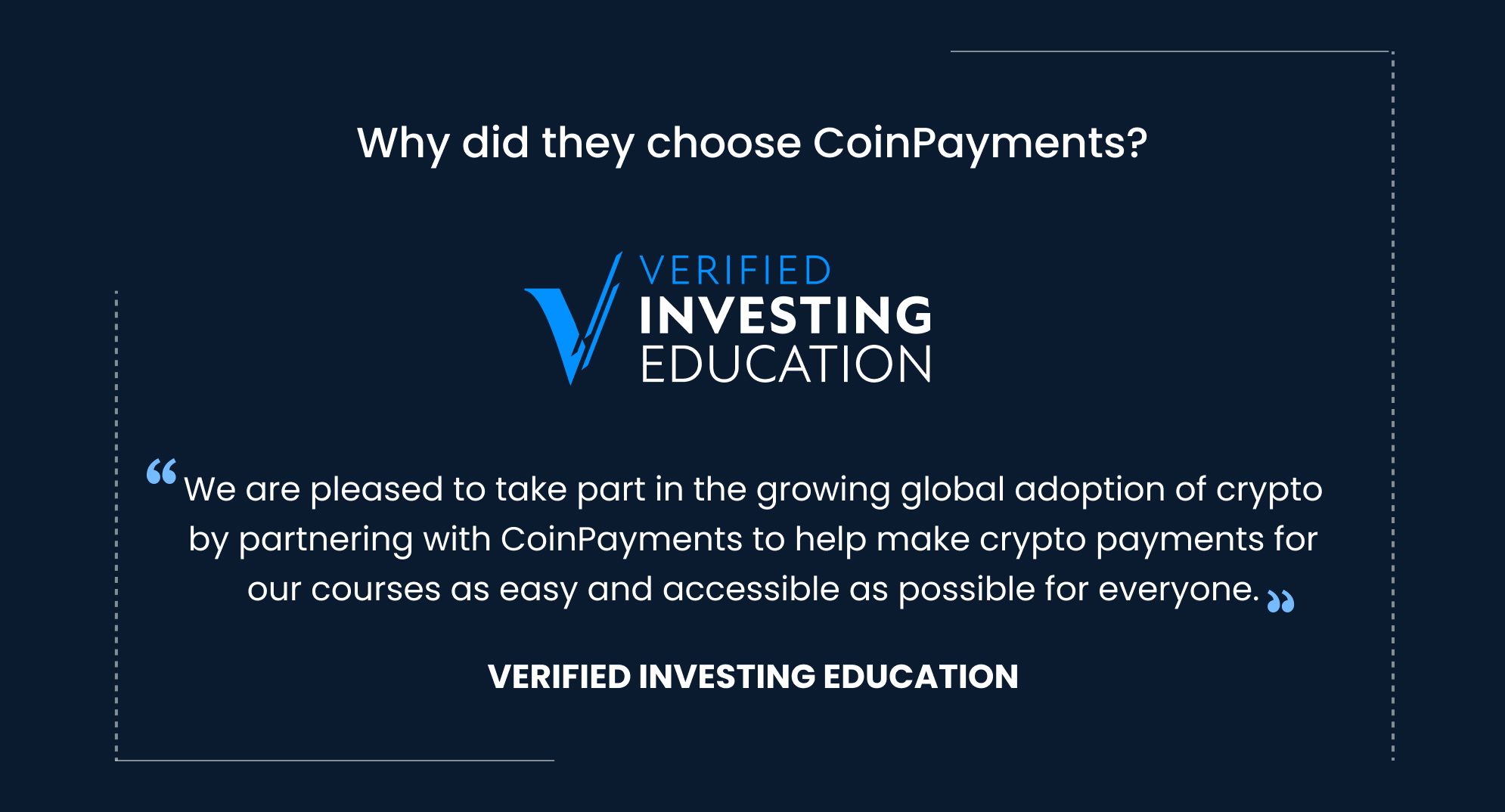 Embrace crypto in your business easily with CoinPayments
Verified Investing Education and more than 117,000 merchants worldwide are already enjoying all the benefits of accepting cryptocurrencies with CoinPayments.
If you are an entrepreneur offering educational products and services or have a business of any kind, accepting cryptocurrency payments is a natural step. We make that step easy for you.
Sign up now for your Business account and start accepting Bitcoin, Ethereum, and over 120 other cryptocurrencies today.

---
*Verified Investing Education website: verifiedinvestingeducation.com 
**Verified Investing Education on Twitter.