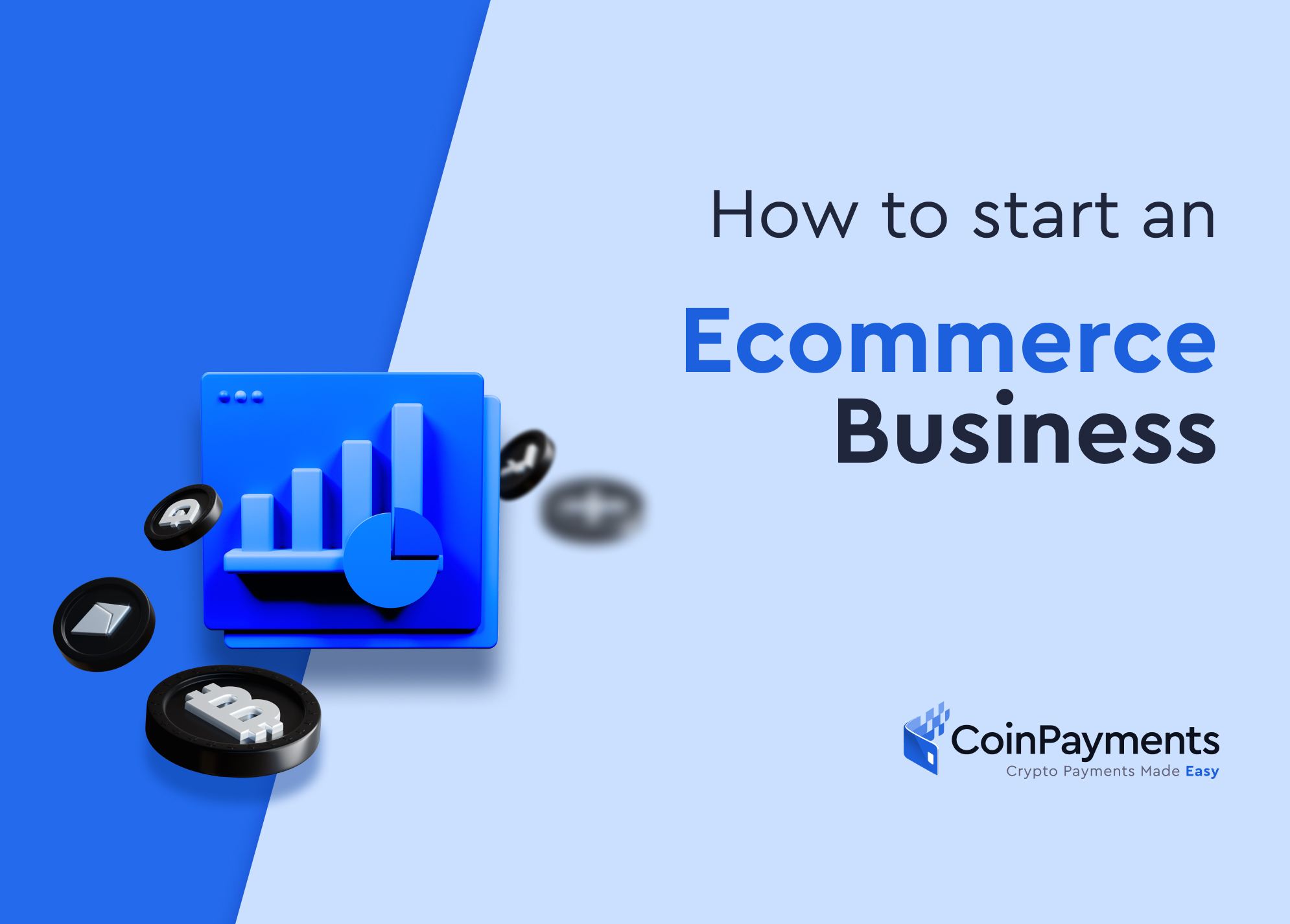 Starting a business is tough enough – starting an exclusively online or eCommerce business is even tougher. When you have to deal with matters like shipping, website design, and other challenges, it's no wonder many would-be entrepreneurs have no idea how to begin their professional journeys!
But if you've always wanted to start an eCommerce business, you're in luck. Below, you'll find a detailed step-by-step breakdown that can help you start an eCommerce business of your very own. Let's get started!
How Can I Start My Own eCommerce Business?
Starting a successful eCommerce business is very similar to what you would do if you started a retail business, as seen with brick and mortar stores.
Choose a Product To Sell
All businesses have to begin with an idea. For eCommerce, that means you need either a product or service to sell to your consumers.
When choosing a product to sell, the sky's the limit, so use your imagination. Alternatively, maybe you've always wanted to have an eCommerce business selling a particular product or working in a specific industry. Potential products or services you could sell include:
Food products
Clothing and apparel
Toys or devices
Software
Freelance services like writing, development, graphic design, etc.
If you don't know where to start at this step, consider your interests first. When you start a business, focusing on something you already means you'll be more likely to dedicate the necessary time and energy to your enterprise.
Find a Supplier
Next, you'll need to find an appropriate supplier for your product, whatever that happens to be. For example, say that you want to make a living selling homemade jewelry on your own eCommerce site.
In that case, you'll need the raw materials for the jewelry, including precious metals, stones, and so on. Do a lot of market research and determine what suppliers are in your area and at your pricing points.
You have to spend money to make money, so keep this in mind as you browse different suppliers and their costs. If necessary, you can take out a business loan to acquire the supplies you need to get the supplies to make your products.
Of course, if you plan to offer a service instead of a product, you don't necessarily need a supplier. However, you'll likely need some software in order to provide those services, even if it's something as simple as Microsoft Office.
Do Your Research
As touched on above, you'll need to do a lot of research before your business gets up and running. Market research is vital to the success of any enterprise, including eCommerce businesses.
Specifically, you should research:
What do people in your industry need? These market gaps are perfect opportunities for you to exploit. For example, if the homemade jewelry industry doesn't have a store that offers jewelry specifically for astrology signs, you can easily fill that niche and provide jewelry to fill that gap
Who is your target audience? This is the demographic of visitors who are most likely to buy your products. Your target audience can be determined by examining the sex, age, location, and other demographic info from people who visit your website. You may already have an idea of this – for instance, if you plan to run an online store selling customized sunglasses, your target audience can be men and women aged between 20 and 45. Once you identify your target audience, you'll be able to tune your marketing efforts
Your budget limits. Figure out how much cash you have to start with and how much financing you can acquire from loans, family members, etc. This will tell you how much money you can spend on product creation and price your products to make a profit.
Plan to spend several weeks up to a month at minimum researching for your upcoming business. The more research you do, the more prepared you'll be for the next steps.
Explore Competitors
As a side note, it may also be wise to research your competitors in your industry. You should research your competitors to:
See what they are doing and do it better
See where they can improve so you can avoid the same mistakes
Analyze how they price their products so you can adjust your own budget as needed
Exploring your competitors is one of the best ways to hit the ground running and gain additional info in the earliest stages of your business. Be sure not to copy your competitors outright. But don't hesitate to find what works for them and put your own spin or twist on it.
For example, if you want to run a business selling custom T-shirts, see the designs used by other companies. Then come up with your own custom T-shirt designs that are better than what they offer.
Craft a Plan
Any good business starts with a business plan, so draw one up ASAP after doing all your research. Your business plan should include a lot of elements, including but not limited to:
The projected cost of your business
The potential revenue of the business to interest investors
What resources you'll need
The target audience
How your business will operate (i.e., only eCommerce, only retail, hybrid, etc.)
Whether you'll likely need other employees
A business plan is important for two reasons: attracting investor attention and giving yourself a blueprint to work with. The business plan can be great when making your next decisions.
But it may also help you secure financing from potential investors or family members who need some evidence that you know what you're doing before they fork over the cash.
Name Your Business
Of course, you can start a business without coming up with a memorable name! The ideal business name will be:
Unique
Easy to spell and remember
Related to your industry or brand identity
Say that you want to run a business creating affordable yet durable shoes for runners. Naming it something like "Runalight" is a potential option.
When coming up with your business name, search for related domain names. This will save you some time in the future because you'll want your domain name to be related to your business name in some form or fashion.
If you decide to misspell your business name, make sure it is misspelled "logically." You can misspell "light" by writing "lite," for instance, but not by spelling it "lyt."
Create Your Logo
As you start your eCommerce business, you'll also need a quality logo. The logo can be placed on your website, on your branded apparel, on your products, and on the packaging.
Like your business name, the logo should be unique, iconic, and memorable to your customers. If you don't have a background in graphic design, don't sweat it; you can usually hire a freelance graphic designer or a graphic design firm to mock up some logos for you.
This will cost a bit of cash, but it may be worthwhile in the long term. Alternatively, try to come up with a logo yourself if you have some artistic talent. When done properly, your logo will become synonymous with your brand and will help build brand awareness throughout your industry or online market.
Learn About Marketing and SEO
Lastly, take some online classes and educate yourself about digital marketing and search engine optimization or SEO.
Digital marketing includes several major facets. For example, you'll need to set up PPC or pay-per-click Google ads, banner ads on related websites, and social media ads on platforms like Facebook or Instagram.
SEO, meanwhile, involves leveraging certain keywords on your website and its important copy to help your site and brand rank more highly with Google.
Combined, SEO and good digital marketing will spread the word about your brand after your business launches and get people to visit your site more frequently in its earliest days.
Online marketing takes a long time to master, so be prepared to read much information ahead of launch day.
How Do I Build My eCommerce Store?
Once you have the major elements of eCommerce business – a business idea, plenty of research, and a business plan – you'll next need to build an eCommerce store from scratch. Fortunately, this is easier than you may think.
Choose a Site Builder
These days, you don't need to hire a dedicated web design or development company to build a website for you. Instead, you can build your own eCommerce website using dedicated site builders, like Shopify, BigCommerce, or WooCommerce.
These easy-to-use website builders allow you to choose from customizable templates, then use drag-and-drop controls or toolkits to customize your site to your liking. These website builders are either free or relatively cheap. With their help, you'll be able to build a basic site framework in a matter of minutes or hours.
We recommend choosing a site builder based on the themes, cost, and controls it comes with. Some website builders may also be better or worse depending on your chosen eCommerce platform. For instance, WooCommerce is better for WordPress users because it is already a dedicated WordPress plug-in.
Select a Domain Name To Buy
You'll need to choose a domain name to purchase for your site. The domain name is best understood as the street address for your eCommerce store, so it needs to be unique and memorable so visitors can find it easily.
We recommend matching your domain name to your business name as closely as possible. If the ".com" version of your brand name isn't available, consider alternatives like ".net" or ".io." Or choose a related domain name that is still close enough to your brand that potential customers will not be confused.
Once you have the right domain name, make sure it is available on a domain registrar and purchase it. The most popular and competitive domain names will be pretty expensive – some can cost several hundred dollars!
Find a Template
After choosing the domain name and site builder, you'll need to pick a template from one of those builders. The ideal template will match your industry's aesthetic or feel.
For instance, if you are making a custom apparel store, a clean but gentle interface with lots of opportunities for photos is best for your eCommerce storefront.
On the other hand, if you are trying to sell your custom wax product to car enthusiasts, a theme with a dark background and a masculine tone will be ideal.
Spend some time searching through your chosen website builder's available themes. Many of them have thousands to choose from.
While you can always change your site theme after the fact, this could be difficult after loading it with tons of information and content, like blog posts or content for affiliate marketing.
Also, consider that some things are better for customization, pictures, videos, or other content types. Whatever you do, ensure the theme has enough space or functionality for an online store cart and checkout page!
Build Your Main Pages
Choosing the theme of your website is just the beginning. You'll then need to devote attention to the main pages for your online storefront. These include:
The homepage is the heart of your online store. It should include links to all the major product pages, plus the other main pages below.
The contact page should include contact information for you and any other major team members. You might also include a link to a live chat function if you wish to launch your site with this right out of the gate.
The "About Us" page will give visitors more information about your company, inspiration, and brand identity. It can help people connect more deeply with your brand before they make a purchase.
Any other important pages, like your return policy page. These pages will be dependent on the type of products or services you offer.
Your main pages should be graphically minimum (i.e., not a lot of big photos or videos). This will ensure that the pages load quickly, which is especially important for mobile visitors.
Your main pages should also have lots of great content and be aesthetically pleasing to the eye without being overly cluttered or graphically confusing.
Input Product Photos and Descriptions
Next, it's time to come up with individual product pages. Each product in your catalog should include at least one high-quality photo (although several is ideal), plus detailed descriptions of the product and its specifications.
As a rule of thumb, add as much information about your eCommerce products as you can. Giving your customers more information lowers the likelihood that they will make a return because they are more likely to make a fitting purchase in the first place. This is doubly true for industries like the clothing industry (in which case you should have lots of photos for each item).
If possible, choose a website builder and theme that has controls such as object rotation or extra photo slots for products. The more attractive and desirable you make your products seem, the more likely they will be purchased by your target audience.
Set Up a Payment Processing Service
Getting people to put items in their shopping cart is one thing – getting them to pay is another. To earn revenue through your eCommerce business, you'll need to set up a payment processing service. Payment processing services facilitate electronic transactions by encrypting consumer information and communicating with banks and bank accounts.
Payment processing services can include Square, PayPal, Stripe, etc. However, some payment processing services are better for hybrid retail and online businesses. Others, like PayPal, may be ideal for exclusively eCommerce ventures.
As you choose your payment processing service, see what types of payments it accepts before signing them on. Each payment processing service will charge a regular or monthly fee for its efforts.
It may also be good to set up a cryptocurrency payment processing service. These days, accepting cryptocurrencies is ideal since it allows you to accept money from all around the world without worrying about fiat currency exchanges.
Add Multiple Payment Methods
Furthermore, we highly recommend adding as many payment methods to your online store as possible. Why? Research suggests that the more payment methods you have, the more likely it is you'll make a profit. If you give people maximum ways to pay, only more likely to spend money at your online store in the first place.
Therefore, it may be a good idea to use CoinPayments to start accepting cryptocurrency at your eCommerce business from the get-go. This way, you can accept traditional fiat currency like the dollar or euro in addition to crypto tokens like Bitcoin.
You can always add multiple payment methods later down the road, but you can start your business off right by accepting lots of payment options immediately.
Decide How You Want Shipping To Work
If you create and sell physical products, you'll need to ship those to your customers. Many customers expect shipping to be both free and rapid thanks to Amazon and its limitless inventory – you may not be able to hit both of these points in the earliest days of your eCommerce business.
If that's the case, prioritize free shipping rather than speed. In any case, figure out how your shipping will work. You have two major options:
Work with a well-known shipping provider like USPS, UPS, or FedEx
Work with a dedicated eCommerce shipping company – there are dozens of these throughout the country
Different shipping partners will charge different rates and have different package limitations. Some, for example, may specialize in small packages for affordable rates.
Calculate these costs into your budget to determine which shipping companies you can work with while still making a profit.
Choose a Reliable Shipping Partner
We also recommend choosing a reliable shipping partner with lots of great reviews. Check out sites like Trustpilot or other resources to ensure a shipping company is worth your time and money.
If a shipping partner doesn't deliver a product, they're not the ones that suffer: you and your customers are. Even worse, you may lose a customer permanently if a shipping company doesn't do its job. Make this decision carefully to ensure success over the long term.
Make a Test Purchase To Ensure Your Systems Work
Once your website is ready and you've chosen a great shipping partner to facilitate product delivery, make a test purchase before setting your site to "live" status. This will give you the opportunity to iron out any wrinkles and fix any glitches you encounter.
First impressions are important, so have your friends and family try your eCommerce business first to make sure everything runs smoothly.
Offer Customer Support
Lastly, be sure to have some sort of customer support policy in place, even if it's just responding to emails yourself. Your customers need to know there's a way to contact you if they have a problem with their order. You can outline customer support options on one of the main pages described earlier.
How Long Does It Take To Start an eCommerce Business
That depends on what you sell, how big your venture is, and the type of website you build. Generally, it'll take anywhere from a month to six months or even longer to start an eCommerce business from initial ideation to website launch.
How Long Until I Start Seeing Results?
That's an even tougher question. Many Internet businesses don't start earning major profits until a year or more has passed. But again, you might start seeing major results sooner depending on what you sell, your profit margins, your operating expenses, and other factors.
Remember, accepting multiple forms of currency will help you earn more profits in the short and long term.
Do I Need To Register My Business?
Yes, almost always. The US government requires most small businesses to register themselves with their state's business or commerce departments, either initially or after earning a certain amount of revenue.
However, each state has its own rules and requirements. Check with your state's Department of Commerce or government to see what you need to do and when.
Registering your business requires:
Formally announcing that your business is operational
Including key information about your business, like its name and mailing address
Getting an EIN or Employer Identification Number if you plan to have employees
Do I Need a License?
In most cases, yes. A business license authorizes you to do legal business in your state of residence. Generally, your business license will need to be renewed every few years or so with a small fee. Depending on state requirements, make sure you have the required permits or business licenses.
Should I Set Up Email Marketing?
Absolutely! Email marketing is one of the best ways to market your eCommerce business digitally. You can use email marketing to:
Remind customers that they have items in their carts
Announce special deals or discounts
Offer helpful information or tips to your customers
Email marketing tools can automate this process and make sending regular emails to your customers easy and consistent.
Can Social Media Help Drive Traffic?
Yes. Social media engagement is vital in this day and age. You should make a social media account on each of the major platforms – Facebook, Twitter, and Instagram – and interact regularly with people who engage with you there.
Not only can you advertise on these platforms and drive traffic that way, but you'll also drive traffic by building real relationships with potential and current customers.
The Bottom Line
There's a lot that goes into starting an eCommerce business, especially if it's your first time. But achieving eCommerce entrepreneurial success is a victory like no other.
Starting an eCommerce business will be tough, but with the right plan and personal drive, you'll overcome each obstacle and eventually have a profitable business in your name… plus be your own boss!
CoinPayments can make earning early profits easier with crypto payment processing. Even better, we offer a suite of dedicated merchant tools for eCommerce business owners just like you.
Sign up for CoinPayments today, or contact us if you have other questions about how it all works!