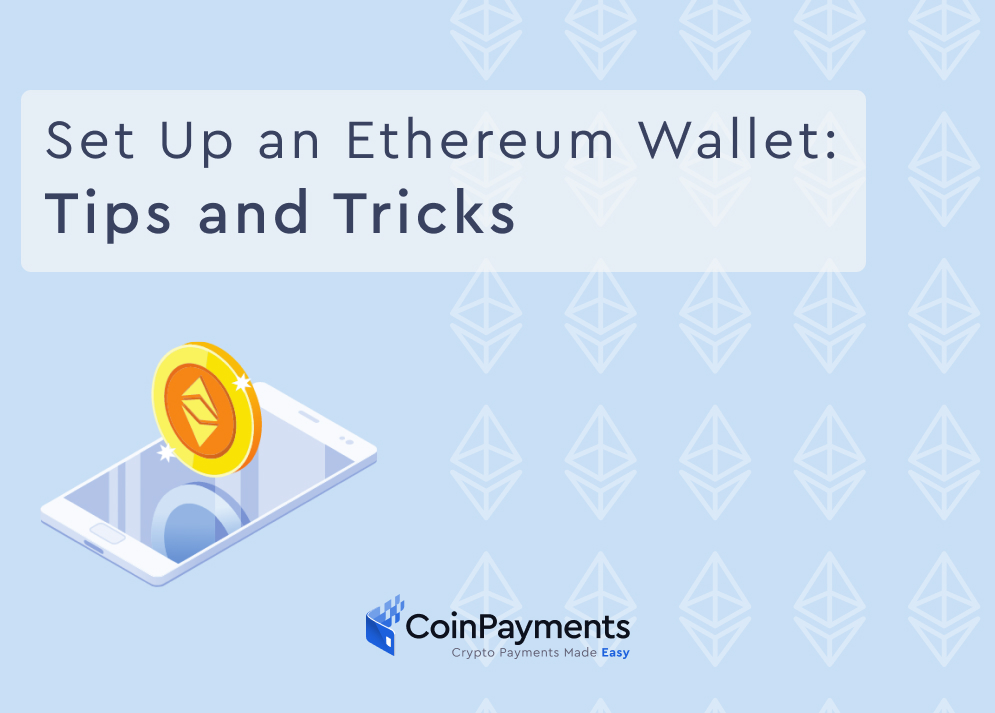 Ethereum is an extremely popular cryptocurrency. As one of the many cryptocurrencies available today – among them Bitcoin, Litecoin, Dash, Ripple, and Dogecoin – it was originally developed to help with cloud-based processing to execute code. However, it is now one of the most popular cryptocurrencies traded and mined today. 
If you are considering setting up an Ethereum wallet, there are some tips and tricks to know that will help you figure out what's best for you.
Let us take the guesswork out of setting up a crypto wallet for Ethereum in this guide.
Types of Wallets
First, figure out what type of wallet is best suited to your particular financial and technological circumstances. If you're new to crypto, you may want an extra hand with payment oversight and technical support. Some of you, on the other hand, may prefer managing your crypto funds independently with full control over your hardware for added security. There is no wrong choice here, just personal preference.
Here are a few points to remember when researching which Ethereum wallet is best for you:

Personal vs. Third-Party
Third-party wallets are exactly what they sound like – blockchain software connecting your account to the blockchain created by a third-party developer, or in some cases, an entire developer community. Third-party wallets are the easiest wallets to use and set up, and they provide a host of other possibilities.

Personal wallets, on the other hand, don't involve a developer whatsoever. The user instead independently creates their own wallet, or purchases one that doesn't have to be tied to a developer. Hardware wallets are some of the most popular personal wallets.
Hardware Wallet vs. Software Wallet
Ultimately, crypto wallets exist in two forms: hardware or software.
A hardware wallet stores your keys on equipment, such as a flash drive, that connects to a USB drive on your computer. Hardware wallets have many benefits, but one of the most important is boosted security. A hardware wallet doesn't connect to the Internet, which means it's less likely to fall prey to hackers.

When you use a hardware wallet to complete a transaction, your private key doesn't go online–instead, the wallet validates transaction data internally, ensuring no information becomes public. Hardware wallets are definitely the way to go if security and privacy is your biggest concern.

Software wallets, on the other hand, can be more useful if you need flexibility on how you pay. Software wallets come in multiple forms, including desktop wallets, web-based wallets, and mobile wallets. Each has its pros and cons.
Full Node vs. Not Full Node
Full node wallets allow full access to the Ethereum blockchain technology that gives a detailed history of the cryptocurrency itself. This allows for maximum transparency and integrity when using Ethereum. However, it generally requires large amounts of storage and processing power that can only be found in some types of desktops. It is not available for mobile. It also transforms a desktop into a "node" that sends and receives information into the blockchain itself, so it will use a fair bit of processing power and speed.
Generally speaking, the most effective and helpful wallets are third-party, hot, and non-node wallets that allow the owner of Ether to use them more widely and easily. While this is not always the case, it is a more accessible option for many, not requiring intense hardware, excessive knowledge of the world of cryptocurrency, or any other factors that make Ether and other currencies seem intimidating.
How To Set Up and Use An Ethereum Wallet
If you have been wanting to use Ethereum for a while now, good news – CoinPayments' multi-coin wallet and payment processing services support Ethereum.
Setting up a wallet with CoinPayments is easy and quick. As soon as you have access to your wallet, you can begin using Ethereum to your heart's content. Just sign up for a CoinPayments account and begin tracking Ethereum transactions immediately. CoinPayments offers both a personal account and business account depending on whether you are a merchant or individual. Setting up a personal wallet is completely free and allows you to buy crypto with your credit card, including Ethereum tokens.
Here's a step-by-step that breaks down the process of using Ethereum with CoinPayments.
Signing Up for a CoinPayments Account
Sign up for a CoinPayments account here or click the Sign Up button in the top right corner of the CoinPayments website.

Fill out the appropriate details on the Create New Account form.

After signing up, verify your account by clicking the activation link in the email sent to the email address you used to register your account.
How to Adjust for Ethereum in CoinPayments Coin Settings
Personal wallets with CoinPayments provide wallet holders with access to more than 2000-plus cryptocurrencies – Ethereum is one of them. To begin accepting Ethereum for payments to your personal wallet, follow these two simple steps:
When you are logged in to your account, go to the My Account, What Coins To Accept menu item.

From there you can put in your wallet payment addresses and click the Enabled checkbox next to coins you want to accept, including Ethereum. Wallet addresses can be from standalone software or from exchanges such as Poloniex, BTC-e, or others.

If you're a merchant, you can modify which coins you want to accept as payment and what to do after receiving a payment, including accepting Ethereum.
Merchants who want to accept Ethereum payments should follow these steps for full integration:
Go to: ACCOUNT -> COIN ACCEPTANCE SETTINGS

Select Ethereum from the list by checking the box next to the coin. This will allow you to accept Ethereum as payment.

Make sure to scroll all the way to the bottom of the page and click Update Coin Preferences

This is the minimum you need to configure to begin accepting Ethereum to your store. Leave the rest of the options for later (ie. conversion, fiat settlement, payment forwarding).

When you're using a third-party system such as CoinPayments, you'll need to set up an account first, and then you can start making transactions using Ether.

The Final Word
With CoinPayments, setting up an Ethereum wallet is quick and painless. Ethereum continues to be one of the most popular cryptocurrencies on the blockchain, so every merchant should have a way to accept Ether tokens securely.
For access to your Ether tokens on the go, download the CoinPayments app today!
Sources:
Ethereum price today, ETH live marketcap, chart, and info