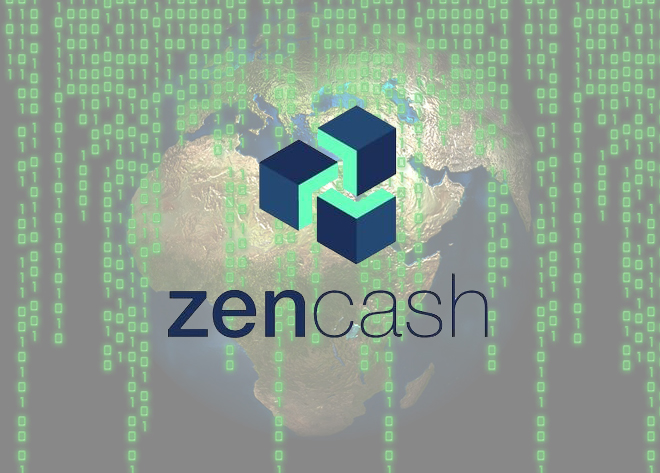 ZenCash (ZEN): The Complete Digital Security Solution
ZENCASH QUICK STATS
| | |
| --- | --- |
| TYPE: | Currency |
| CREATION DATE: | July, 2017 |
| DEVELOPMENT STAGE: | Full Release |
| CURRENT SUPPLY: | 4,310,075 |
| TOTAL SUPPLY: | 21,000,000 |
| ALGORITHM: | Equihash |
| PROOF TYPE: | PoW |
| BLOCK TARGET: | 2.5 minutes |
ZenCash is quite possibly the most versatile cryptocurrency platform in the world. ZenCash is an end-to-end-encrypted system with zero-knowledge technology over which communications, data, or value can be securely transmitted and stored. It also allows for totally private messaging and media sharing (coming soon). Through total security and open-sharing, the company's goal is to level the economic playing field through technology.
Through a variety of different tools, ZenCash has been able to create a system that allows for private transactions with hidden sender/receiver information, total domain fronting, and anonymous data access via a distributed system. You can also use CoinPayments for ZenCash payment processing to start accepting ZEN in your business, through any of our many plugins and integrations.
A recent merchant that many will be familiar with – Pornhub has integrated CoinPayments payment processing into their platform to start accepting ZEN payments, which is an ideal way for customers to maintain their anonymity.
How ZenCash Works?
Zen groups many different elements and features to build an entirely incredible and whole ecosystem. Instead of using regular nodes, Zen requires Secure Nodes, which ensures the nodes maintain a basic standard of security and performance to ensure the system remains distributed, resilient, and secure. Through encrypted communication between nodes and wallets, Zen guards against eavesdropping and attacks.
On top of the above, Zen eliminates a metadata weakness that is present within most other cryptocurrencies. In other cryptocurrencies, the user is forced to communicate in a potentially compromised fashion, which then exposes the user to identification by transaction correlators.
ZenCash instead incorporates secure messaging within shielded transactions, so users can agree on the transaction, send it, and then verify receipt. These functional elements will manifest into the following systems:
ZenTalk – A new type of secure communications network that allows for one-to-many communication using the blockchain to store messages permanently.
ZenPub – An anonymous document publishing platform IPFS.
ZenHide – This system creates the ability to circumnavigate crypto-commerce blocking using domain fronting
Why Choose ZenCash?
On top of the many reasons above?
Zen's framework is a secure, privacy-oriented infrastructure with a governance system structured to enable participants to collaboratively extend functionality. Opportunities are abundant and can include the hosting of individual identification data, selective proof of title for property, and decentralized banking services, to name just a few.
"Zen built their system so that these functions could be utilized to serve disenfranchised populations currently excluded from vital services such as banking and healthcare due to lack of identification, capital, and secure channels."
– The Zen Team
Furthermore, the system can be leveraged by individuals who desire to monetize their private data, or for example, by enterprising communities that wish to develop a competitive bidding system on internally generated solar energy.
The benefit of the Zen system is that it offers many features within its platform and the unique implementations are unbounded.
FURTHER INFORMATION ABOUT ZENCASH
ZenCash Website  |  ZenCash Block Explorer  |  ZenCash on BitcoinTalk