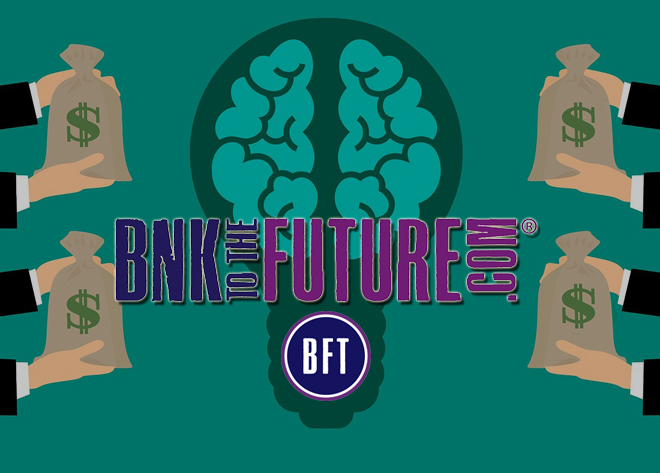 Bnk To The Future Token (BFT): Invest in the Future of Finance
BFT QUICK STATS
| | |
| --- | --- |
| TYPE: | ERC20 Token |
| CREATION DATE: | February, 2018 |
| DEVELOPMENT STAGE: | Full Release |
| CURRENT SUPPLY: | 629,990,099 |
| TOTAL SUPPLY: | 1,000,000,000 |
| ALGORITHM: | ERC20 |
| PROOF TYPE: | ERC20 Token |
| BLOCK TARGET: | N/A |
Bnk To The Future is, as the name suggests, all about investing in the future of finance and more specifically fundraising! BnkToTheFuture.com is the largest global online investment platform boasting the largest community of qualifying high net worth crypto investors who are all investing in the future of finance, FinTech, bitcoin, blockchain and crypto businesses. Investors on BnkToTheFuture.com invested in the equity of CoinPayments, BitFinex, Kraken, BitStamp, BitPay, ShapeShift and many others.
Bnk To The Future Token (BFT) is integrated into the BnkToTheFuture.com online investment platform which acts as a membership and rewards token helping the platform to become a fairer, more transparent and more efficient marketplace. BnkToTheFuture.com even helped CoinPayments with their very first fundraise to help kick things off and now CoinPayments is happy to announce that we provide BF Token (BFT) payment processing through our plugins and integrations!
Their overarching belief is that the future of finance looks very different to how it looks today. They see it as one that is much more digital and seamless that the inefficient and clunky way things are currently managed. To help further their belief, they're offering qualified investors the opportunity to invest in the companies and products that are developing the future of finance.
"I like the goals of Bnk To The Future, where everything is transparent and people can see what happens with their money. It is great that they are offering support to entrepreneurs and businesses who will create jobs in the future." – Sir Richard Branson
How it Works?
Investors use BnkToTheFuture.com in order to build a portfolio of equity and tokens. They pool all investors into and act as one institutional investor giving members the opportunity to hold a diversified portfolio in the disruptive bitcoin, blockchain and FinTech sector without having to setup their own venture capital fund.
Bnk To The Future Token holders get priority access on all deals, rewards when they conduct due diligence and support investor relations and discounted trading fees on their secondary market once it launches.
BFT integrates, decentralizes and streamlines the BnkToTheFuture.com platform through the incentivization of token holders of qualified accounts, allowing holders to identify, select and research the best deals to get listed on BnkToTheFuture.com and be rewarded for contributing towards the due diligence process.
Why choose Bnk To The Future?
With a community of almost 65,000 professional investors, the Online Investment Platform – BnkToTheFuture.com has attracted a ton of attention from a variety of different investors. The main features of Bnk To The Future platform that have brought in investors include:
The Community: They are the largest global online investment community of professional investors all investing in financial innovation and technology. Investors have access to invest in the same caliber of deals that top FinTech Angel investors and venture capitalists have access to. Their community is truly global, with active investors and entrepreneurs from 112 countries. Plus, Bnk To The Future is not a gateway drug! Their team handles all documentation, admin and payment for both investors and companies fundraising through the platform.
No Penalties: Other than third party payment processing fees, you get to invest in the top deals without paying any fees until the investment succeeds.
You can start accepting BF Token (BFT) payments in your business today, using any of the many plugins and integrations CoinPayments has already developed!
FURTHER INFORMATION ABOUT BFT
Bnk To The Future Token Website | Bnk To The Future Token Block Explorer
DISCLAIMER: The views and opinions expressed on this page do not represent those of CoinPayments Inc., Hodltech OÜ or their respective affiliates, employees and representatives (collectively, "CoinPayments"). CoinPayments does not endorse and is not responsible for or liable for the accuracy of any content, or the advertising, products, goods, services, materials or other statements, on this page. Readers should do their own research before taking any actions with respect to, or in connection with, this entity or the content and statements on this page. CoinPayments is not responsible or liable, directly or indirectly, for any damage, expense or loss caused by, or alleged to be caused by or in connection with the use of or reliance on, any content, statements, products, goods or services mentioned on this page.