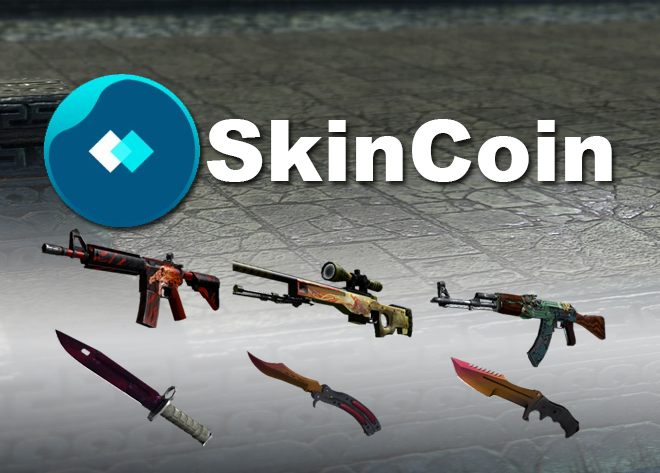 SkinCoin (SKIN): Trade Game Skins for Crypto
SKINCOIN QUICK STATS
| | |
| --- | --- |
| TYPE: | ERC20 Token |
| CREATION DATE: | June, 2017 |
| DEVELOPMENT STAGE: | Full Release |
| CURRENT SUPPLY: | 388,183,000 |
| TOTAL SUPPLY: | 488,183,483 |
| ALGORITHM: | ERC20 |
| PROOF TYPE: | ERC20 Token |
| BLOCK TARGET: | N/A |
Are you a gamer? Are you interested in the crypto-currency universe? If so, the SkinCoin is a great entry point to learn a bit more about how cryptocurrencies work.
SkinCoin is a diverse and multi-use cryptocurrency for gamers. It acts as an independent currency to be used on gaming websites. You can shop and pay for services on a variety of different gaming platforms, as well as swap gaming skins for SkinCoin and vice versa. As a merchant you can take advantage of our SkinCoin (SKIN) payment processing to start accumulating your supply to use on gaming skins and other services.
Finally, SkinCoin is safe and secure for users to use as every transaction is stored on the Ethereum blockchain for full transparency of ownership. This means that you can trace all transactions using a wallet address or transaction ID.
How it Works?
SkinCoin is an ERC20 token built on the Ethereum Network. It means that you have total control of your tokens. All transactions are written into the blockchain and no one can change or cancel them once they're confirmed. Adding SkinCoin as means of payment also brings access to a network of billions of gamers all over the world.
Why Choose SkinCoin?
SkinCoin allows its users to accept safe payments and use its coin as a unified currency for all different types of game services and in-game item trading.
By introducing the cryptocurrency SKIN into the gaming industry, their team has solved the problem of convenience and safety when it comes to payment for gaming services. The adoption of this currency will protect all users on many different types of gaming platforms because it totally locks and secures all transactions.
On the SkinCoin exchange website, there's a huge range of skins to exchange. All the transactions on the trading site will be in SKIN and swapping skins for SkinCoin is much more profitable than skin sales on the trading platform.
If you're a merchant looking to target the gaming market, start accepting SkinCoin (SKIN) payments today!
FURTHER INFORMATION ABOUT SKINCOIN
SkinCoin Website  |  SkinCoin Block Explorer  |  SkinCoin on BitcoinTalk