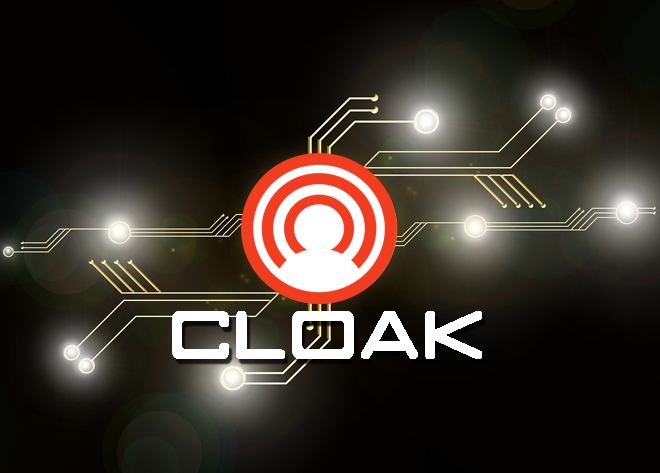 CloakCoin (CLOAK): Private, Secure, Decentralized & Untraceable Transfers
CLOAKCOIN QUICK STATS
| | |
| --- | --- |
| TYPE: | Currency |
| CREATION DATE: | May, 2014 |
| DEVELOPMENT STAGE: | Full Release |
| CURRENT SUPPLY: | 5,172,790 |
| TOTAL SUPPLY: | N/A |
| ALGORITHM: | X13 |
| PROOF TYPE: | PoW/PoS |
| BLOCK TARGET: | 60 seconds |
CloakCoin is a cryptocurrency designed to facilitate private, secure and untraceable decentralized transfers with ENIGMA – a private, secure and untraceable payment system, which forms the basis of future development and provides the underlying transaction system for the decentralized applications running on the CloakCoin network.
CloakCoin was one of the first digital currency concepts in the crypto market to address this inadequacy, and was introduced in 2014 with the aim of enabling people to use a coin that would provide total privacy.
CloakCoin is based on the 'Blockchain' concept but has added some very simple and clever layers of communication and a sophisticated off-chain coin mixing system making it impossible for 3rd parties to trace transactions between CloakCoin wallets.
CoinPayments has long supported the efforts of this project and is proud to support CloakCoin (CLOAK) payment processing.
How it Works?
CloakCoin's CloakShield utilizes end-to-end encryption and delivers secure communication out of the box, allowing nodes to circumvent traffic analysis. Combined with ENIGMA, it is the crème de la crème for privacy, utilizing up to 25 hops using symmetric RSA encryption backed by an ECDH key exchange.
Open source is important to Cloak as it provides complete transparency and the ability to peer review the software. Users can have complete faith that the software is continually reviewed for bugs, tracking, malware or any other unwanted software.
Like most other digital currencies CloakCoin can be either stored in Wallets or in accounts offered by many exchanges or financial service providers around the world.
Most digital currencies, including Bitcoin, face the problem of possible devaluation by 3rd parties via blacklisting certain coins that were used in a specific manner. Digital currencies usually leave a trail of breadcrumbs that can be followed, which has the potential to lead to loss of value via blacklisting. Through CloakCoin's transaction system ENIGMA, CloakCoin guarantees equality and interchangeability, making devaluation via blacklisting coins impossible.
CloakCoin is a Proof of Stake Coin which rewards users with 6% rewards per year from staking.
Why choose CloakCoin?
CloakCoin is one of the best cryptocurrency systems available providing private, secure, decentralized and untraceable digital monetary transactions. It is also one of the most user-friendly systems and will allow anybody with a computer or a smartphone to participate in today's digital markets.
CloakCoin is secure and can protect your privacy while being a pure peer-to-peer network without the need of any master nodes, custom blockchain formats or information stored in databases or external ledgers, like sub-blockchains.
Further features of CloakCoin include:
Incredible Speed: Experience almost instant transactions. No more waiting for slow block times or network transactions to take place.
Completely Cloaked: Cloak has onion-routing privacy set to default, or switch on state of the art ENIGMA for the ultimate in cloaking.
Community-Minded: The CloakCoin community relies upon active participation and volunteers to help the project.
See for yourself why CloakCoin has become such a success and help further adopt the currency by accepting CloakCoin (CLOAK) payments in your business today!
FURTHER INFORMATION ABOUT CLOAKCOIN
CloakCoin Website  |  CloakCoin Block Explorer  |  CloakCoin on BitcoinTalk