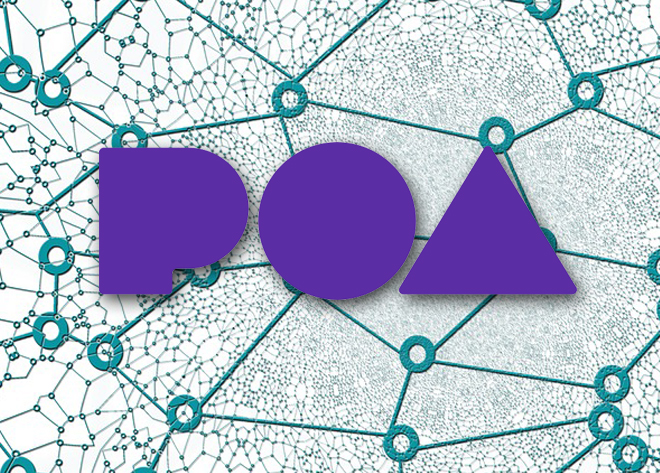 POA NETWORK (POA20): Speed, Cost, Efficiency, Security
POA NETWORK QUICK STATS
| | |
| --- | --- |
| TYPE: | Platform |
| CREATION DATE: | February, 2018 |
| DEVELOPMENT STAGE: | Full Release |
| CURRENT SUPPLY: | 205,038,005 |
| TOTAL SUPPLY: | 255,530,165 |
| ALGORITHM: | Proof-of-Authority |
| PROOF TYPE: | PoA |
| BLOCK TARGET: | 5 seconds |
POA Network is an open, public, permissioned blockchain based on the Ethereum protocol that offers an open source framework for smart contracts. On May 9th, POA Network deployed to production The POA Bridge. Through the Bridge, POA Network gave users the ability to convert POA native tokens (native currency of POA Network) to POA20 tokens (ERC20 representation of POA native tokens on Ethereum network) and vice versa. POA20 was activated as a Smart Token on Bancor Network on the same day, thus allowing for additional liquidity of POA20 tokens regardless of trade volume or exchange listings.
By deploying the first cross-chain production bridge, POA Network has shown how sidechain projects can take advantage of the liquidity and markets available through Ethereum's main network by converting some of their tokens to ERC20 versions but still have the ability to use the utility of their own chain.
CoinPayments has integrated POA20 payment processing allowing merchants to start accepting payments in POA. Some POA Network features include:
Simplification of consensus which promotes adoption
Block generation at 5 second per block
Higher transaction throughput
Energy efficient/no mining required
Low transaction costs
POA is an interledger blockchain project, that aims to connect different Ethereum-based networks. The blockchain itself is Ethereum compatible and it's the first Blockchain that can interact with all Ethereum compatible networks.
By utilizing the Proof of Authority algorithm as a consensus mechanism, POA employs a set of "authorities" – nodes that are explicitly allowed to create new blocks and secure the blockchain, and unlike the Proof of Work model, it does not depend on nodes solving arbitrarily difficult mathematical problems.
PoA consensus is straightforward and efficient with known validators and a governance-based penalty system in which public notaries with active commission licenses validate blocks and secure the network, and whose information is available on the public domain in order to allow 3rd parties to verify their identity.
The POA Network provides sets of supported DApps for identity verification, governance, and network administration such as:
Proof of Identity DApps: Proof of identity DApps is a series of decentralized applications focused on connecting a user's identity to his/her wallet. Applications can be run on any Ethereum-compatible network.
Proof of Physical Address (PoPA) DApp: Using Proof of Physical Address, a user can confirm his/her physical address. It can be used to prove residency.
Governance DApps: This client-side DApp provides the list of existing ballots with the ability of filtering by active, unanswered, and expired ballots, and gives the opportunity to create new ballots and to vote for or against notaries.
FURTHER INFORMATION ABOUT POA NETWORK
POA Network Website | POA Network Block Explorer | POA Network on BitcoinTalk
DISCLAIMER: The views and opinions expressed on this page do not represent those of CoinPayments Inc., Hodltech OÜ or their respective affiliates, employees and representatives (collectively, "CoinPayments"). CoinPayments does not endorse and is not responsible for or liable for the accuracy of any content, or the advertising, products, goods, services, materials or other statements, on this page. Readers should do their own research before taking any actions with respect to, or in connection with, this entity or the content and statements on this page. CoinPayments is not responsible or liable, directly or indirectly, for any damage, expense or loss caused by, or alleged to be caused by or in connection with the use of or reliance on, any content, statements, products, goods or services mentioned on this page.