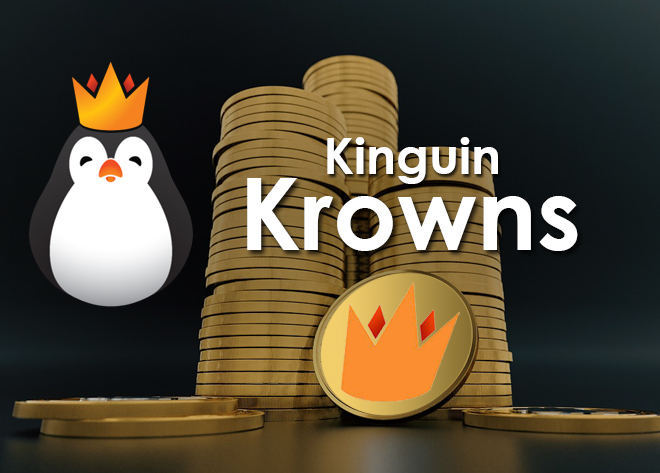 KINGUIN KROWNS (KRS): A Global Gaming Currency
KINGUIN KROWNS QUICK STATS
| | |
| --- | --- |
| TYPE: | ERC20 Token |
| CREATION DATE: | March, 2018 |
| DEVELOPMENT STAGE: | ICO/Initial Release |
| CURRENT SUPPLY: | N/A |
| TOTAL SUPPLY: | 100,000,000 |
| ALGORITHM: | ERC20 Token |
| PROOF TYPE: | ERC20 |
| BLOCK TARGET: | N/A |
What is Kinguin? What is the KRS token? How does Kinguin work? We have all the answers you need.
Krowns (KRS) are the new Kinguin tokens that users can spend to buy/sell/trade digital goods and services on the Kinguin.io platform and CoinPayments has integrated the token into our platform providing merchants with Krowns (KRS) payment processing capabilities.
Kinguin's mission is to provide sellers and buyers from all around the world the possibility to trade video games at a fair price with no hassle.
Since its launch in early 2013, Kinguin has quickly become the largest alternative marketplace to Steam, Origin and Battle.net with over 4 million loving customers.
How it Works?
The Kinguin.io system enables you to earn or spend Krowns to buy or sell games or in-game assets directly with merchants or others users in a safe and secure environment!
Kinguin is a user-friendly system that allows anyone to setup a trade channel and start earning money on digital products or services. Our trade bots will extend deep into the community, facilitating trade on social media platforms, where it will feel like a natural part of any gamer's lifestyle.
To ensure maximum satisfaction, customers enjoy the benefit of an optional Buyer Protection Program with a 30 day money back guarantee. Additionally a very competent customer support team takes care of any issue through instant live chat.
Why Choose Krowns?
Technology now has reached the point where global trade between gamers can be easy, secure, and nearly instant thanks to blockchain and smart contracts. In just 5 years, the annual secondary market for games has gone from near-zero to over $1 billion dollars. As new technologies gradually eliminate mistrust from the value chain, we believe the global market for player-to-player trade will increase dramatically.
Online gamers naturally embrace every aspect of digital value creation, micro-transactions, and monetization of virtual goods in their games. Krowns was founded on the belief that gamers should be able to freely trade their digital property. This belief is shared by a global community of seven million gamers.
At the end of 2017, Kinguin customers had already saved more than $210 million dollars on digital games and in-game items. The invention of Krowns (according to Kinguin) is being billed as the next step in the evolution of the platform to the next generation.
FURTHER INFORMATION ABOUT KINGUIN KROWNS
Kinguin Website  |  Kinguin Krowns Block Explorer  |  Kinguin on BitcoinTalk
DISCLAIMER: The views and opinions expressed on this page do not represent those of CoinPayments Inc., Hodltech OÜ or their respective affiliates, employees and representatives (collectively, "CoinPayments"). CoinPayments does not endorse and is not responsible for or liable for the accuracy of any content, or the advertising, products, goods, services, materials or other statements, on this page. Readers should do their own research before taking any actions with respect to, or in connection with, this entity or the content and statements on this page. CoinPayments is not responsible or liable, directly or indirectly, for any damage, expense or loss caused by, or alleged to be caused by or in connection with the use of or reliance on, any content, statements, products, goods or services mentioned on this page.