Globcoin (GLX): A World Economy Stable Coin
Globcoin Quick Stats
| | |
| --- | --- |
| TYPE: | ERC20 Token |
| CREATION DATE: | January, 2018 |
| DEVELOPMENT STAGE: | Full Release |
| CURRENT SUPPLY: | 29,089,448 |
| TOTAL SUPPLY: | 29,089,448 |
| ALGORITHM: | ERC20 |
| PROOF TYPE: | ERC20 Token |
| BLOCK TARGET: | N/A |
In the world of crypto, wealth management and preservation are complicated tasks. Some who have gotten in early have benefitted greatly from the early gains of the system, while persistent volatility has made entry into the market intimidating for newcomers. There have been solutions that have come out to stabilize the market and make entry into crypto more attractive, but the Globcoin team claims to have taken this one step further. CoinPayments is now offering Globcoin (GLX) payment processing to our merchants worldwide.
How Does Globcoin Work?
This project takes stabilization of crypto to another level by utilizing a currency basket to peg its coin. As the world becomes more global, any one currency becomes less important compared to the multitude that exist, while its strength relative to the entire set diminishes. As confidence in individual currencies wane, there becomes a need for one that can be global and backed by many currencies and assets to stabilize its value. Hence, the GLX token was created. By using several different global currencies and assets to provide a stable reference for the coin, there is more trust that the coin will remain stable even when individual currencies fluctuate. The Globcoin Crypto Platform provides the infrastructure to build stable coins pegged to baskets of currencies corresponding to specific communities/users' needs.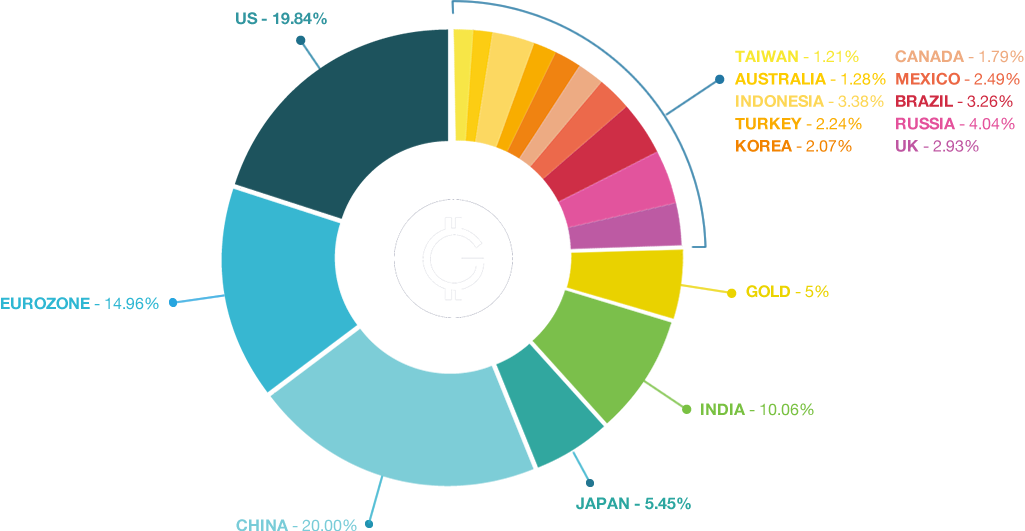 The GLX tokens are linked to a currency basket. Currently, the token is pegged to the team's Global Reserve Currency, a basket based on the 15 largest currencies of the world and 5% weighed in gold. This is the Global Reserve Currency of the Globcoin Crypto Platform and is pegged 1-1 against these reserve currencies. The currencies themselves are held in a tier 1 bank. The currencies in this basket are weighed according to each nation's GDP data adjusted by their PPP. This is to allow for greater weight in the emerging markets to reflect their higher growth potential in their economies.
Why Choose Globcoin?
Globcoin claims to be a forwarding thinking project that takes the concept of stable coins to the next level bringing together a comprehensive list of currencies and assets in one unified basket to peg their token against. With a team that is experienced and well versed in banking and technology, this project might have all the tools it needs to bring a game changing cryptocurrency into the mainstream financial sphere. For more information about Globcoin, or to learn about Globcoin payments, please get in contact with us.
FURTHER INFORMATION ABOUT GLOBCOIN
Globcoin Website | Globcoin Block Explorer | Globcoin on Telegram
DISCLAIMER: The views and opinions expressed on this page do not represent those of CoinPayments Inc., Hodltech OÜ or their respective affiliates, employees and representatives (collectively, "CoinPayments"). CoinPayments does not endorse and is not responsible for or liable for the accuracy of any content, or the advertising, products, goods, services, materials or other statements, on this page. Readers should do their own research before taking any actions with respect to, or in connection with, this entity or the content and statements on this page. CoinPayments is not responsible or liable, directly or indirectly, for any damage, expense or loss caused by, or alleged to be caused by or in connection with the use of or reliance on, any content, statements, products, goods or services mentioned on this page.