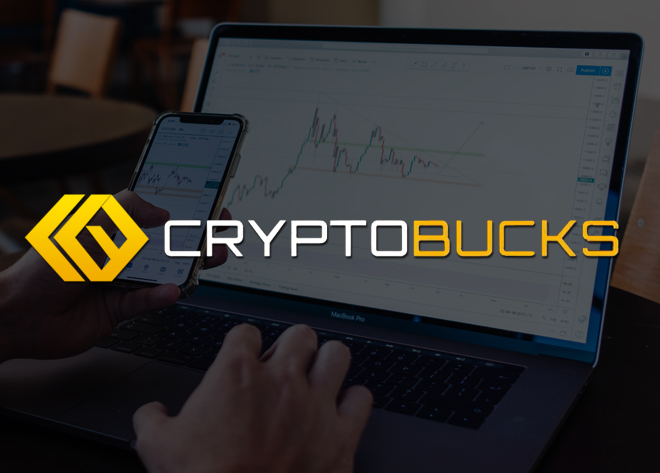 Cryptobucks (CBUCKS): Trading & Copytrading Made Easy
CBUCKS Quick Stats
| | |
| --- | --- |
| TYPE: | ERC20 Token |
| CREATION DATE: | December, 2019 |
| DEVELOPMENT STAGE: | Full Release |
| CURRENT SUPPLY: | 809,174,355 |
| TOTAL SUPPLY: | 9,500,000,000 |
| ALGORITHM: | ERC20 |
| PROOF TYPE: | ERC20 Token |
| BLOCK TARGET: | N/A |
There are always new projects being created within the blockchain and cryptocurrency space, aimed at helping to decentralize the way we do things and increase efficiency in the digital space. With all the history behind us now, the new projects out there are being created with more refined features and increased reliability. Cryptobucks, a new kid on the block(chain), has introduced their method for peer-to-peer trading on their platform and developed a cryptocurrency called CBUCKS to go along with it. CoinPayments has integrated this new coin to allow our merchants globally to accept Cryptobucks (CBUCKS) payments in their businesses.
How Do Cryptobucks Work?
The Cryptobucks platform is self-described as "a simple user experience for trading and copytrading service" which utilizes an ERC-20 blockchain to offer peer-to-peer lending and smart contract services. It's an easy way to buy and sell bitcoin and copytrade, and guarantees maximum efficiency, transparency, and profitability."
The cryptocurrency, CBUCKS, is described in the company whitepaper as "an unstablecoin pegged to the Ethereum blockchain that enables its users to do peer to peer exchange on all the local currencies and other cryptocurrencies". CBUCKS was developed to ensure that it can be used for purposes other than investment and speculation, but for actual online commerce between individuals and companies. As per the whitepaper: "CBUCKS enables true innovation and usage of digital currencies by having an asset-backed token. This unearths more value in digital currencies by making it easy to trade and exchange value in new unprecedented ways. Pegging it to Ethereum technology gives it value and investors are assured of the underlying value since they are backed one-to-one by the underlying asset. In this case, CBUCKS is backed by TWO DRIVING ENGINES."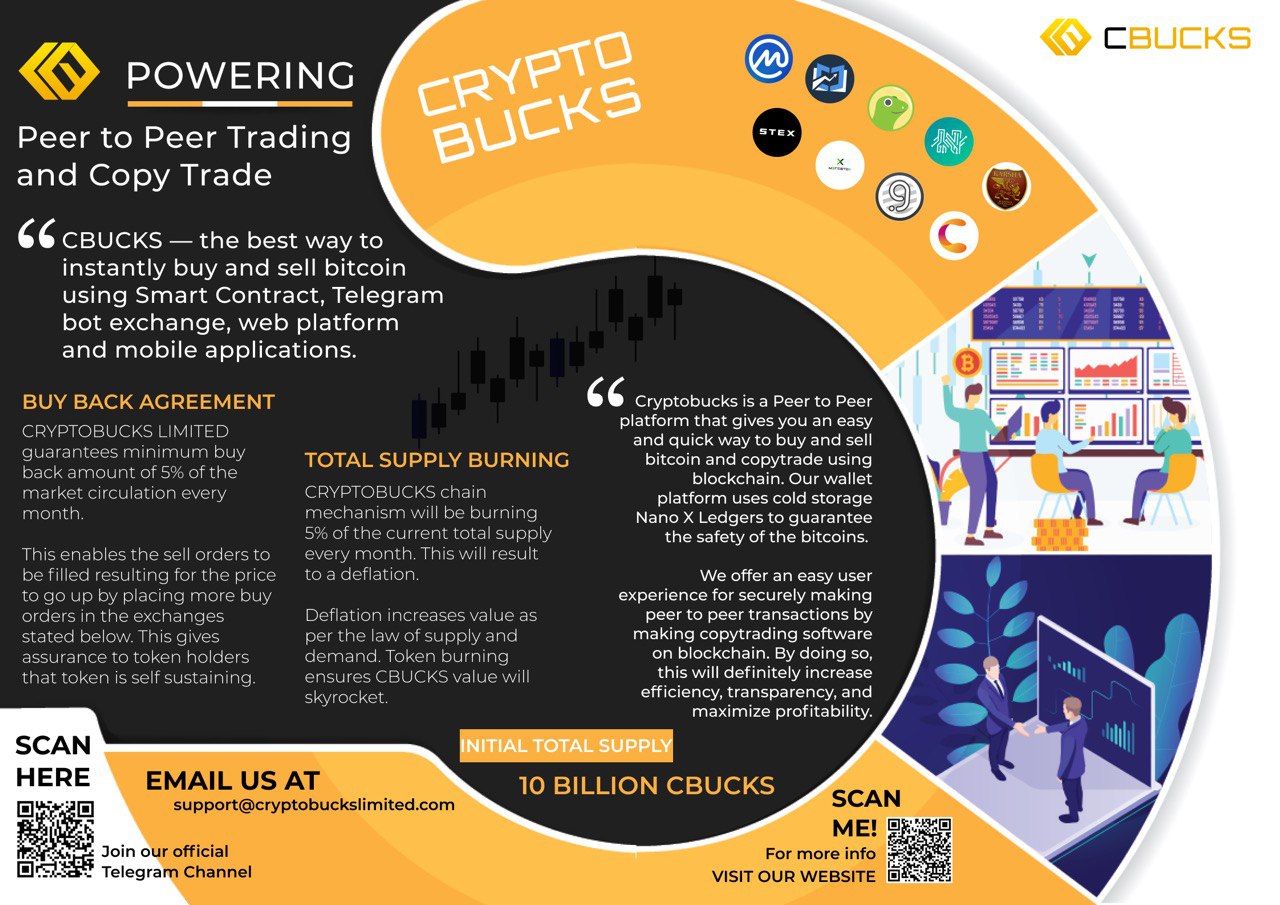 CBUCKS is further regulated in its value through a buyback agreement which is guaranteed by the company to ensure a minimum buyback of 5% of the market circulation each month. This enables the sell orders to be filled resulting in prices going up. This goes hand in hand with the company burn mechanism which will burn 5% of the current total supply each month and cause deflation in the currency. This will cause the value of the coin to go up.
Finally, the company offers a wallet for CBUCKS which allows for the above-mentioned services and acts as a safe storage for your cryptocurrencies using Nano X cold storage. This wallet can be downloaded for iOS or Android and enables you to have full control of your digital assets and store your private keys on one device.
Why Choose Cryptobucks?
Cryptobucks is built on the vision of making an ecosystem of a self-sustaining cryptocurrency to provide services that will benefit users and solve real-world problems. Their mission is to improve the community by creating public awareness about the unstoppable future of digital assets and its financial capacity to elevate lives. Using the new CoinPayments integration merchants can start to accept Cryptobucks (CBUCKS) payments today!
FURTHER INFORMATION ABOUT CRYPTOBUCKS
Cryptobucks Website | CBUCKS Explorer | Cryptobucks on Facebook
DISCLAIMER: The views and opinions expressed on this page do not represent those of CoinPayments Inc., Hodltech OÜ or their respective affiliates, employees and representatives (collectively, "CoinPayments"). CoinPayments does not endorse and is not responsible for or liable for the accuracy of any content, or the advertising, products, goods, services, materials or other statements, on this page. Readers should do their own research before taking any actions with respect to, or in connection with, this entity or the content and statements on this page. CoinPayments is not responsible or liable, directly or indirectly, for any damage, expense or loss caused by, or alleged to be caused by or in connection with the use of or reliance on, any content, statements, products, goods or services mentioned on this page.