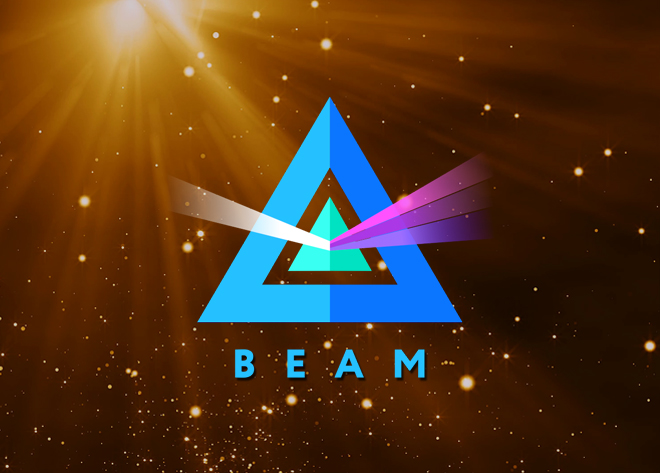 BEAM: A Scalable Privacy-Focused Cryptocurrency
Beam Quick Stats
| | |
| --- | --- |
| TYPE: | Currency |
| CREATION DATE: | January, 2019 |
| DEVELOPMENT STAGE: | Full Release |
| CURRENT SUPPLY: | 15,375,680 |
| TOTAL SUPPLY: | 262,800,000 |
| ALGORITHM: | Equihash |
| PROOF TYPE: | PoW |
| BLOCK TARGET: | 60 seconds |
Beam claims to be a next generation confidential cryptocurrency based on the Mimblewimble protocol. Its goal is to be a scalable, secure cryptocurrency that solves the anonymity issues of Bitcoin, that is, the fact that your activity on the Bitcoin blockchain isn't truly anonymous, and that through analysis of metadata your identity can be discovered. In line with this, Beam allows you complete control over your privacy by supporting private transactions by default. CoinPayments has integrated Beam payment processing for our merchants to be able to accept Beam payments.
How Does Beam Work?
Beam was built using the recently developed Mimblewimble protocol which was created to address the inherent security concerns of the original Bitcoin blockchain. The chief of which was the ability for analysts to discern the identity of users through their transactions using metadata. This isn't true anonymity, an aspect of cryptocurrency which many put a high priority on, so a solution was devised.
Beam has taken this foundation of privacy and security and used it as a framework for their own platform. By default, users on Beam have complete control over their privacy by deciding which information will be available and to which parties, and no addresses are stored on the blockchain. Confidential transactions do not cause bloating on the blockchain and therefore avoid excessive computational overhead or penalty on performance while still concealing the transaction value of the action.
Beam is a proof-of-work blockchain that has superior scalability through its compact size thanks to the "cut through" feature of Mimblewimble. It supports many transaction types such as escrow, time locked, atomic swaps and more. Instead of an ICO or pre-mine, Beam is backed by a treasury which is overseen by a non-profit foundation.
Why Choose Beam?
For cryptocurrency users who wish to be truly anonymous online and send their transactions with peace of mind that they are secure, Beam claims to be a platform that will fit your needs perfectly. Their use of the innovative Mimblewimble protocol puts them in a unique position relative to other projects and gives them a strong base to develop more features going forward for their users. You can start accepting Beam payments in your store through any of our prebuilt ecommerce plugins and integrations.
FURTHER INFORMATION ABOUT BEAM
The Beam team is excited to start working with CoinPayments merchants and welcomes any inquiries about partnerships or promotions. Please contact them directly at amir@beam.mw or beni@beam.mw
Beam Website | Beam Block Explorer | Beam on Bitcoin Talk
DISCLAIMER: The views and opinions expressed on this page do not represent those of CoinPayments Inc., Hodltech OÜ or their respective affiliates, employees and representatives (collectively, "CoinPayments"). CoinPayments does not endorse and is not responsible for or liable for the accuracy of any content, or the advertising, products, goods, services, materials or other statements, on this page. Readers should do their own research before taking any actions with respect to, or in connection with, this entity or the content and statements on this page. CoinPayments is not responsible or liable, directly or indirectly, for any damage, expense or loss caused by, or alleged to be caused by or in connection with the use of or reliance on, any content, statements, products, goods or services mentioned on this page.