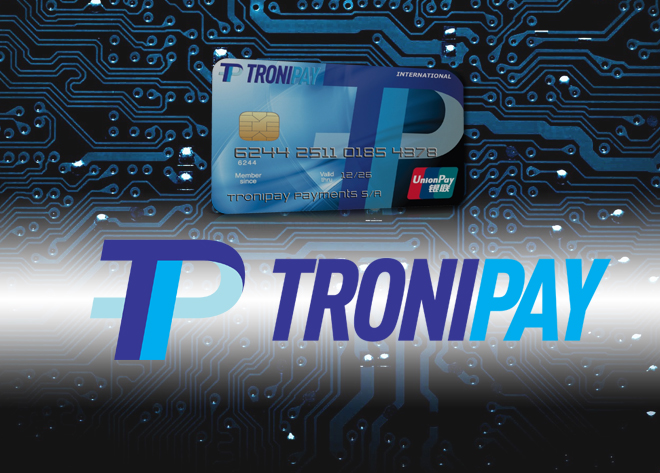 Tronipay (TRP): International Card Solutions for Crypto
Tronipay Quick Stats
| | |
| --- | --- |
| TYPE: | ERC20 Token |
| CREATION DATE: | March, 2019 |
| DEVELOPMENT STAGE: | ICO |
| CURRENT SUPPLY: | N/A |
| TOTAL SUPPLY: | 100,000,000 |
| ALGORITHM: | ERC20 |
| PROOF TYPE: | ERC20 Token |
| BLOCK TARGET: | N/A |
Tronipay is a fintech platform with the goal of making international finance and payments easier for everyone. Since 2014, the Tronipay solution has been focused on providing cards which can be used as universal payment devices regardless of where you are around the world. This level of ease and flexibility will speak to those who are constantly on the go and would like their funds to be as mobile as they are. Now, with the Tronipay token (TRP), the company has their own digital currency which they claim can be utilized through the cards as easily as the dollar can be used as well. CoinPayments has integrated Tronipay (TRP) payment processing for our merchants to be able to accept TRP payments.
How Does Tronipay Work?
The Tronipay platform revolves around the universal payment cards offered by the company. These cards can be used anywhere in the world and are particularly useful in places such as South America and Asia, with integrations such as AliPay and UnionPay helping expand the value of the card significantly. The cards can be loaded up in many ways, including debit and credit cards, wire transfer, or cryptocurrency.
The platform has many other features for its users that help them control their personal finances. It allows for control of different portfolios of digital assets, so they can be all in the same place for ease of oversight. Further, the user can deposit, withdraw, transfer, set up payments, and even do mobile recharging from their Tronipay account.
The team claims the security of their platform is solid, with a rigid protocol and over 400 rules of analysis to combat any malicious activity.
The Tronipay token (TRP) has just wrapped up its ICO and is the new digital currency of the Tronipay platform. The token can be used like other currencies that are loaded onto the card and is instantly useable through the cards for purchasing purposes. The token is built on the Ethereum blockchain as an ERC20 token and as a hard cap of 100 million units in the ecosystem.
Why Choose Tronipay?
Tronipay claims to already have vast expertise in the fintech space and have provided great value to their users through their universal payment cards. Now with the addition of their own token, the platform will be more integrated in the cryptocurrency space and offer more options for users to use cryptocurrencies in their financial lives. Merchants who wish to offer prepaid cards to their customers can now do so with one that has the reach and a link to cryptocurrency as well. Businesses can start accepting Tronipay (TRP) payments through any of the CoinPayments plugins and integrations.
FURTHER INFORMATION ABOUT TRONIPAY
Tronipay Website |  Tronipay Block Explorer |  Tronipay on Bitcoin Talk
DISCLAIMER: The views and opinions expressed on this page do not represent those of CoinPayments Inc., Hodltech OÜ or their respective affiliates, employees and representatives (collectively, "CoinPayments"). CoinPayments does not endorse and is not responsible for or liable for the accuracy of any content, or the advertising, products, goods, services, materials or other statements, on this page. Readers should do their own research before taking any actions with respect to, or in connection with, this entity or the content and statements on this page. CoinPayments is not responsible or liable, directly or indirectly, for any damage, expense or loss caused by, or alleged to be caused by or in connection with the use of or reliance on, any content, statements, products, goods or services mentioned on this page.