CoinPayments, the world's leading cryptocurrency payments processor, today announced its newly formed partnership with the Emerging Payments Association (EPA), a global organization focused on connecting the payments ecosystem and encouraging innovation across the industry.
As part of the EPA's diverse membership base, CoinPayments will work with the organization to drive further adoption of cryptocurrencies as a form of payment globally.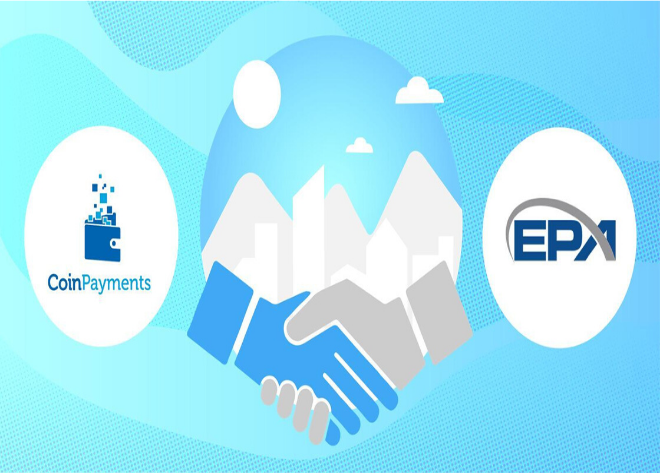 "CoinPayments' decision to join the EPA is a signal to the payments industry: cryptocurrencies are going mainstream," said EPA Executive Chairman David Hunter. "We can't wait to work closely with the CoinPayments team on ways to encourage broader alternative payments adoption."
"We're in aggressive growth mode right now and building bridges across the payments industry is a key part of our strategy," continued CoinPayments CEO Jason Butcher. "The EPA puts us among an elite group of companies driving innovation. We're proud to be part of that movement and look forward to contributing our perspectives on global cryptocurrency transactions."
CoinPayments and the EPA will immediately begin work together on a set of programs designed to build knowledge around cryptocurrency payments.
About the Emerging Payments Association (EPA)
The Emerging Payments Association (EPA) is a commercial membership association of payments industry influencers. It runs more than 70 events each year, delivers eight projects to drive change, helps to connect the ecosystem, encourages innovation and profitable business growth. The EPA's vision is for the UK to be the global hotspot for payments innovation. As it sets out to be the most influential trade body in emerging payments, the EPA's mission, making payments work, has the potential to improve lives everywhere. Its community is over 130 members strong and growing. Our members come from across the payments value chain; including payments schemes, banks and issuers, merchant acquirers, PSPs, retailers, and more. These companies have come together, from across the UK and internationally, to join our association, collaborate, and speak with a unified voice. Together, transacting more than £6 trillion annually and employing more than 300,000 staff, we now have a significant influence over the industry's future.
About CoinPayments
CoinPayments is the easiest, fastest and most secure way for merchants worldwide to transact in cryptocurrencies. It is the first and largest cryptocurrency payments processor with more than US $5 billion in total transactions to date, while supporting more than 1,900 coins, and is the preferred cryptocurrency payment solution for merchants and eCommerce platform providers worldwide. Founded in 2013 and headquartered in the Cayman Islands, CoinPayments is dedicated to providing clients with fast, secure and user-friendly crypto payment APIs, shopping cart plugins, digital wallets, and a host of other solutions supporting cryptocurrency payment applications. Learn more at coinpayments.net