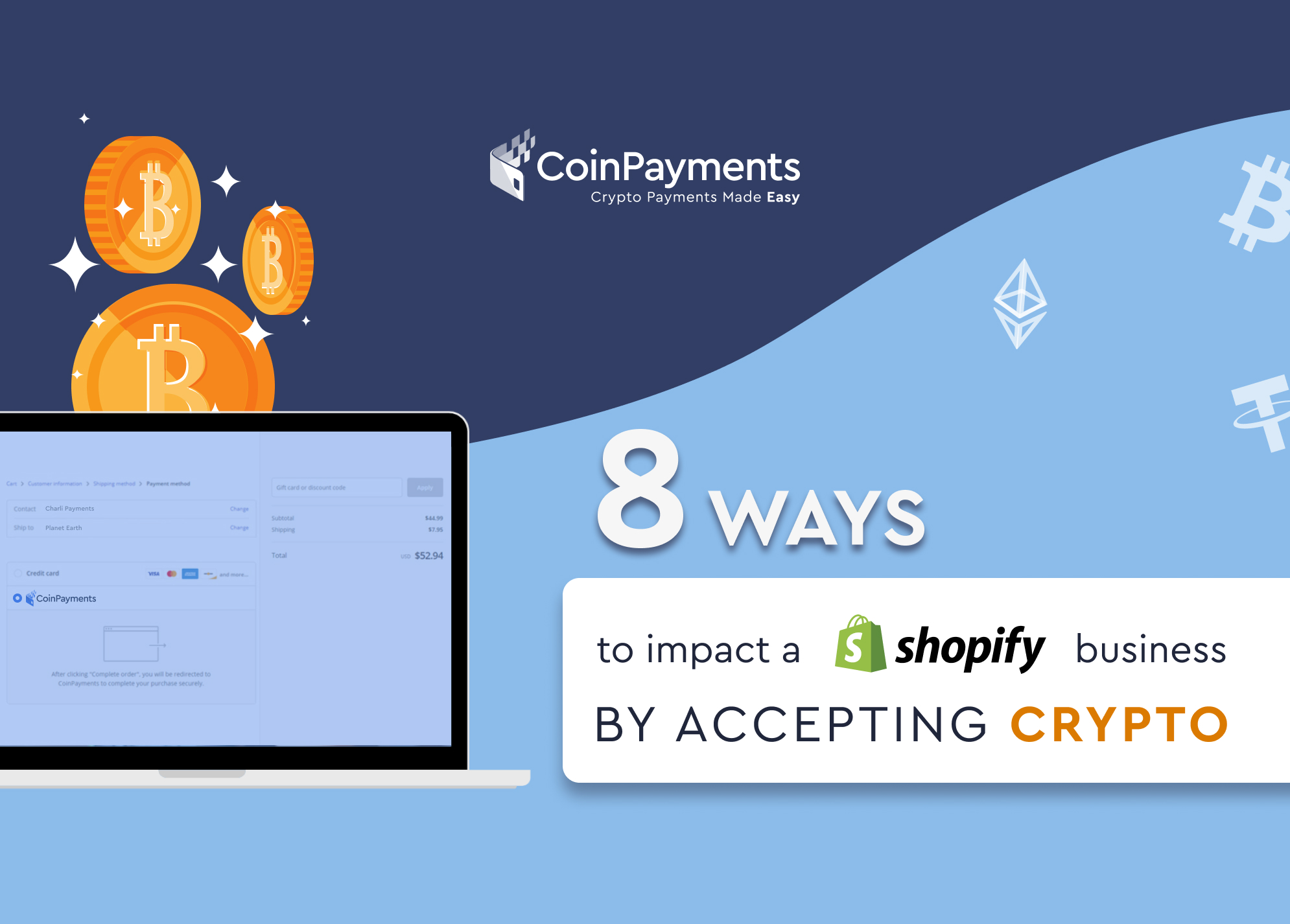 Cryptocurrencies are increasingly capturing the attention of thousands of online companies worldwide. More and more merchants are joining this trend and using CoinPayments to accept them as an alternative payment method.
In fact, more than 100,000 merchants globally already process cryptocurrency payments through our integrations, from local Point of Sales to top-tier Shopify e-commerce.
This is causing a massive impact on their businesses, providing them with extra benefits that are not available to those who don't accept crypto yet.
But what are the real benefits of using this emerging payment method? How can you start accepting crypto in your store as well? And, how does accepting crypto really impact a Shopify business?
Keep reading because we will answer these questions below and introduce you to the 8 reasons why accepting cryptocurrencies has a powerful impact on your business.
8 Ways to Impact a Shopify Shop
by Accepting Crypto
Gain global visibility
Shopify has the mission to make commerce better for everyone, so businesses can focus on what they do best: building and selling their products. It's an all-in-one platform that makes it easy to open your shop worldwide, increasing your brand's visibility.
And the same goes for cryptocurrencies. These assets are an expanding new form of money that is being accepted globally by thousands of merchants, expanding their reputation like never before.
CoinPayments presents the best and simplest solution for merchants: a global crypto payment gateway that allows customers around the world to pay with more than 120 cryptocurrencies.
Increase store's revenue
Many digital businesses still accept traditional bank transfers or credit cards as the only payment methods, narrowing the payment options for their customers. By doing so, they are indirectly capping their income channels and reducing their conversion ratios.
Accepting cryptocurrencies as a payment method on your Shopify store will give you more visibility and provide an additional revenue stream for your business, boosting the sales and raising the average ticket amount.
Reduce uncomfortable fees
Fees are one of the most annoying and confusing aspects for Shopify merchants. And one of the reasons is because there are plenty of them.
Credit card fees, set up fees, PCI compliance fees, chargebacks fees, early contract determination fees…and the list goes on. All of them reduce Shopify merchants' revenue with every transaction.
By accepting cryptocurrencies with CoinPayments you will be offering your customers a payment method that avoids most fees. A 0.5% fee will be the only cost for these transactions, the lowest commission in the market, far from the 2-4% charged by credit card payments.

Secure the payment
Another disadvantage of traditional payment methods is the potential for chargebacks. This practice makes the merchant more vulnerable to fraud, and statistics show that chargebacks are increasing by 20% every year.
Any customer can dispute a sale up to two years after the purchase has been made. With a simple phone call, they can withdraw the merchant's funds immediately and without warning, exposing the company's finances to risk.
This is something that doesn't happen when accepting crypto with CoinPayments. Due to the nature of cryptocurrencies, the push transactions made are just one-way transactions. In other words, once they reach their destination, it is not possible to return them back, making crypto a payment method that protects merchants from unethical consumer practices.

Receive instant settlements
You are an e-commerce merchant, so probably you are familiar with the following message: "Payment will arrive in 2 to 3 business days".
With the technology we have at our disposal today, it can be very frustrating for the merchant to wait that long to receive a simple payment – and it could be worse if it is a Sunday or a holiday in between.
On the other hand, cryptocurrencies don't understand schedules, working days, Sundays, or holidays. The CoinPayments payment gateway is available 24/7/365, and payments with any cryptocurrency are received within minutes or even seconds depending on the coin selected.

Increase company's value
When you receive payments in your local currency and you are building wealth for the company, you know perfectly well that the value of your balance will not increase over time. Your $10,000 will still be $10,000 in the next year.
But not only that. Due to the nature of fiat money, besides the fact that the company's profits will not increase in value, its purchasing power will gradually decrease through inflation and rising prices.
Receiving crypto payments and storing wealth in currencies such as Bitcoin, on the other hand, can boost your company's profits by an average of 200%, as has happened since 2009 according to data provided by CaseBitcoin.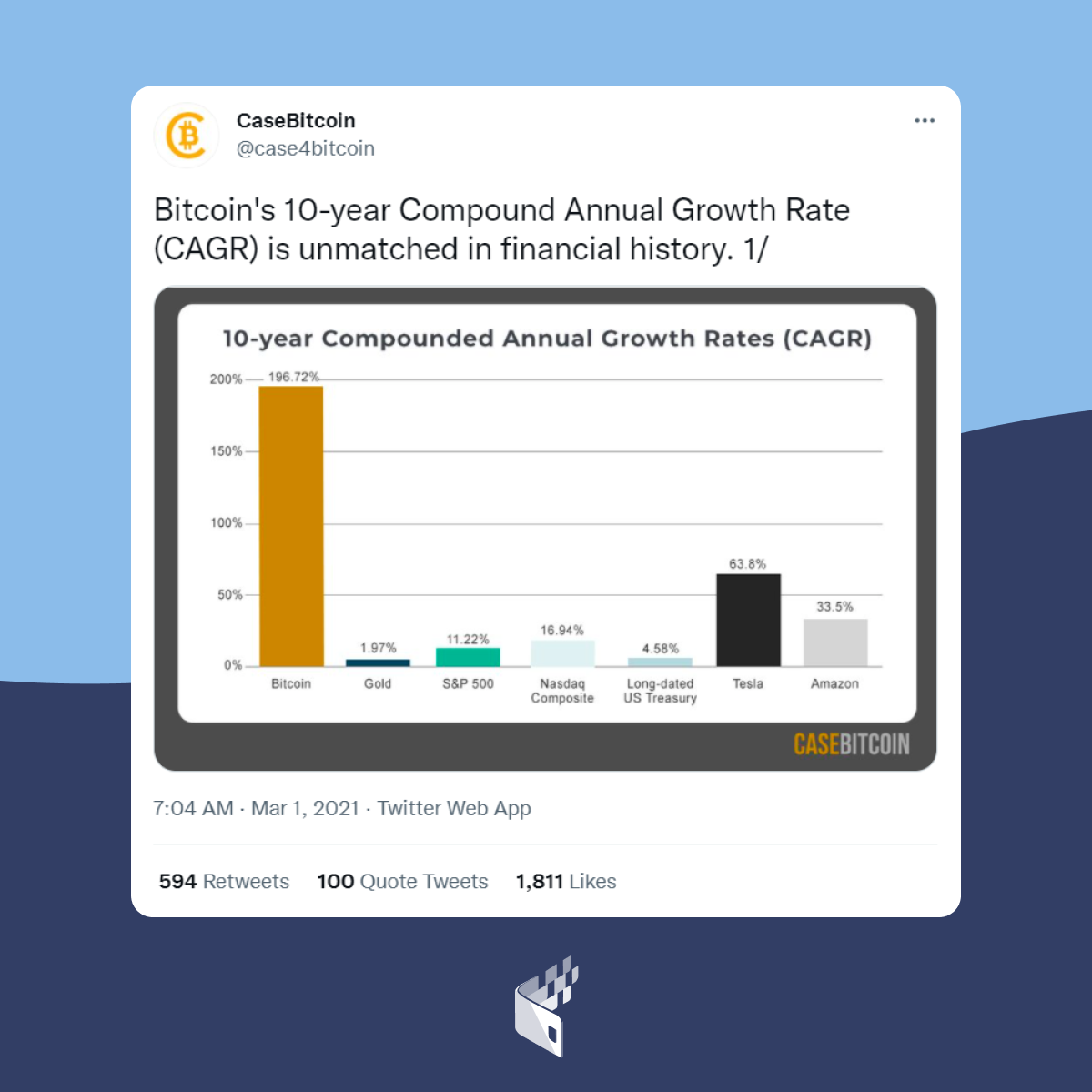 Upgrade the business further
When potential customers visit an online business, they need to feel that they are in the right place. To achieve this, merchants often use cutting-edge designs and outstanding copy, among other techniques. However, nothing brings better results to an online store than using the latest technology.
Building your business on Shopify provides a unique technological plug-and-play solution with features such as design options, POS capability, cloud-hosted solution, or payment gateways, among others.
But if you don't use them well and the store is perceived as outdated, it is destined to fail. That's why you need to consider one of the elements that make the difference between a successful e-commerce and an unsuccessful one: innovation.
Accepting cryptocurrency payments is one of the latest trends in the e-commerce industry. Offering a payment gateway like CoinPayments into your Shopify business will attract many curious people who want to purchase goods and services with their crypto.
Outstand ahead the competitors
The purpose of any business is to generate revenue through the sales of products or services. To achieve this goal successfully it is necessary to position the brand ahead of the rest.
Many Shopify stores spend huge amounts of money on ads to gain visibility against the competition. However, despite being the most commonly used strategy to stand out, it is not the only one.
An original and economical way to stand out in your industry is to offer your potential customers the possibility of paying in crypto, a form of payment that is becoming popular over time.
With CoinPayments you can do it in a couple of minutes and without any investment.
How can you accept cryptocurrencies
in your Shopify store
"Crypto payments made easy" our tagline says. But you cannot imagine how easy it is until you make it.
You can integrate your Shopify store with CoinPayments in three simple steps:
Sign up for CoinPayments – Remember to choose the Business Account.
Get your Merchant ID and IPN Secret – Just copy them into a doc.
Go to your Shopify store and add CoinPayments using your Merchant ID and IPN Secret.
And that's it!
If you prefer to follow a step-by-step guide, you can find an easy tutorial for accepting bitcoin and cryptocurrencies on your Shopify store. Also, you can set up your integration by following the simple steps from the video below:
Final Thoughts
Accepting crypto payments in your Shopify shop is an original form of standing out from your competitors. A solution that is beneficial to both your business and your customers.
As a merchant, it allows you to reach clients worldwide, increase your sales and add another source of income, among other advantages. It also permits you to cut the fixed costs and avoid chargebacks.
For your clients, it provides them with an alternative payment method that is easier to use, faster to pay, and cheaper to spend.
Now that you know how accepting cryptocurrencies impacts your Shopify business, the next step to get all these benefits is integrating CoinPayment as the crypto payment gateway for your e-commerce.
In just a few minutes you will have set up your Shopify plugin, and you will be able to receive real-time global payments in Bitcoin, Ethereum, Litecoin, and more than 120 cryptocurrencies.
You can also add customizable payment buttons adapted to your needs or generate invoice links to smooth the process. All while enjoying the lowest commissions in the market, fast fiat conversions, and 100% secure payments.
Want to take your Shopify business to the next level? Sign up now for a free Business Account and start accepting crypto with CoinPayments.