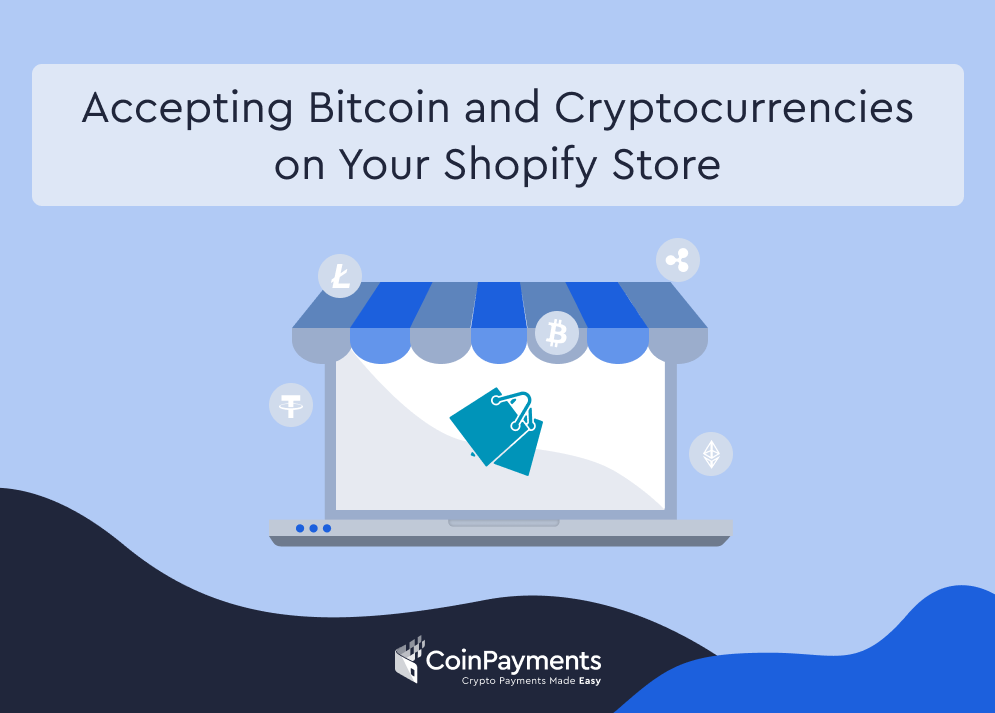 CoinPayments' integration for Shopify provides merchants with an alternative payment option. Our platform allows merchants using Shopify to accept cryptocurrency payments among other alternative payment methods like fiat currencies in exchange for their goods and services.
Shopify is a multi-channel commerce platform with a global reach of online stores across multiple sales channels, including web, mobile, social media, marketplaces, brick-and-mortar locations, and pop-up shops. With CoinPayments' leadership in crypto payment processing globally, the integration for Shopify will strive to improve eCommerce experiences for customers around the world.
Why You Should Accept Cryptocurrency
The questions surrounding cryptocurrencies have always been the same. What is crypto? How is it an asset to me personally or to a business? How do I start accepting or using crypto?
While some questions are harder to answer than others, there are some questions that can be answered on this page. To begin, crypto has the benefit of blockchain technology. This allows online business owners to have certainty that there won't be any chargebacks and that all transactions are secure.
Another common question is what benefit it serves to use cryptocurrency in online business. First of all, there is a serious rise in the usage of crypto to purchase everyday items. By allowing consumers to maximize payment options, a merchant can open up worlds of new clients and business opportunities because of the currency's popularity. And with CoinPayments your transaction fees are only 0.5%.
Start Accepting Crypto Payments in Your Shopify Store
Enable the digital asset payment processor CoinPayments on your Shopify store to start accepting Bitcoin and many other cryptocurrencies by following the simple steps in the tutorial video here.
Alternatively, here is a brief step-by-step tutorial of how easy it is to integrate CoinPayments into your Shopify Store!
Log in to your CoinPayments account
First, register with CoinPayments. Access your account by logging in to the CoinPayments website.
Get your merchant ID
After logging in to your CoinPayments account, go to your Account tab. Here you will find many different options for editing, upkeeping, and updating your account.

Go to your account settings to find the Basic Settings of your account. There you will find your Merchant ID. Save this Merchant ID for the next steps.

Next, you need to make an IPN Secret. This is also found within your account tab and further in your account settings, but under the next tab of Merchant Settings. This is where you will find the necessary IPN Secret Key. Copy this key down and save it for later, making sure to click the "Update Account" button at the bottom of the page to save your newly created IPN Secret Key.
Log in to your Shopify account
Now, having kept your IPN Secret Key from the previous section, log in to your Shopify Account that you should have already created and utilized. From here, go to the Shopify Settings tab and click on "Payment Providers." This allows you to toggle what payments your business can receive.

From here, scroll down to the "Alternative Payments" box to select "CoinPayments" as the additional payment method. Next, click "Edit" to enter both your merchant ID and IPN Secret key to link the two accounts and allow you to accept all the different types of crypto that CoinPayments has to offer. Do not forget to click "Save" to solidify the actions.
CoinPayments should now be set up as an alternative payment method in your Shopify store. You can start accepting Bitcoin and over 100 other cryptocurrencies and Stablecoins, including Litecoin, USD Coin, Bitcoin Cash (BTC), and Ethereum (ETH)!
3 Reasons to Get Excited About Integrating CoinPayments into Your Shopify Store
Shopify is already an easy access point for merchants getting their start, but the beauty of integrating with the CoinPayments cryptocurrency payment processor is an extension of that ease into a specific market: cryptocurrency. Here are a few reasons to get excited:
The CoinPayments integration for Shopify allows merchants worldwide to accept Bitcoin, Ethereum, Litecoin, and hundreds of altcoins.

With over 600,000 businesses powered by Shopify, including Budweiser, Nestlé, and General Electric, Shopify continues to be a leader in commerce.

Shopify delivers an array of features for creating and managing any type of eCommerce store. By adding CoinPayments as a payment option, they offer more ways for their merchants to receive payments from shoppers.

Why Cryptocurrency in eCommerce is the Future
Cryptocurrency is a digital currency that can be used to buy goods and services. It's very convenient for online transactions as it has the following benefits: : the increased accessibility for small merchants and the ease of transactions for customers.
Market Expansion Means More Customers!
Firstly, crypto allows for a more accessible and global market to emerge from all corners of the globe. The main goal of crypto is to replace centralized economic powers with a decentralized economic model, allowing for more diversity and previously underprivileged voices to be heard.
By integrating CoinPayments into your Shopify store, you will open the doors to these voices and allow them to partake in a global crypto market that they have previously been shut out of. In addition, merchants will tap into new customer bases to allow the expansion of their brand.
More Affordable for Merchants
Secondly, because there are no exchange fees between coins traveling from one part of the globe to the other, it takes money previously skimmed by middlemen. It puts it back into the pockets of the people involved in the transaction. This means for both merchants and consumers. It creates a more fair and affordable option for the exchange of goods and services.
In particular, merchants should be keen to grab hold of the chance to keep fewer hands between them and the consumer, as it makes the already thin margins even tighter. But with crypto, there is a great deal more control of their business.
Quicker Transactions for Busy Consumers
The decrease in middleman fees motivates merchants to integrate CoinPayment into their Shopify Store, but the ease and speed of this service create a great all-around option for payment on their eCommerce platform. In addition, it takes the pressure off of consumers, as there is no longer any need for typing in credit card information or waiting for payment processors to get confirmation on larger purchases.
This ease is amplified for consumers purchasing goods and services overseas. With traditional centralized banks and economic institutions, trading across national borders through eCommerce requires gateways and processors to convert the currencies for one another. With cryptocurrencies, there is no need for conversion. This will save time and headaches for consumers and merchants alike, so they can get to what they want to do: trade.
Final Thoughts
Crypto isn't just a trend, and it's time to permit yourself to add a crypto payment gateway on your Shopify, Magento, Prestashop, Woocommerce, or any other store. Given all the reasons for integration and the ease of integration for merchants already using Shopify for their eCommerce needs, this seems like a no-brainer. CoinPayments has already built-out tools and services to help with this integration on their side of the equation.
Cryptocurrency can be disorienting and difficult to understand at first: CoinPayments makes it easy with helpful articles and tools to help merchants navigate through any crypto challenge. Shopify makes it easy for merchants to connect with their customers, so integrating CoinPayments will continue to connect the major companies, the small merchants, and even more customers who want to use their favorite or most accessible cryptocurrency in their digital wallets.
Sources:
Daily Bitcoin transactions 2017-2021 | Statista
Banks benefit from ecommerce boom as credit card usage increases | EconomicTimes.IndiaTimes.com