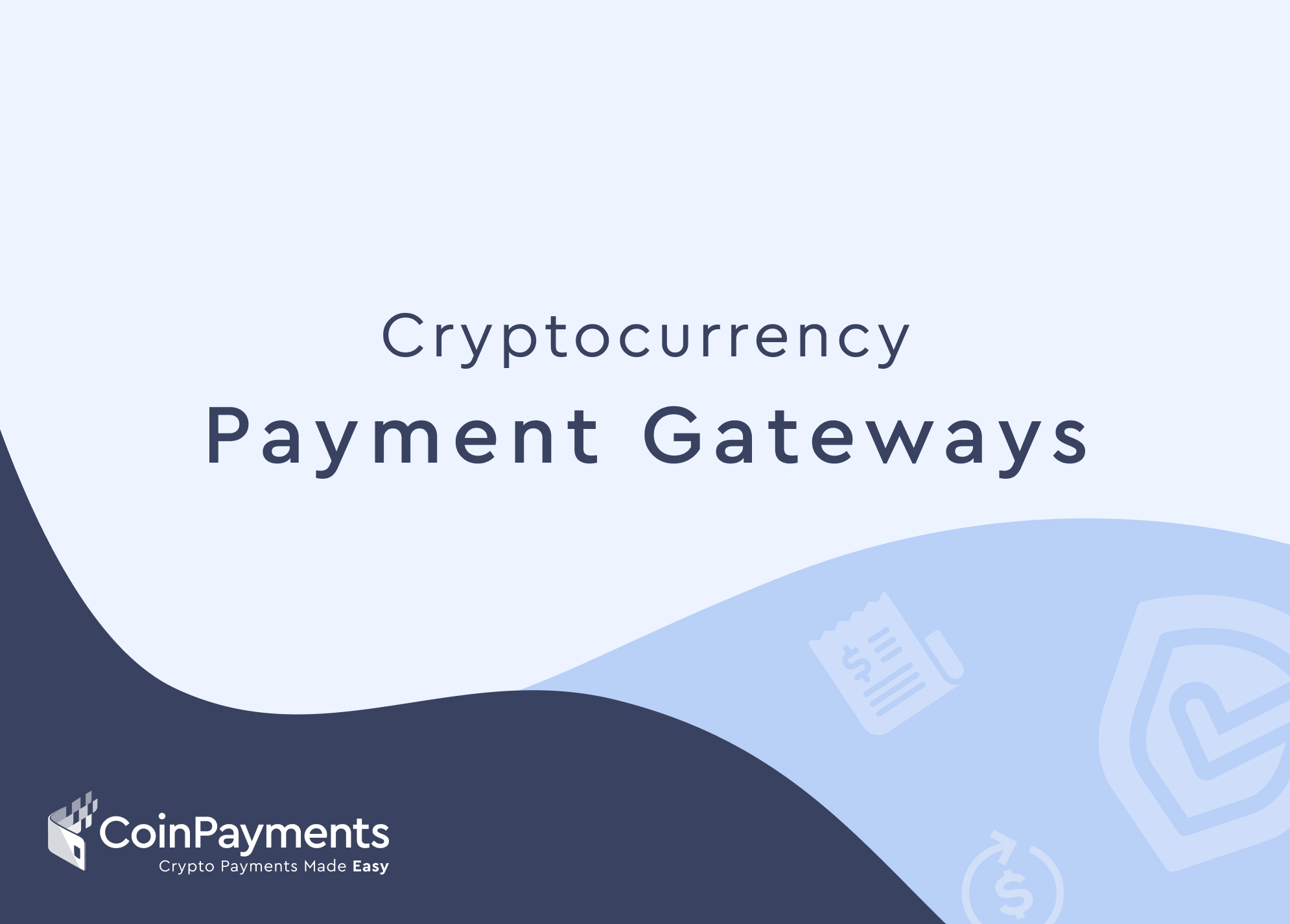 The era of crypto is now. More than ever before, customers and merchants are using cryptocurrencies like Bitcoin, Ethereum, and other altcoins in staggering amounts. Cryptocurrencies are decentralized and reliable, allowing instantaneous international transactions without as many security risks as traditional credit or debit card transactions.
If you want your eCommerce store to accept crypto payments, good choice! But you'll need a cryptocurrency payment gateway to make it happen.
Let's break down cryptocurrency payment gateways and explore what you need to look for in a great payment gateway for your online store.
What is a Cryptocurrency Payment Gateway?
For any online transaction to occur safely, you need two key systems: a payment gateway and a payment processor.
A payment gateway, which often takes the form of a secure page on your eCommerce website, collects the information from your paying customer, like their address and credit card information. Then it sends the information to a payment processor service, which transmits the information to a banking institution and facilitates the online transaction.
All of this takes place within a greater merchant account service, which many companies can provide. ECommerce companies or retail companies that accept credit and debit cards pay small fees to offer these transaction types to their customers, improving their business and bottom lines.
On the other hand, a cryptocurrency payment gateway is just like a regular payment gateway, but it handles cryptocurrencies like Bitcoin and various altcoins. It is designed to securely record Bitcoin wallet addresses and similar crypto information to facilitate online transactions with coins.
Additionally, crypto payment gateways are usually high-speed. Response times are typically on the order of minutes, depending on the blockchain. The speed of each transaction depends on such factors as block time and size, transaction fees, and network traffic. So if you want your transaction to be completed as fast as possible, make sure to check how busy the blockchain is at the moment.
Many online businesses are now adopting cryptocurrency payment gateways like CoinPayments so they can accept crypto from their customers and benefit from a wider customer base than before.
The Benefits of Using a Cryptocurrency Payment Gateway
There are many reasons why your business should adopt cryptocurrency and integrate a cryptocurrency payment gateway into your website. These include:
Easier and more secure global transactions. Crypto merchant account services allow you to receive payments from anywhere and anytime, all without having to deal with foreign exchange fees or currency conversions.

You'll have a wider customer base since more people will be able to spend money at your online shop. This will, in turn, increase your potential profits.

Fast transaction completion times. All blockchain payments can go from consumers to merchants in about 30 minutes or less, no matter where both parties happen to be located.

Excellent security. Due to the nature of blockchain transactions, crypto payments are inherently secure. When combined with a superb cryptocurrency payment gateway and SSL certification, coin payments will be secure and safe, and you won't have to worry about information or funds being lost.

Increased competitiveness for your eCommerce store. It's very difficult to get an edge over your competitors, especially if your business is in a competitive niche. Allowing cryptocurrencies on your site could give you the boost you need to overcome your rivals.
Ultimately, there's no reason not to use a cryptocurrency payment gateway and integrate it with your eCommerce site as soon as possible. Coin transactions are the way of the future for all industries, especially if your company does more or all of its business online.
Features to Look for in a Cryptocurrency Payment Gateway
While adopting a cryptocurrency payment gateway for your site is a good idea, there are lots of different providers to investigate. To make sure you integrate the best crypto payment gateway on your site, you'll want to look for a few major factors.
Low Transaction Fees
Always look for low processing fees from a given cryptocurrency payment gateway provider. Some crypto gateways come with hidden costs and high fees; neither of these are necessities, as there are gateways that only incur minimal costs overall. Small business owners, in particular, should look for gateways that have low processing fees, which will allow you to expand your business to a global audience without dramatically increasing the overhead costs.
Data Encryption and Security
Don't forget to consider security when choosing a crypto payment gateway. A good crypto payment gateway will be completely safe for both you and any customers on your website. While blockchain is pretty secure by its very nature, the gateway should also include its own security methods to prevent any cybercriminals from gathering information about your business or your clients.
For example, many great crypto gateway providers come with two-factor authentication requirements. This forces users to provide two means of identity verification, minimizing the likelihood of identity theft or other issues.
Website Integration
Additionally, you'll want to find a cryptocurrency payment gateway that offers easy website integration. Merchant-friendly integration options like the kind we offer at CoinPayments are necessary, both so you can get crypto payments up and running without headaches and so your customers can start paying you without running into technical difficulties.
As you investigate, make sure that a payment gateway's technical integration team is capable of answering any questions or helping you through the integration process if necessary. Any good payment gateway provider should have an integration guide located on their website to help you integrate crypto payment options smoothly.
Customer Support
Lastly, don't choose a cryptocurrency payment gateway provider that doesn't offer excellent customer support.
You may want to look for a gateway that has customer contact forms so you can get a timely response if you have a problem with integrating your merchant account and crypto payment options with your website. The faster you can handle any technical difficulties, the faster you'll be able to accept coins, and the faster you'll fix any issues your customers run into. Users should look for a company with online support pages such as CoinPayments Support Wizard (SupWiz) page.
How to Start Accepting Crypto Payments Today
Fortunately, there's a crypto payment gateway service – and payment processing service! – included in the best crypto payment platform worldwide. We're called CoinPayments, and it's easy to start accepting crypto payments today by using our one-of-a-kind platform.
Sign Up for a CoinPayments Merchant Account
To begin, sign up for a CoinPayments Merchant Account. Doing so is quick and easy; you can visit the CoinPayments site and sign up for a new account in just a couple of minutes. All you need to do is provide a few pieces of personal information to verify your identity, and you'll get started.
After signing up for your account, you'll be able to tweak your Merchant Account's various settings, including dictating which types of coins you want to accept. You can accept Bitcoin alone or BTC plus various other altcoins depending on how flexible you want to be for your customers.
Use CoinPayments' Merchant Account Tools
As you dive deeper into your account, you'll also be able to take advantage of CoinPayments's Merchant Account tools. These include:
Shopping cart plugins for fast crypto payment options in your customers' shopping carts
Simple or advanced buttons to make paying with crypto more effortless than ever on your website
Custom API integration options
POS or point-of-sale interface tools
An invoice builder so you can send and receive crypto using invoices
Donation buttons if your website is for a charity
And more
There are several ways in which you can integrate crypto payments into your website. You can use pre-built plugins that install quickly on your site, use our API scripts to customize and tweak your crypto payment functionality, or use pre-built buttons to make things even easier.
When it comes to accepting crypto payments for your business, CoinPayments is the ideal all-in-one platform since it includes all the tools and options you need for success.
Conclusion
All in all, cryptocurrency payment gateways like CoinPayments are the best way to start accepting crypto payments from your customers. With CoinPayments and our dedicated merchant tools, you'll be able to integrate cryptocurrency payments with your site in no time and start widening your customer base.
In addition, you'll benefit from top-tier security and never have to worry about your crypto transactions making your website vulnerable or exposing the data of your customers. Check out our site and sign up for a CoinPayments Merchant Account now to get started!
Sources
How does Bitcoin work? | Bitcoin.org
Why Are Crypto Transaction Speeds So Important? | Wealth and Finance News
What is an SSL Certificate & Why is it important? | Kaspersky