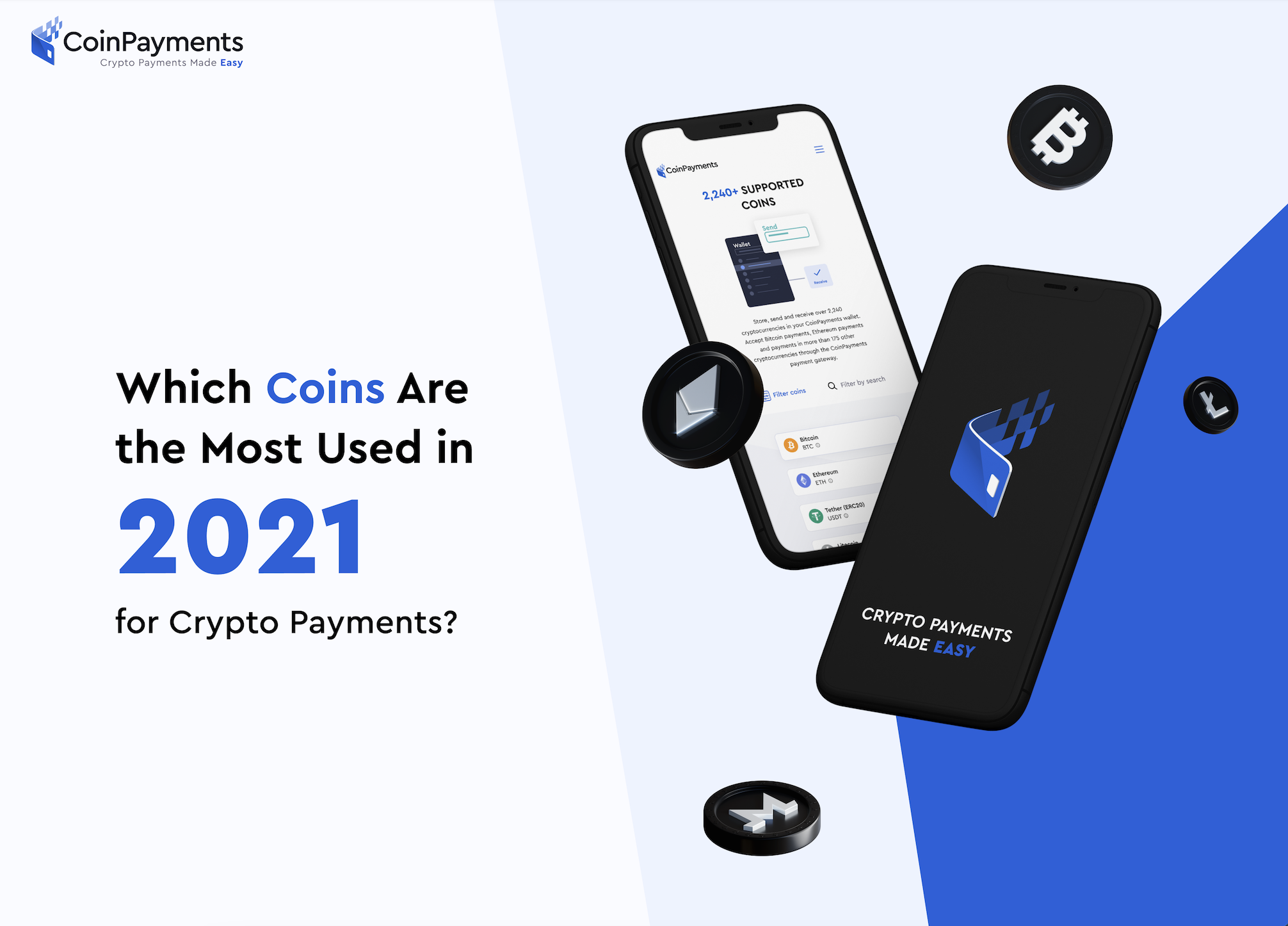 There has been much buzz about Bitcoin becoming legal tender in El Salvador. But what is the situation outside this country? Are Bitcoin and other cryptocurrencies accepted as payment methods worldwide?
It is no longer a secret that the crypto payments adoption is increasing at high speed. New merchants are joining this trend every day, the number of transactions is growing exponentially, and the volume moved each month is counted in the hundreds of millions.
At CoinPayments we want to share with you – most used cryptocurrencies for payments in 2021.
We have compared our transaction volume from two different periods of this year. Have a look at what we have discovered.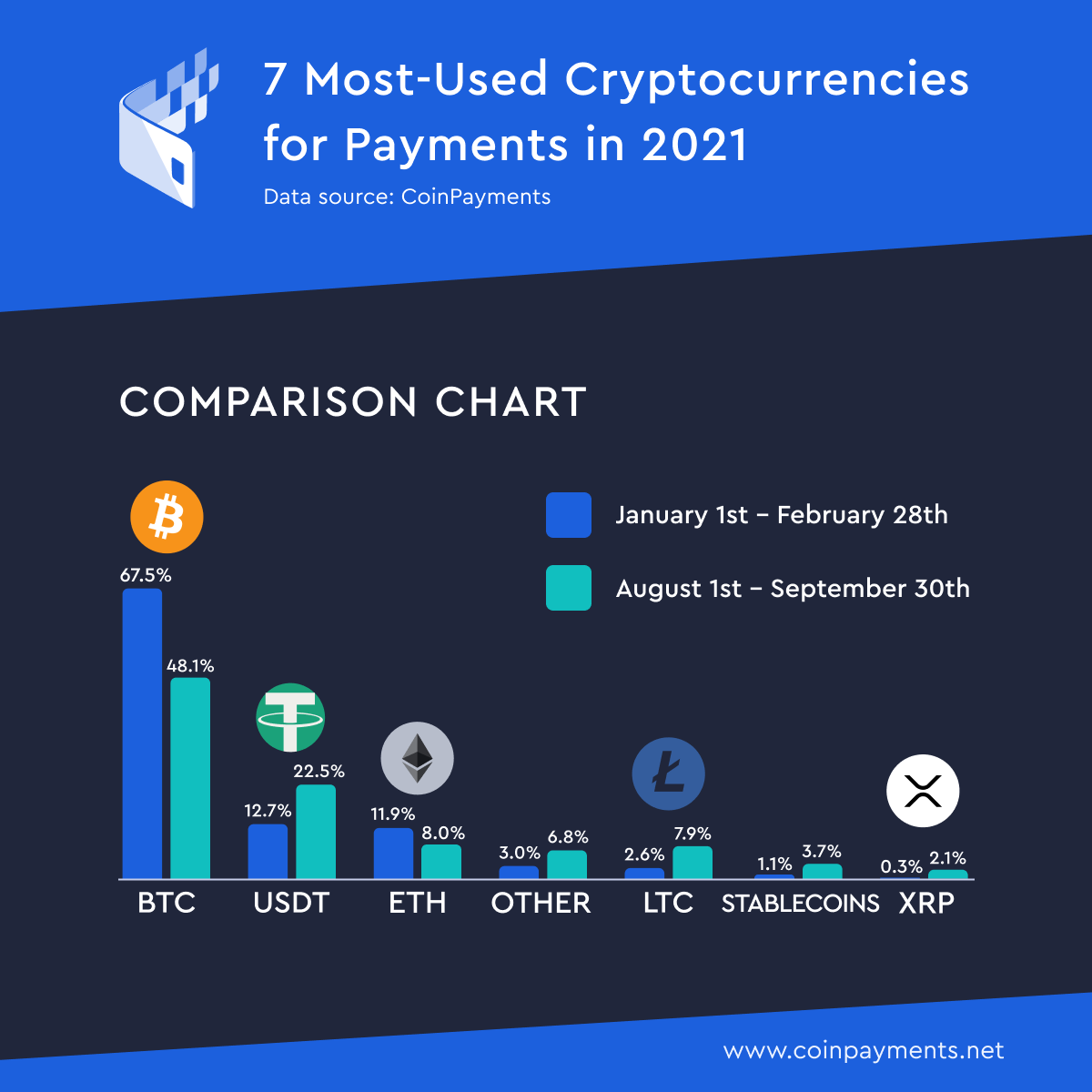 (Note: In the chart, "Stablecoins" refers to all accepted stablecoins besides USDT, while "Other" refers to a mix of other cryptocurrencies used for payments. For more information, check out the list with the supported coins on CoinPayments).
Interesting facts about the most used cryptocurrencies for payments
You can see different digital currencies that are used for payments. But let's look at the data a little bit deeper and share some curious facts about these currencies.
Bitcoin is the first cryptocurrency that was created and the most used for crypto payments this year. Even if the total volume decreased by 2.18% from February, it still represents almost 50% of the total volume received by our merchants.
Tether is the most famous stablecoin – a coin that keeps its value stable and pegged to fiat currencies like the US dollar. It's the second most-used digital currency among the people who chose to pay with crypto. Its volume has doubled since the beginning of 2021 and now represents almost 25% of all cryptocurrency payments made on CoinPayments.
Ethereum is the second-largest cryptocurrency in market capitalization after Bitcoin. Since January, it has seen an 8% decline in transaction volume, but it is still the third most used crypto for payments.
Litecoin is friendly-known in the community as the "crypto silver", with Bitcoin being the "crypto gold". It has experienced a massive 320% increase in transaction volume since the year began and almost 60% more in the number of transactions.
Dogecoin is Tesla CEO Elon Musk's favorite coin, created as a lighthearted joke for crypto enthusiasts. However, it became important as cryptocurrency, dropping the label of being a meme coin. Since the beginning of the year, it has maintained its position among the top coins for crypto payments.
Do you want to see more insights from CoinPayments data?
We highlighted for you the coolest facts! Take a look at the graphic below.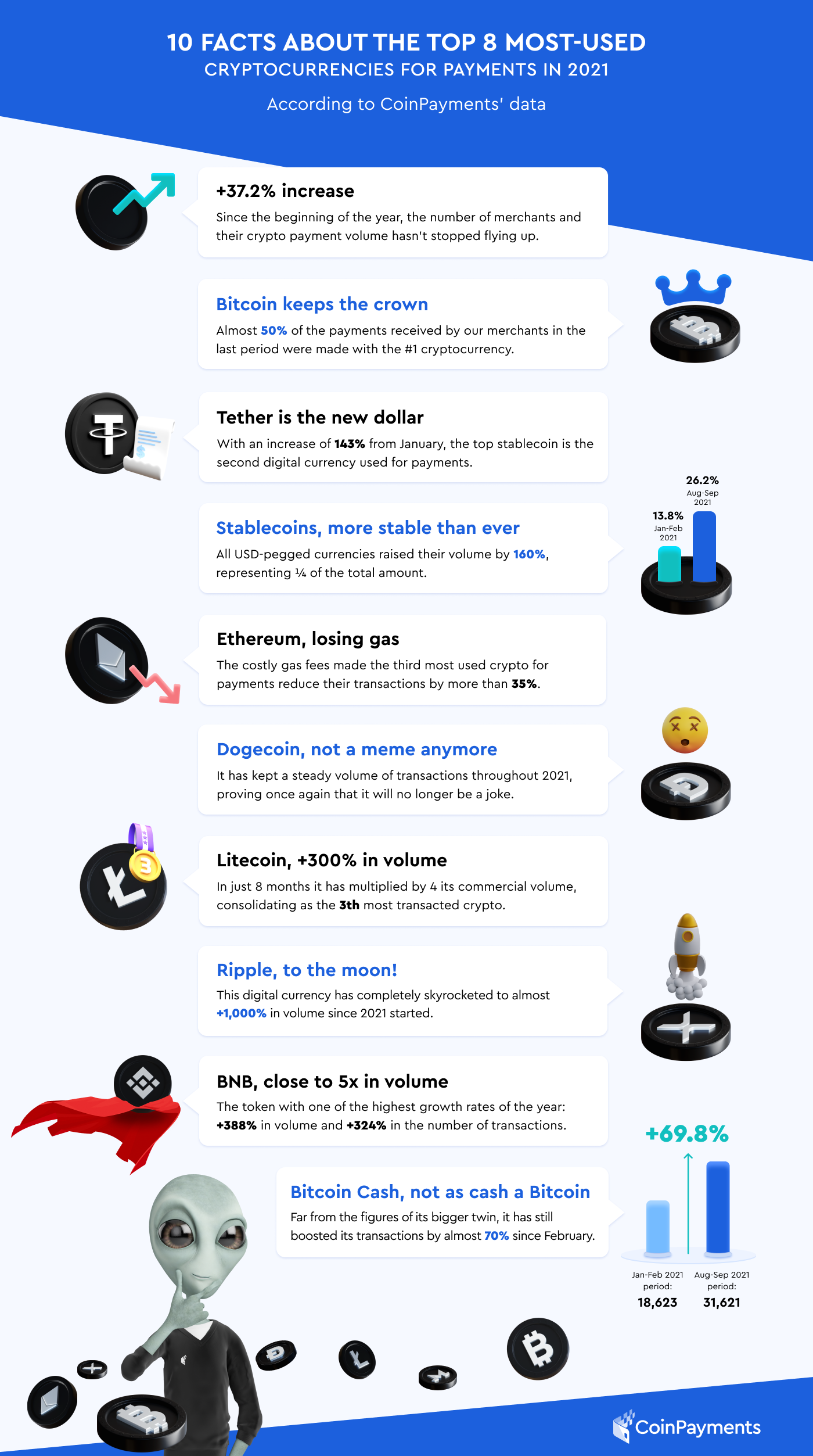 As you can see, paying with crypto is not just paying with Bitcoin. Many cryptocurrencies are being used to pay for goods and services, and the trend is growing every month.
With CoinPayments, you can allow your customers to pay with crypto in just a couple of minutes. Register now for a free Business account and get an extra source of income for your business.