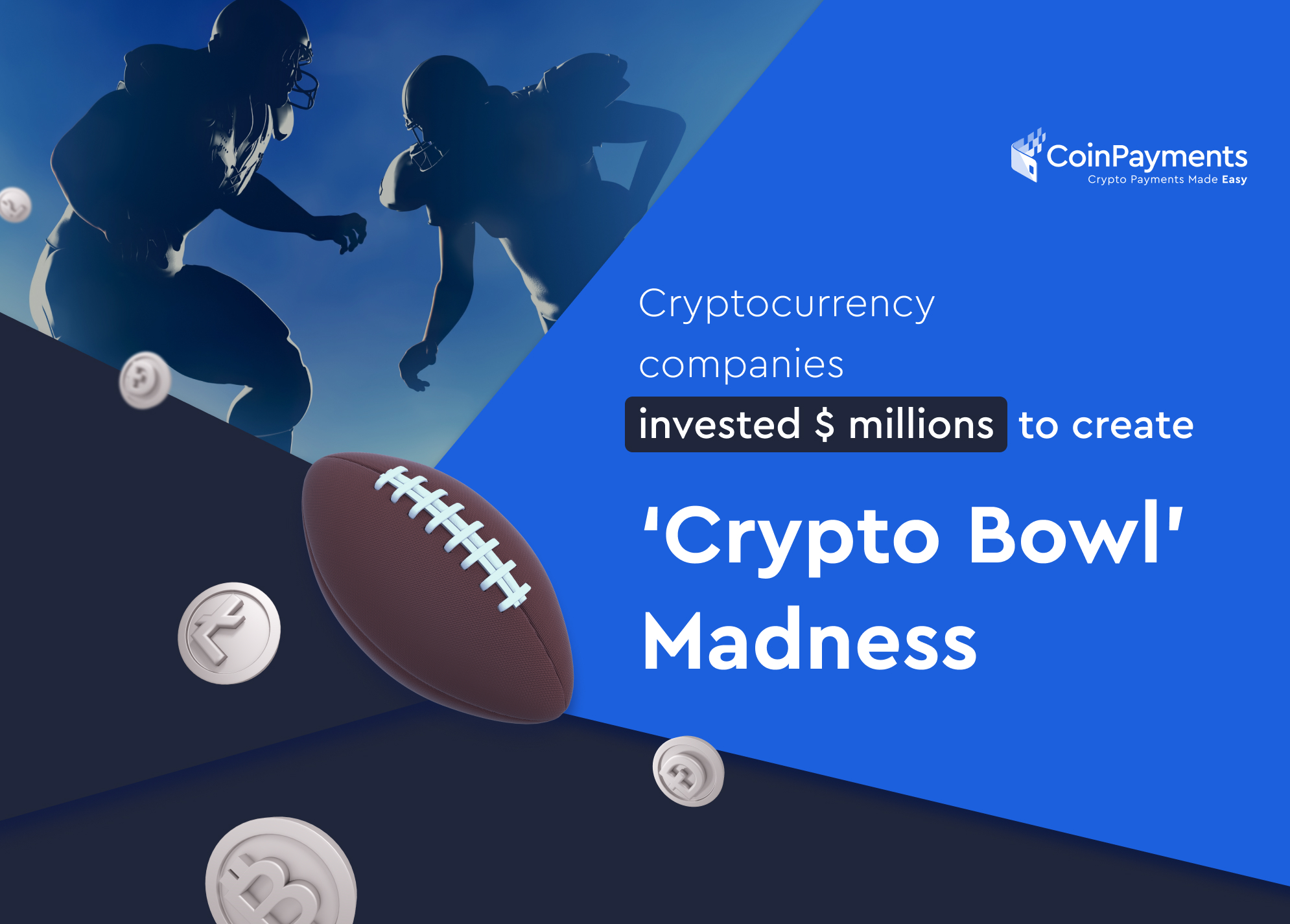 Super Bowl, the final of the American National Football League (NFL), is one of the biggest sporting events every year, with over 112 million spectators around the world.
Not surprisingly, with so many eyes following the event globally, dozens of companies are looking to advertise, both in and around the game.
This year was no exception, however, Super Bowl LVI will go down in history as the "Crypto Bowl". The reason? It was the first time cryptocurrency companies have advertised on the biggest stage on earth.
Below, we will tell you all about what happened with the Super Bowl crypto ads. But first, a bit more about the history of Super Bowl commercials.
Super Bowl commercial: stats and history
Super Bowl ads have always been an important part of the Super Bowl final, often almost causing as much excitement as the game itself.
For companies, it is a golden opportunity to capture the attention of millions of people around the world. However, this comes at a high price.
In fact, Super Bowl advertising space is considered the most expensive real estate in all television, with per-advertisement prices increasing year-over-year.
According to Statista, the average cost of a 30-second ad promoted in the Super Bowl has gone from $2.2 million in 2002 to more than $6.5 million in the latest edition. This represents an increase of 300% in 20 years.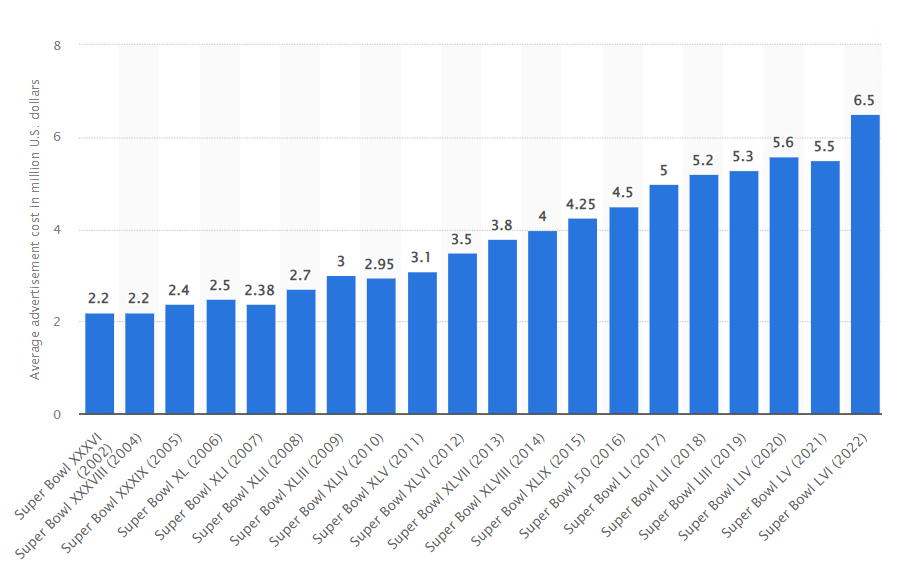 Super Bowl 2022 & Crypto Commercials: How They Crossed Paths?
2021 was a fantastic year for the crypto ecosystem. Facebook rebranding into Meta, the acceptance of Bitcoin as legal tender in El Salvador, and the launch of Bitcoin ETFs are proof of this.
All this has considerably increased the public demand and interest in cryptocurrencies, NFTs, and the Metaverse. This is now at the point that it is common to see advertisements about cryptocurrency products and services on TV.
What we hadn't seen so far was cryptocurrency companies advertising at the world's largest sports event. But, at Super Bowl 2022, that has changed thanks to Crypto.com, Coinbase, eToro, FTX, and Bitbuy.
The crypto ads these companies released caused a huge buzz globally, leaving no one who saw them on the sidelines.
Let's take a look!
Top 5 Super Bowl Crypto Commercials of 2022
#5. eToro Super Bowl Commercial 2022 (Big Game Ad: Flying Your Way)
eToro, the world's most famous online broker, used its Super Bowl ad to show a user sending the following message to the platform's community:
"Crypto? Stocks? Where to start?"
Immediately afterward, thousands of users representing the eToro community are seen flying around the city. One of them approaches the user and asks:
"To the moon?"
This is one of the most commonly used expressions among crypto enthusiasts.
As well in the eToro Super Bowl Ad, there is also another reference to cryptocurrencies: a Shiba Inu dog appears, as a tribute to the popular meme coin Shiba Inu (SHIB).
#4. Bitbuy Super Bowl Commercial 2022 (Kyle Lowry Crypto Ad)
Bitbuy is, in their own words, "Canada's most reliable platform for buying and selling BTC, ETH, and other cryptocurrencies". In their ad, they featured Kyle Lowry, a basketball player who spent 9 years with the Toronto Raptors.
The crypto ad is about "missed opportunities", warning Canadians not to miss out on crypto, as many did in the past with real estate or stocks. Bitbuy draws the comparison with the more than 6,000 shots Kyle missed during his career, all done tongue in cheek.
#3. Crypto.com Super Bowl Commercial 2022 (LeBron James Crypto Commercial)
Crypto.com, one of the most reputable exchanges worldwide, also wanted to join the party of the Super Bowl Crypto Ads 2022, starring the basketball player -and perhaps the greatest of all time-: LeBron James.
As part of this crypto spot, the basketball legend comes from the future to have a chat with his younger, 2003 version about what the future holds. The younger LeBron asks him if he's ready for what's to come, to which the LeBron of the future replies:
"I can't tell you everything, but if you want to make history, you have to make your own decisions"
#2. FTX Super Bowl Commercial 2022 (Larry David Crypto Ad)
Cryptocurrency exchange FTX can boast having the funniest Super Bowl 2022 commercial, considered so by the vast majority of viewers.
This crypto advert stars comedian Larry David, transforming himself into multiple authoritative characters throughout historical moments, and being skeptical of successful inventions such as the wheel, the toilet, the electric lamp, or portable music, among others.
In the end, David also rejects the FTX application as the easiest way to get into crypto, saying that he is never wrong about this sort of thing. The subsequent tagline goes like this:
"Don't be like Larry. Don't miss out on the next big thing"
#1. Coinbase Super Bowl Commercial 2022 (QR Code Commercial)
Coinbase, one of the most popular cryptocurrency exchanges worldwide, made history in 2021, becoming the first cryptocurrency company to go public in NASDAQ. But it also made history in 2022, with its Super Bowl LVI commercial.
Certainly, Coinbase's Super Bowl ad is the one that created the most controversy around the world. Not only because it is a complete contrast to the traditional Super Bowl commercials, which have big budgets and cinematic productions, but also because of its simplicity and minimalism.
Coinbase's crypto ad consisted of a color-changing QR code moving across the black screen, with retro game music playing in the background.
Just that.
For one minute, that is two 30-second advertising blocks, at a cost of over 13 million dollars.
The QR code redirected users to Coinbase's landing page, which gave away $15 in Bitcoin (BTC) for signing up, as well as other prizes for those already registered on the platform.
The success of this Super Bowl ad was so overwhelming that it exceeded the company's expectations, and Coinbase's website temporarily crashed due to the huge influx of visitors. In fact, they had to release the following message:
"Well, that was more popular than we thought. We need a quick time out, but don't worry. We'll email you when things are back to normal"
Cryptocurrency Super Bowl Commercials: What It Meant for Crypto Ecosystem?
Super Bowl LVI may have been the first Crypto bowl, but it is likely not the last one.
It is increasingly common to see brands from the crypto and blockchain ecosystem sponsoring major events and teams in the sports sector. Examples include Binance exchange sponsoring Porto FC, or the famous cryptocurrency BabyDogeCoin, which recently announced an NFT partnership with TSG Hoffenheim.
The Super Bowl crypto ads, however, cap off what has been a long run for the cryptocurrency sector in terms of mainstream recognition and acceptance. The commercials showed millions of people that cryptocurrencies are here to stay, and their adoption is growing at a faster rate than we expected.
Follow The Big Brands and Jump Into Crypto with CoinPayments
Do you want to get ahead of what's coming? CoinPayments is the best crypto solution for companies looking to accept crypto payments, and individuals looking to safely hold their crypto.
We provide the leading cryptocurrency payment gateway for businesses, with a range of merchant tools to make it easy for you. We also have a multi-crypto wallet that will allow you to send, receive, and store more than 2,200 different coins.
So, whether you are a merchant who wants to start accepting crypto payments or a user who wants a wallet to keep your digital assets safe, you can rely on CoinPayments.
Visit coinpayments.net/register now and take your next step into the future of payments.