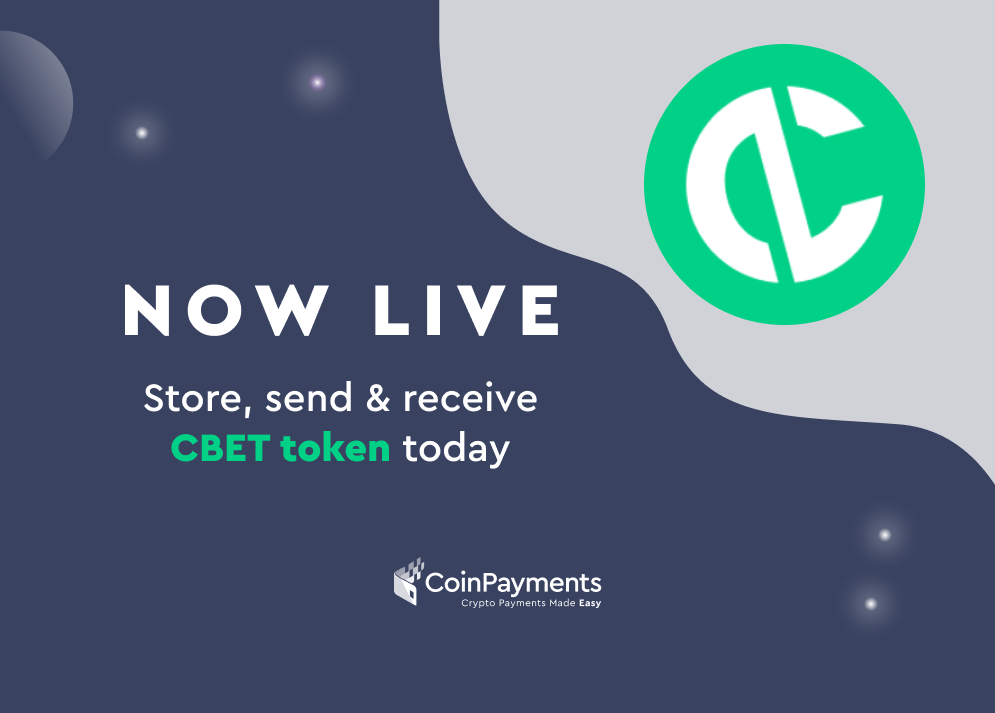 CBET QUICK STATS:
| | |
| --- | --- |
| CREATION DATE: | July 2021 |
| DEVELOPMENT STAGE: | Fully Released |
| CURRENT SUPPLY: | 1.000.000.000.000.000 |
| TOTAL SUPPLY: | 1.000.000.000.000.000 |
| ALGORITHM: | BEP-20 |
| PROOF TYPE: | Proof of Staked Authority (PoSA) |
| TARGET SPACING: | 3 seconds |
$CBET – Money of Gamblers
CBET is a payments token also known as Money of Gamblers that can be used to deposit, play and withdraw for Online Gambling Transactions.
CBET has been issued by the Crypto Gambling Organization https://www.cbet.gg in July 2021.
CBET benefits from an already proven platform and established ecosystem with an audience of more than 1.2 Million customers generating €500 million volume a month and hundreds of partners.
CoinPayments has successfully integrated CBET and can now provide CBET Token (CBET) payment processing to Gambling merchants looking to accept an alternative payment method on their websites.
For now, CBET Token (CBET) is listed on DEX Pancakeswap.
How does it work?
CBET Token is community-run BEP-20 token based on a Deflationary Smart Contract that rewards the holders and guarantee a liquidity and stability of the token price.
CBET Token is built on Binance Smart Chain which has proven to be highly secure, fast and cheaper than Ethereum network as an alternative network.
CBET Token offers a wide range of financial services to its holders, from Atomic Swap at no cost on https://www.cbet.gg to Collateralized Lending.
You can also deposit CBET Token on https://www.cbet.gg and get 25% extra funds bonus at every deposit. Withdraws are automated and permissionless.
Last but not least, https://www.cbet.gg monthly burns 50% of all profits generated by CBET Token deposits on its platform.
Any Gambling Website can integrate CoinPaymens Payment Gateway and start accepting CBET Token and its community for free and access to one of the world's most engaged gambling users.
Why Choose CBET?
CBET Token (CBET) is currently one of the world's top Gambling cryptocurrencies based on market cap and liquidity.
Users can use CBET to top up their balances on Gambling websites and wager bets in CBET currency to leverage and multiply gains.
CBET token can also be withdrawn and converted into FIAT currencies (US Dollar, Euro, Canadian Dollar etc.) at any moment on https://www.cbet.gg.
CBET is currently accepted https://www.cbet.gg as a Proof of Concept. Demonstrating the power of CBET at an early stage will help other Gambling merchants adopt the token and reach a vibrant community eager to use CBET tokens.
Thanks to our integration, Gambling merchants are able to start accepting CBET Token (CBET) payments in their websites today!
DISCLAIMER: The views and opinions expressed on this page do not represent those of CoinPayments Inc., Hodltech OÜ or their respective affiliates, employees and representatives (collectively, "CoinPayments"). CoinPayments does not endorse and is not responsible for or liable for the accuracy of any content, or the advertising, products, goods, services, materials or other statements, on this page. Readers should do their own research before taking any actions with respect to, or in connection with, this entity or the content and statements on this page. CoinPayments is not responsible or liable, directly or indirectly, for any damage, expense or loss caused by, or alleged to be caused by or in connection with the use of or reliance on, any content, statements, products, goods or services mentioned on this page.