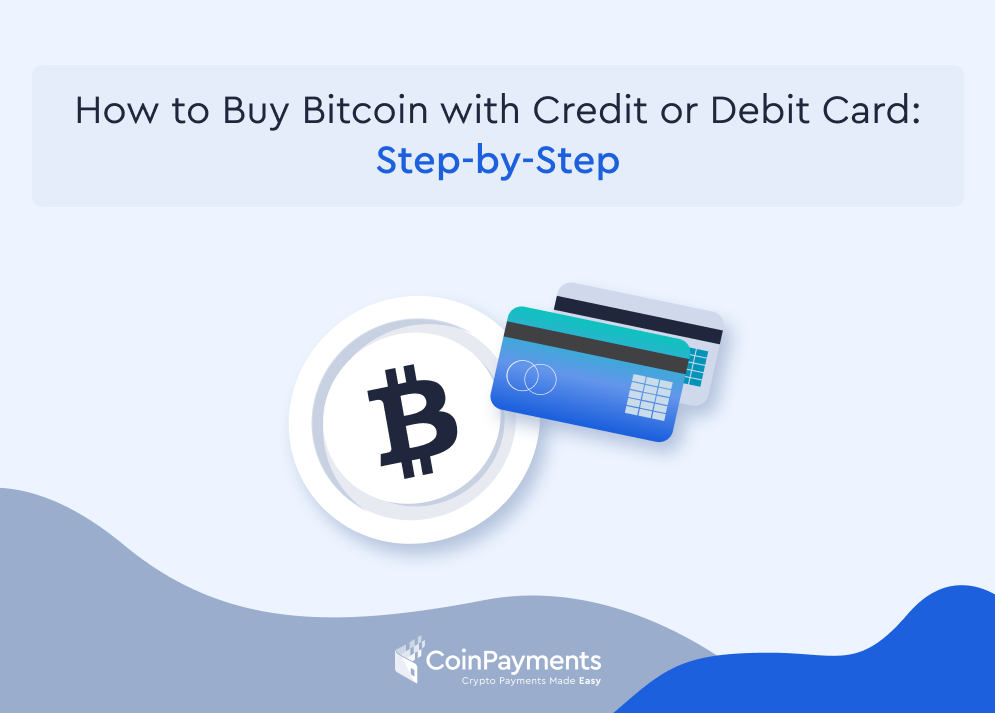 Buying Bitcoin With a Credit or Debit Card
Ranked second by Entrepreneur in its list of Top 10 Crypto Payment Gateways for 2021, CoinPayments is a global cryptocurrency payment platform that makes crypto transactions fluid and safe for the individual consumer while advantageous and effortless for the business owner. Now CoinPayments has enabled online purchases of cryptocurrency with credit or debit cards to make the process even more seamless.
This new feature allows purchases of popular cryptocurrencies, like Bitcoin (BTC), Tether (USDT), Tron (TRX), Dai (DAI), Basic Attention Coin (BAT), Bitcoin Cash (BCH), Ripple (XRP), Litecoin (LTC), Ethereum (ETH), and OKB from fiat currencies like dollars (USD) with the use of a credit or debit card.
One of CoinPayments' missions is to increase the accessibility of cryptocurrency and encourage its safe and independent use in the global financial market. Here is CoinPayments' step-by-step guide to buying Bitcoin and other cryptocurrencies with debit and credit cards through its platform.
Step 1: Create an account with CoinPayments
The first step to making your Bitcoin purchase is to create an account with CoinPayments. It is as simple as creating a username, entering an email, and creating a secure password. The next step is to verify the account.
Step 2: Verifying a CoinPayments account
Once you have logged into your CoinPayments account, you will receive an invitation to verify it. The verification process is straightforward and quick.
The next step is completing the KYC so you can make transactions and fully use your new account. In order to verify your identity you need to submit proof of identification, such as an ID card, driver's license, or passport.
You'll be asked to submit a photo of yourself with proof of identification.
The last bit of personal information you'll be asked to provide is proof of residence with documents such as a past bank statement, utility bill, internet bill, tax return, or certification of residency.
CoinPayments has created this step-by-step video to help new users verify their accounts with confidence. It's short and easy to follow.
Step 3: Connect a debit or credit card
The next step is to connect a debit or credit card to the newly created CoinPayments account. Enter the required information from a personal or business payment card and begin to buy Bitcoin and other cryptocurrencies. Buyers can also use PayPal or SEPA as a secure way to purchase Bitcoin, in addition to bank transfers and popular credit cards like Visa, SoFi, and Mastercard.
Step 4: Purchasing Bitcoin
Now, users can go to their account page to find the tab that directs them to buy Bitcoin with the connected payment method. From then on, the process and decisions are in your hands.
Crypto Payments Made Easy
Cryptocurrencies like Bitcoin are an accessible and safe option for making purchases. CoinPayments provides a reliable and sophisticated payment gateway for purchasing Bitcoin and other cryptocurrencies.
Begin by creating an account, verifying the account with personal information, connecting a debit or credit card, and buying Bitcoin. With Bitcoin's continued adoption and the overall crypto market momentum, now is the perfect time to start.
Why is Bitcoin So Important?
Few cryptocurrencies have garnered the cultural influence and economic impact of Bitcoin. It is, after all, the first cryptocurrency to get the world talking about the infinite possibilities of a decentralized global financial system.
But why has Bitcoin become such a juggernaut? And, why has it become such a hot topic for business owners, financial gurus, and tech leaders who promote "sustainable" and "secure" cryptocurrencies?
The story begins in 2009 when a person (or group of people) under the moniker Satoshi Nakamoto created Bitcoin, a virtual coin that acts as a decentralized currency known as cryptocurrency. This type of currency is characterized by its peer-to-peer virtual network that doesn't need the administration of a central bank or other financial institution to facilitate and complete transactions.
Bitcoin was so revolutionary at the time because it popularized the concept of decentralized financial transactions, meaning payers don't need a traditional bank account to use it; Bitcoin relies on a public ledger network called a blockchain to complete transactions. Traditionally, financial intermediaries approve or reject monetary transactions if an individual's bank manages the credit or debit card exchange. With a Bitcoin exchange, there is no such mediation.
Crypto transaction fees are typically lower than credit card fees. This is beneficial to sellers, traders, and national economies. Unlike national currencies, Bitcoin's value is the same all over the world.
Bitcoin's exponential growth and continued popularity as a cryptocurrency illustrate the potential benefits of a decentralized yet secure global economy. In February 2011—two years after its initial public release—Bitcoin obtained the threshold of $1 for one Bitcoin. By April 2013, it reached $1,000. In November of 2017, it surprised the market again by achieving $10,000. As of January 2021, Bitcoin was valued at $40,111. As shocking as it is, Bitcoin experts predict that by 2030, Bitcoin could reach anywhere from $397,000–$500,000 per coin.
But besides its undeniable value in a decentralized economy, what makes Bitcoin so special?
The Further Advantages of Bitcoin
Low Transaction Fees
Bitcoin fees are based on the amount of data sent, unlike credit card fees that include a $0.20 to $0.30 flat fee for each purchase in addition to a 0.5% to 5% charge. Bitcoin payment fees are generally lower than credit card fees. Bitcoin payment fees can range from $4-$20 per transaction. Card providers like Visa and Mastercard take a percentage of each purchase, while Bitcoin fee rates are fixed. This means larger purchases made with Bitcoin will probably be friendlier to your wallet than using a debit or credit card.
Privacy and Discretion
Bitcoin has the advantage of being pseudonymous, which means that unless a Bitcoin address is linked directly to personal identifying information (PII), it is completely anonymous. This allows for an elevated level of privacy and discretion when making purchases and deposits.
Bitcoin's Radical Accessibility
Opening a bank account or opening an account with a credit card company typically requires several prerequisites, including citizenship in the country the individual is opening the account, cosigners, and other requirements. There are quite a few obstacles to opening a bank account if you don't have any of this–immigrants, poverty-stricken individuals and families, and at-risk youth have higher rates of inaccessibility to a secure financial institution. Bitcoin renders eliminates these requisites: as long as an individual has access to a smartphone or an internet browser, they can participate in Bitcoin transactions. Even Bitcoin ATMs are available now, making it even easier to use crypto in your everyday life.
Conclusion
Crypto is the currency of the future. Whether you choose to use debit or credit to fill your Bitcoin wallet, you'll benefit from low fees, more security and accessibility – that means you save time and money, giving you financial breathing room to make smart decisions. CoinPayments makes it safe and effortless to purchase cryptocurrency using your credit or debit card. Start making crypto purchases today.
Sources:
7 Benefits of Decentralized Currency | BitcoinMarketJournal.com
What Are the Advantages of Paying With Bitcoin? | Investopedia