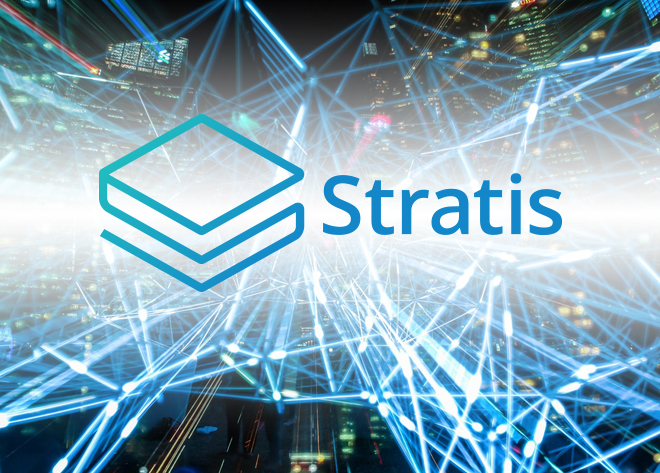 Stratis Platform (STRAT): Blockchain Made Easy
STRATIS QUICK STATS
| | |
| --- | --- |
| TYPE: | Platform |
| CREATION DATE: | August 2016 |
| DEVELOPMENT STAGE: | Full Release |
| CURRENT SUPPLY: | 98,848,937 |
| TOTAL SUPPLY: | N/A |
| ALGORITHM: | X13 |
| PROOF TYPE: | PoS |
| BLOCK TARGET: | 60 seconds |
With a goal to make blockchain easier for users to get involved, the Stratis Platform is built to accelerate the blockchain project development process. Their enterprise-grade development platform nStratis is a simple and affordable end-to-end solution for native C# and .Net blockchain applications.
The blockchain solution they offer combines the recent advances in security and stability of Bitcoin, with the latest breakthroughs in network speed, scalability, and customization. They've essentially created a product that brings forth the best of both worlds. CoinPayments provides Stratis payment processing to allow merchants to accept payments in Stratis.
How it Works?
The Stratis platform is designed to primarily meet the needs of corporations and major industries seeking to adopt blockchain technology. Their service serves as the main blockchain layer, supporting many different applications built on top of it.
Companies can create their own private blockchains that are tailored to meet their specific needs, and have them work on top of the core Stratis blockchain. Even though they are all linked to the Stratis platform, private blockchains are secure and operate independently from one another.
The Stratis Platform is built on the idea that they are a BaaS (Blockchain as a Service) provider. Their goal is to provide and enable people and companies to get a private blockchain on their own, instead of building one from scratch, using Stratis' technology.
Why Choose Stratis?
Blockchain Development Made Easy!
Considering that interest in blockchain technology has grown across many major industries, Stratis' platform is filling a much-needed gap. By providing a solution for companies reluctant to adopt this new technology, they're propelling blockchain development upwards and onwards!
Stratis' concept is to allow a customer to be able to come in and get any and all available blockchain technology in one spot, without having to utilize multiple technology partners. So far, they've experienced mass platform adoption because their product is such a helpful addition for companies who were considering building this type of infrastructure.
FURTHER INFORMATION ABOUT STRATIS
Stratis Website | Stratis Block Explorer | Stratis on BitcoinTalk
DISCLAIMER: The views and opinions expressed on this page do not represent those of CoinPayments Inc., Hodltech OÜ or their respective affiliates, employees and representatives (collectively, "CoinPayments"). CoinPayments does not endorse and is not responsible for or liable for the accuracy of any content, or the advertising, products, goods, services, materials or other statements, on this page. Readers should do their own research before taking any actions with respect to, or in connection with, this entity or the content and statements on this page. CoinPayments is not responsible or liable, directly or indirectly, for any damage, expense or loss caused by, or alleged to be caused by or in connection with the use of or reliance on, any content, statements, products, goods or services mentioned on this page.