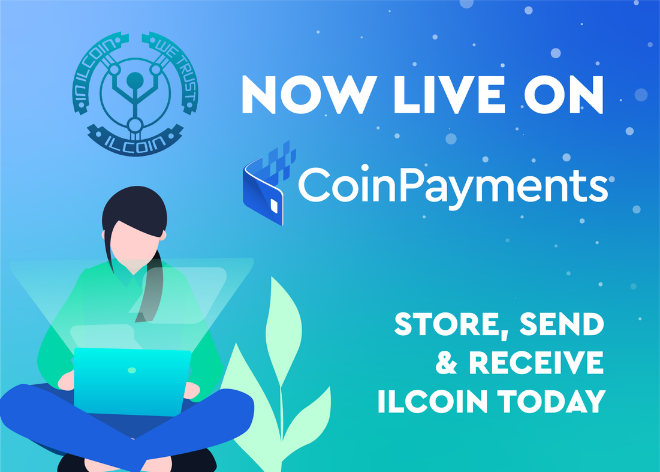 ILCoin (ILC): Where Not Only Cryptocurrency is Smart
ILC Quick Stats
| | |
| --- | --- |
| TYPE: | Currency |
| CREATION DATE: | December, 2016 |
| DEVELOPMENT STAGE: | Full Release |
| CURRENT SUPPLY: | 1,588,467,500 |
| TOTAL SUPPLY: | 2,500,000,000 |
| ALGORITHM: | SHA-256 |
| PROOF TYPE: | PoW |
| BLOCK TARGET: | 3 mins |
ILCoin integration is now LIVE!
Store, send and receive ILCoin payments in your CoinPayments wallet today!
We are Introducing ILC Cryptocurrency
ILCoin is mined using SHA-256 Proof-of-Work (POW) technology. The ambition of ILCoin is to become the foundation of a new, global digital currency-based economic system.
ILCoin entered the market in 2015. Today, this Blockchain Project is more than just crypto: it focuses on solving some of the most pressing problems in the industry, increasing blockchain's usability, and finding a way to create a feasible on-chain data storage solution. The project presented a hack-proof C2P consensus, which boosted its network's security to an unprecedented level. Most recently, ILCoin released the RIFT protocol aimed at resolving the scalability issue, which affects many blockchains.
"RIFT protocol disrupts the very concept of blockchain: mainly with the idea that simultaneous synchronization is, in fact, technically possible. With RIFT, we can solve both the FIFO and the bottleneck problems and manage large blocks at unprecedented speed."
says Norbert Goffa, Executive Manager of ILCoin.
With its outstanding features, RIFT marks the beginning of a new chapter for the blockchain industry. ILCoin offers the first solution in the market that maintains high efficiency within large-scale networks and create a solid ground for cost-effective on-chain storage.
Most recently, ILCoin Wallet Bot launched its very own payment processor built specifically for Telegram which enables ILCitizens to quickly and easily send ILCoin for goods & services.
ILCoin is by no means new to the cryptocurrency space, however it's footprint has become remarkable over the last year. CoinPayments is happy to provide payment processing for ILCoin and we're looking forward to seeing what innovations it will bring in the near future.
FURTHER INFORMATION ABOUT ILCOIN
ILCoin Website | ILCoin Block Explorer | ILCoin on BitcoinTalk
DISCLAIMER: The views and opinions expressed on this page do not represent those of CoinPayments Inc., Hodltech OÜ or their respective affiliates, employees and representatives (collectively, "CoinPayments"). CoinPayments does not endorse and is not responsible for or liable for the accuracy of any content, or the advertising, products, goods, services, materials or other statements, on this page. Readers should do their own research before taking any actions with respect to, or in connection with, this entity or the content and statements on this page. CoinPayments is not responsible or liable, directly or indirectly, for any damage, expense or loss caused by, or alleged to be caused by or in connection with the use of or reliance on, any content, statements, products, goods or services mentioned on this page.