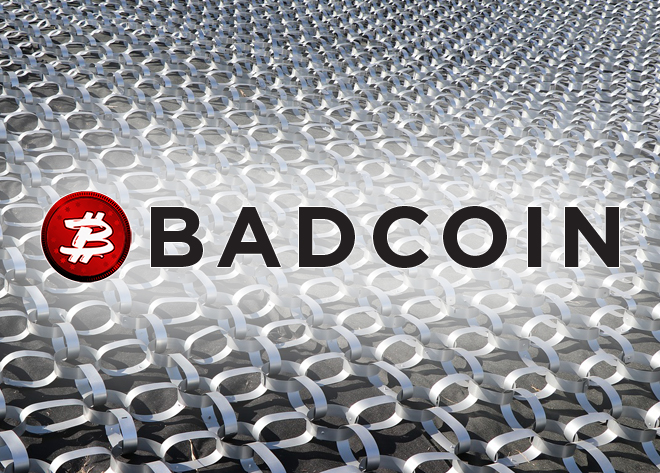 Badcoin (BAD): So BAD it's Good
Badcoin Quick Stats
| | |
| --- | --- |
| TYPE: | Currency |
| CREATION DATE: | April, 2019 |
| DEVELOPMENT STAGE: | Full Release |
| CURRENT SUPPLY: | 6,000,000,000 |
| TOTAL SUPPLY: | 21,000,000,000 |
| ALGORITHM: | SHA256, Groestl, Scrypt, Yescrypt, Skein |
| PROOF TYPE: | PoW |
| BLOCK TARGET: | 60 seconds |
You may already know them from the industry famous Bad Crypto Podcast, but now Joel Comm and Travis Wright have brought a new kind of coin to the market – one that's open source and allows for fair access to mining and participation of the currency. The coin is aptly named Badcoin and the mission is to level the playing field so anyone can mine it, regardless of the hardware that they own to do so. CoinPayments is happy to support this inclusive mission and to help further it by supporting Badcoin (BAD) payment processing to our merchants worldwide.
How Does BADcoin Work?
Badcoin was developed with the goal in mind of providing equal access coin mining to users. As the name indicates, even those with bad computers and devices can still mine successfully, and not be squeezed out by mega miners like those that focus on Bitcoin. The coin project is open source to foster a stronger community of users and is ten times faster than Bitcoin. It is secure, fair, and anyone can mine it.
Badcoin is unique in its design as it works using five different algorithms depending on the device that is doing the mining. This allows for a variety of miner access to mine the coins. This multichain blockchain will continue to add more algorithms in the future, including x16r and CryptoNight v3. Other future additions include a hard-fork, smart contracts, and Dapps.
The coin is overseen by the Badcoin foundation, a not-for-profit group with the mission of advancing Badcoin for the good of society by developing and promoting state-of-the-art blockchain technologies. Over 1,000 hours of development has gone into Badcoin, with plenty more to come to roll out new and innovative features.
Why Choose Badcoin?
Badcoin is a project that looks out for the little guy with the bad hardware. It grants access to those who can't compete against the mega miners that have taken most of the benefit from Bitcoin and other major mineable currencies. With Badcoin, everyone can be involved and be rewarded for their participation in the coin's creation. If you want to be part of an inclusive, open source project, Badcoin is the one for you! Learn more about the project and help support it by starting to accept Badcoin (BAD) payments.
FURTHER INFORMATION ABOUT BADCOIN
Badcoin Website |  Badcoin Block Explorer |  Badcoin on Bitcoin Talk