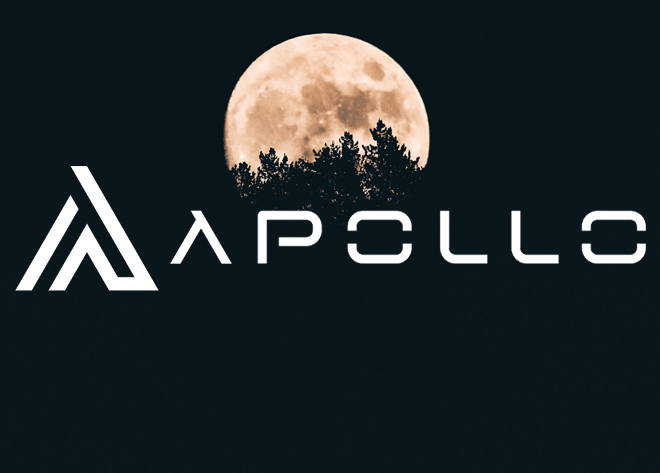 Apollo (APL): The All-In-One Cryptocurrency
Apollo Coin Quick Stats
| | |
| --- | --- |
| TYPE: | Currency |
| CREATION DATE: | July, 2018 |
| DEVELOPMENT STAGE: | Full Release |
| CURRENT SUPPLY: | 14,685,096,531 |
| TOTAL SUPPLY: | 21,165,096,531 |
| ALGORITHM: | Olympus |
| PROOF TYPE: | PoS |
| BLOCK TARGET: | 2-3 seconds |
Apollo Coin (APL) is a pre-mined, all-in-one cryptocurrency focused on delivering lightning fast transactions, top notch security and privacy, all while being supported by a team that has years of blockchain and technological experience. Also, Apollo is notably chaired by John McAfee, a tech expert and the founder of the McAfee anti-virus solution.
Apollo's main goal is to provide users with an effective currency which they can buy and sell with the complete assurance of privacy. With Apollo Coin, you don't have to rely on several different currencies to perform different activities, you would just need APL. This cuts down on complexity and the time you need to take to perform routine activities with your crypto. CoinPayments is happy to have Apollo Coin (APL) payment processing as part of our suite of payment coins for businesses so they can simplify the crypto experience for their customers.
How Does it Work?
Apollo is built off the NXT platform with the Olympus protocol and gives its users the ability to buy, sell, send and receive invisibly, while offering more features than other coins on the market. Features such as private transaction options, coin shuffling, IP masking, unblockable nodes and an integrated decentralized exchange provide a robust and secure system for users of the coin. Other features like the Apollo asset system allows for users to issue tokens representing real world assets with 100% privacy, the monetary system lets users instantly create currencies or tokens that can be traded privately on the decentralized exchange in Apollo backed by Apollo Coin, encrypted messaging, blockchain file storage, an alias and voting system, and much more.
Apollo will allow users to store their crypto on their platform, with a variety of wallets on various software systems such as Linux, OSX, web, Windows, and Tor. The platform has multi-sig capabilities, too, offering another level of protection and convenience.
Apollo Coin activity will be facilitated by the Apollo built Hermes blockchain, an integral part of the security of the system which allows for indefinite scaling. Hermes is what sheds the transaction speeds of 10-30 seconds of comparable blockchains to just 2-3 seconds.
Why Choose Apollo Coin?
The goal is for the Apollo platform along with its coin, to eliminate the need for government regulation, allowing users to be able to manage their own finances indefinitely. This all-in-one currency offers users endless possibilities that go beyond just making secure payments and aims to evolve into a currency that can be used in every sector of life and business. The full potential of blockchain technology will be pushed within Apollo.
For more information about our integration of APL or to learn about Apollo Coin (APL) payments, please feel free to get in touch with us.
FURTHER INFORMATION ABOUT APOLLO