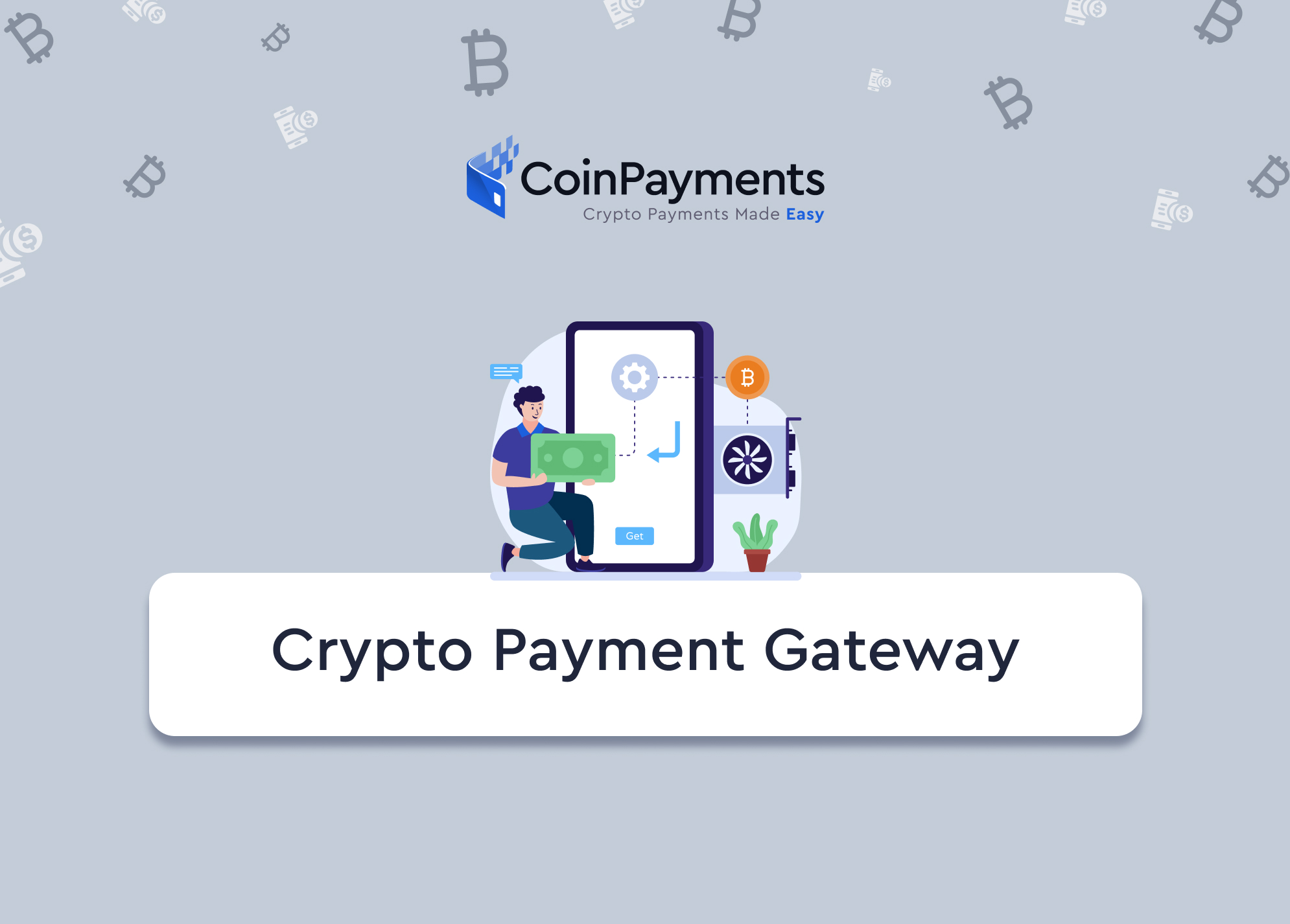 The online marketplace is constantly shifting, and e-commerce stores must evolve alongside it. More than ever before, online business owners are looking to accept cryptocurrencies like Bitcoin, Ethereum, and more to better serve their customers and to draw international visitors to their e-commerce sites.
However, a traditional payment gateway that facilitates credit and debit card transfers will not work if you want to accept cryptocurrencies. Instead, you'll need a dedicated crypto payment gateway. CoinPayments operates as both a crypto payment gateway and a crypto wallet, allowing you to accept digital tokens as currency for your business.
This page will break down everything you need to know about crypto payment gateways, how they work, and why you should consider adding one to your online store ASAP.
What is a Crypto Payment Gateway?
A crypto payment gateway is the cryptocurrency counterpart to a traditional online payment gateway. A "regular" payment gateway encrypts transaction information and holds funds while a banking institution is contacted to verify that a customer has enough money to buy something. Then the payment gateway releases the funds and facilitates the transaction once confirmation is made.
In exchange, the payment gateway takes a fee for every credit or debit card transaction it facilitates. Crypto payment gateways operate in the same way.
Due to the broadly decentralized nature of the blockchain network, crypto payment gateways are necessary for businesses that want to accept crypto payments from around the world. Crypto payment gateways emphasize security to ensure that personal information is not compromised and to validate crypto transfers between parties.
How Does a Crypto Payment Gateway Work?
Like their fiat currency counterparts, crypto payment gateways work by letting customers pay for goods or services using various cryptocurrencies like Bitcoin, Litecoin, and more. Businesses use crypto payment gateways to accept purchases made in these currencies.
Depending on the crypto payment gateway you choose, you may have a built-in wallet that allows you to store digital coins that your business accepts. Alternatively, the crypto payment gateway may connect your merchant account to an existing or third-party wallet to store the coins there instead.
Additionally, many of the best crypto payment gateways, including CoinPayments, allow you to convert your cryptocurrencies into different coins or fiat currencies after payments are received. In this way, your business has maximum liquidity in any type of currency you need to make purchases or pay debts.
For example, CoinPayments allows you to perform the following transaction:
A customer wants to purchase a product at your online store for .0004 BTC.

You accept the transaction and CoinPayments validates that the customer has the .0004 BTC to make the purchase.

Once validated, the transaction goes through and the BTC is transferred into your CoinPayments wallet – CoinPayments offers an in-built wallet so you don't have to download another wallet elsewhere.

Once you have the BTC, you can either keep it in your wallet indefinitely, convert it into another type of crypto coin using the CoinPayments exchange, or convert your BTC into a fiat currency – all from the same dashboard.
As you can see, CoinPayments and other crypto payment gateways make it easy for your business to accept digital coins as currency. With a crypto payment gateway, you can join the evolving online market and accept purchases from customers around the globe without having to worry about complicated exchange rates.
Benefits of a Crypto Payment Gateway
While there are a few traditional payment gateways that now accept cryptocurrencies, it's often a better choice to sign on with a dedicated crypto payment gateway instead. Why? There are several major advantages you'll benefit from:
Greater speed. With a crypto payment gateway, your crypto transactions will occur nearly instantaneously. Even if you want to accept a purchase made by a customer on the other side of the world, the transfer of coins into your crypto wallet will normally only take a handful of seconds.

Increased security. All crypto payments are, by their very nature, verified by the blockchain process. This results in much greater transparency and security for all involved across the board, even compared to the security for credit card transactions.

Low fees. The majority of quality crypto payment gateways let you save on crypto transaction fees compared to traditional payment avenues. In fact, normal credit card fees can be up to seven times as expensive as crypto transaction fees.

Pure simplicity. By using a crypto payment gateway, you won't have to fiddle with a bunch of controls or manually convert your coins into fiat currency or back. Your crypto payment gateway will take care of all that for you. Some, like CoinPayments, even set up a dedicated crypto wallet when you create your merchant account so you can start accepting cryptocurrencies right away.
Why Businesses Should Accept Bitcoin and Other Cryptocurrencies
Even as Bitcoin and the broader crypto market become more popular, some business owners wonder why they should bother accepting cryptocurrencies in the first place.
While it's true that digital currency isn't exactly mainstream, many more companies and customers than before are now using digital tokens as one of their major or primary currency types. More practically, there are lots of benefits to accepting crypto for your business, including:
Being able to accept transactions from customers around the world. With digital coins, you don't have to worry about being scammed or losing money from an international transaction because of exchange rates. While coins do have an exchange rate when you convert them to fiat currency, you can always keep your coins as tokens in your payment gateway's crypto wallet
By accepting more transactions and more currency types, you broaden your possible customer pool. This, in turn, could make your business more profitable in the long run
Crypto is definitely the future. If you want your business to not only survive but thrive in the years to come, you'll want to start accepting crypto ahead of the curve rather than be stuck scrambling to catch up once crypto does eventually become mainstream
Given all the advantages of accepting cryptocurrencies for your business, why wait? You can start with a crypto payment gateway today by signing up for a merchant account with CoinPayments.
Not only do we make it easy for you to accept Bitcoin and other digital currencies from your e-commerce customers, but we've been ranked the number one payment gateway for 2021 overall by Coinfunda: a popular cryptocurrency and blockchain-focused blog.
Best of all, you'll be able to accept digital currencies from around the world and quickly convert those coins into fiat currency all from a secure crypto wallet on the CoinPayments platform. With CoinPayments, accepting and using digital currency has never been easier.
Try CoinPayments today for your online store's crypto payment gateway – you won't be disappointed!
Crypto Payment Gateway FAQs
What is a bitcoin payment gateway?
A Bitcoin payment gateway is the same thing as a crypto payment gateway. Some Bitcoin payment gateways, however, may only accept the titular coin rather than other types of cryptocurrencies. We don't recommend signing up for these services – remember, accepting crypto is about accepting as many types of currency as possible, not limiting yourself to just one.
How do you integrate a crypto payment gateway with ease?
It depends on the crypto payment gateway service you sign up for. For example, CoinPayments allows you to quickly open a merchant account and download a crypto wallet to your computer in just minutes.
Next, depending on the e-commerce store or plug-in you're using, you should be able to simply install the payment gateway onto your site via a widget or integration feature. For instance, CoinPayments is accepted with a variety of popular e-commerce platforms like WooCommerce, Shopify, and more.
This fast integration is just one more reason why CoinPayments is the best crypto payment gateway overall.
Is there a crypto payment gateway/service that I can incorporate on my website that does not require a physical bank account?
Yes – in fact, no crypto payment gateway requires a physical bank account to work properly. That's because crypto payment gateways, by definition, store your coins in a crypto wallet (either one provided by the gateway service or a third-party wallet that you download elsewhere).
However, if you want to convert your coins into fiat currency, like U.S. dollars, you'll need a physical bank account linked so you can transfer the money.
Sources
Average Credit Card Processing Fees and Costs in 2021 | The Motley Fool Ascent
How Much Does It Cost To Buy Cryptocurrency At Exchanges? | Investopedia