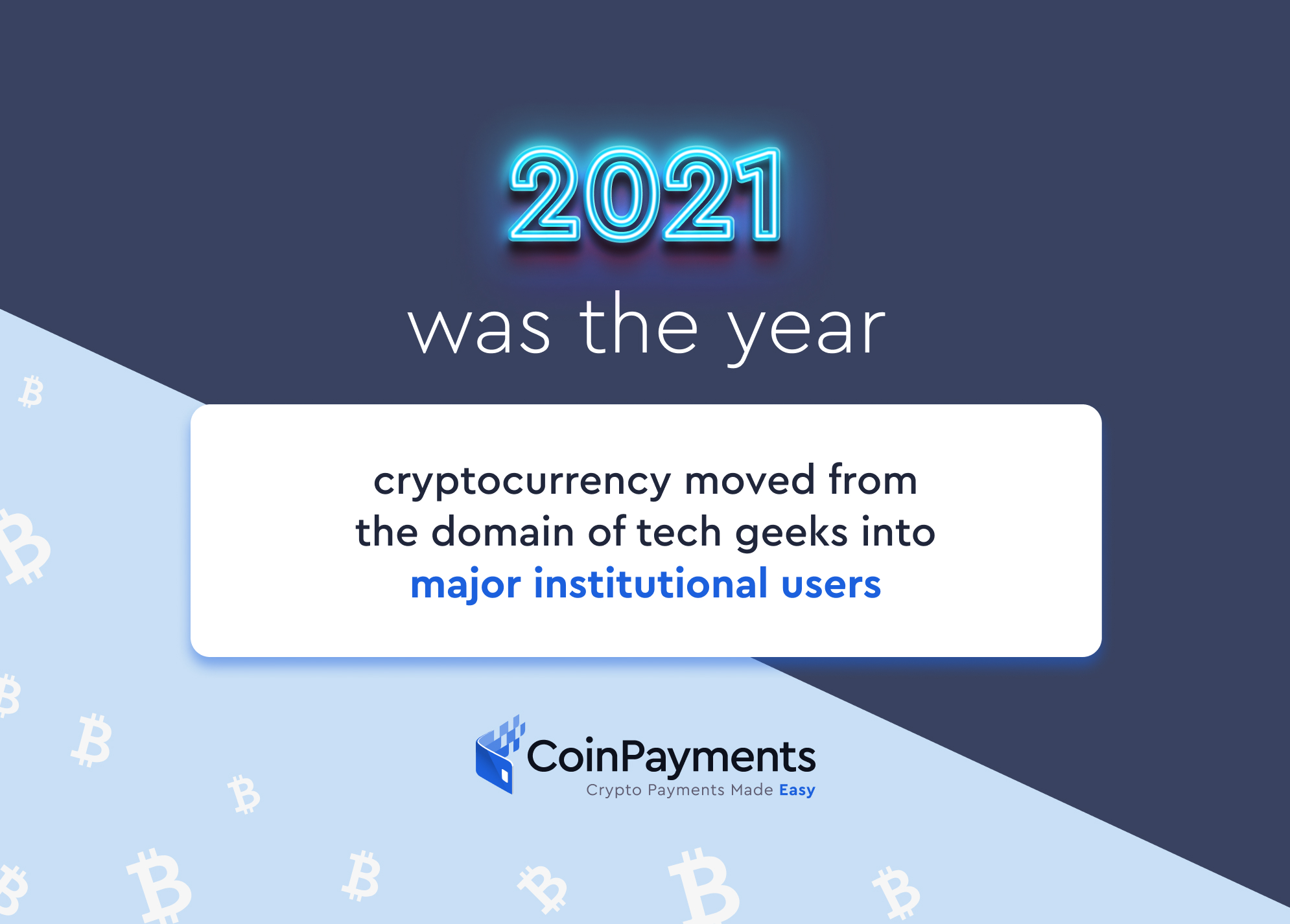 For thirteen years Bitcoin, then later cryptocurrencies such as Ethereum, have sat on the sidelines of mainstream financial adoption, with limited use and low adoption.
In 2021 all that changed with adoption at both corporate and governmental levels, raising everyone's awareness, and pushing conversations about using cryptocurrencies for everyday transactions into people's minds.
Businesses that adopted the technology early, for example by accepting crypto payments for products and services, are seeing the benefits already, and it looks like they will continue to do so well into the future.
Here's how it went down.
NFT Adoption Changed the Game for Holding Assets

You can't talk about 2021 without talking about the rise of Non-Fungible Tokens, or NFTs. These digital tokens, held on a blockchain, can be bought, sold or transferred by the holder, and represent such things as artwork, membership cards, or much more.
More than any other single factor, developments in creating, trading, and selling NFTs have helped raise awareness of the industry during 2021. They also brought new money into the ecosystem and created a large pool of cryptocurrency holders looking for ways to use their newfound wealth.
On March 11th Christie's Auction house completed the sale of "Beeple's "The First 5000 days" for over 69 million dollars, and since then the entire sector has continued to grow and raise awareness of what blockchain technology can achieve.
Though it is not the only use case, NFT artwork is continuing to be a major part of the ongoing adoption, with some projects such as Global Pandemic Shield, who use the CoinPayments platform for their transactions, using the NFT artwork to bring about real-world benefits and change.
Most importantly, they have created a way for people to easily and quickly monetize their skills. Artists, musicians, and filmmakers have flooded into the marketplace and are finding buyers who are both excited about the technology and are financially able to support them.
In turn, payment platforms have evolved and become smoother and easier to use, enabling fiat payments for cryptocurrency and NFTs to be simpler and easier for the new user.
One interesting challenge this creates, however, is what do these people do with their newfound cryptocurrency payments? As a result, we are seeing growth and benefits for those companies who recognize this and are accepting cryptocurrency payments, through services such as CoinPayments, for products outside of the ecosystem. This can be enabling cryptocurrency holders to buy their weekly shop, through to enabling large purchases such as cars.
Regardless, NFT creators and traders are happy to spend their crypto where they can, they just need an easy way to do so. If you'd like to provide this option, and accept cryptocurrency payments for your products and services through CoinPayments, Sign up now for a free Business Account.
Corporations (and their CEOs) Got Skin in the Game

2021 was the year large corporations recognized the long-term benefits of holding cryptocurrencies and started adding them to their balance sheets.
While Bitcoin was the most popular, others such as Ethereum and even Doge were added, as CEOs and founders looked to add assets that were performing in a market where fiat currency was being created and rapidly losing value.
Beginning largely with Microstrategy in August, these companies started purchasing cryptocurrencies in bulk and openly talking about doing so on social media. Their CEOs, such as Michael Saylor for Microstrategy and Elon Musk for Tesla, openly posted about their purchases, their reasoning, and what they thought the potential was for them as currencies.
While they were buying up cryptocurrencies as a long-term financial investment, their behaviour was reflected in the wider retail markets as well.
This brought a new level of consumer confidence for people looking to try purchasing cryptocurrencies, as well as encouraging other businesses to move into the space. Even Amazon stated they are interested in the crypto space though they have yet to announce what format this will take.
This continues to lead to increasing mainstream adoption and brings people who, a few months earlier, had never heard of Bitcoin or cryptocurrencies, into the ecosystem.
While many have been brought into the space due to corporate investment, a lot of them still don't fully understand it. As such, they are less happy to use the complex, often technical, native cryptocurrency solutions such as Decentralised Exchanges (DEXs).
This has driven improvements in payment gateways both for buying/selling cryptocurrencies and in using them as the currencies they were designed to be. Those companies who are looking at and providing easy solutions to these users are immediately seeing the benefits of an audience looking for anyone accepting crypto payments.
El Salvador Made a Series of Huge Moves

As well as companies moving into Bitcoin and cryptocurrencies in 2021, something happened which many in the industry were hoping for, but few suspected would happen this soon.
President Nayib Bukele of El Salvador announced in September that the country would be establishing Bitcoin as legal tender, and would be rolling out several services to make this happen.
These included a custom digital wallet for citizens that provides them $30 of free Bitcoin, cash machines enabling people to convert their US dollars into Bitcoin, plus legislation that the currency is to be accepted as a means of payment wherever possible. This has been made possible by the "Lightning Network", a layer 2 solution built on top of Bitcoin that allows for near-instantaneous payments with much lower fees.
While this transition has not been without challenges, it appears to be moving forward successfully, and in November President Nayib Bukele announced further plans to build a "Bitcoin City" at the base of a volcano using geothermal energy for power.
This push within the country has also led to more global corporations, most notably McDonald's and Starbucks, to accept Bitcoin payments, marking themselves as the first American companies to adapt to the local regulations.
Just walked into a McDonald's in San Salvador to see if I could pay for my breakfast with bitcoin, tbh fully expecting to be told no.

But low and behold, they printed a ticket with QR that took me to a webpage with Lightning invoice, and now I'm enjoying my desayuno traditional! pic.twitter.com/NYCkMNbv7U

— Aaron van Wirdum (@AaronvanW) September 7, 2021
While, for many years, critics have been accusing Bitcoin of being unsuitable as a currency for smaller regular purchases, El Salvador appears to be proving it can be highly effective.
Many visitors and influencers in the crypto space have travelled there to test the system and buy their Big Mac and fries, morning coffee, or local products, and pay all their expenses with Bitcoin through a QR code, something they can't do anywhere else yet.
While no one knows how this adoption will end, or if other countries will follow, El Salvador is proving cryptocurrencies can be highly effective as day-to-day currencies and that using them as a mainstream global payment platform is possible.
Bitcoin moves into traditional financial products

Bitcoin launched over 13 years ago yet, despite its success and the success of other cryptocurrencies that came after, it has been largely rejected by the world of traditional finance.
In 2021 that started to change, and in October the first Bitcoin futures Exchange-traded fund (or ETF) was announced by Pro-shares. An ETF is a traditional financial product that allows a user to invest in a basket of products instead of directly into the product itself so, rather than allowing users to purchase Bitcoin directly, this ETF tracks the price of Bitcoin and allows traditional investors to invest against it.
As Bitcoin is a volatile and largely unregulated asset, traditional investors are often wary of missing the protections they would normally enjoy from a financial instrument. As well as creating a regulated method for investors to gain exposure to Bitcoin (and potentially other cryptocurrencies down the line) the ETF removes the need for them to worry about the self-custody and personal key management challenges that come with Bitcoin.
This marks a huge step in the recognition of cryptocurrencies as legitimate by existing financial institutions and shows that they understand how much people want to be actively investing in them. It also opens the gate for alternative ETF models utilizing multiple cryptocurrencies, much as a traditional ETF uses multiple assets.
While this is not necessarily in the trustless, decentralized model of finance imagined by Bitcoin, it makes leaps towards bringing more people into the ecosystem and getting acceptance of a cryptocurrency as a means of buying and selling everyday items.
The Metaverse is announced to 2.91 billion people

The metaverse was the biggest shift in 2021, and it opened the gates of cryptocurrency use cases including payment and sales opportunities.
At first, an idea floating on the fringes of technology communities integrating cryptocurrency, virtual reality, augmented reality, and NFTs, the metaverse hit the headlines, and 2.91 billion users, when Facebook announced it was a "metaverse company" and rebranded as "Meta".
Overnight the concept of this second layer of reality became common knowledge and people globally were looking for ways to create and integrate into it.
While the payments token previously imagined by Facebook has officially been cancelled, payments in the metaverse are a huge topic. Companies are enabling in-metaverse payments using cryptocurrencies in virtual worlds, and many are looking at the real world and how they can be better used there.
After all, if a person can go into virtual reality and buy a virtual painting using cryptocurrency, why can't they use that same currency in the real world to buy a painting?
If you can buy virtual popcorn to watch a film in the virtual world with cryptocurrency, it makes sense to be able to do it in the real world as well.
As the metaverse moves from being something tech people talk about to each other online, into something every Facebook/Meta user around the world has access to, this seamless transition from the metaverse to the real world, while using the same currency in both and making transactions easy in both is likely to continue to develop and become more important to users.
The real winners in this field will be those merchants who, even if they don't exist in the metaverse or sell products there, recognize that customers have cryptocurrencies and the willingness to spend it and provide them with an opportunity to do so.
Onwards and upwards for adoption and use
2021 was a year that will be looked back on as having major shifts for the blockchain and cryptocurrency space, both in terms of the technology powering it, and the widespread adoption and acceptance of it by both financial institutions and by individuals around the planet. It seems likely that this trend will continue into 2022 and beyond.
With over $10 billion in cryptocurrency payments taken since 2013, and 70,000+ merchants in 190+ countries, CoinPayments is one of the world's largest and most trusted cryptocurrency payment solutions.
If you would like to be ready for the year ahead by offering cryptocurrency payments to your customers in a simple, quick, and easy solution, we are the company to get you up and running.