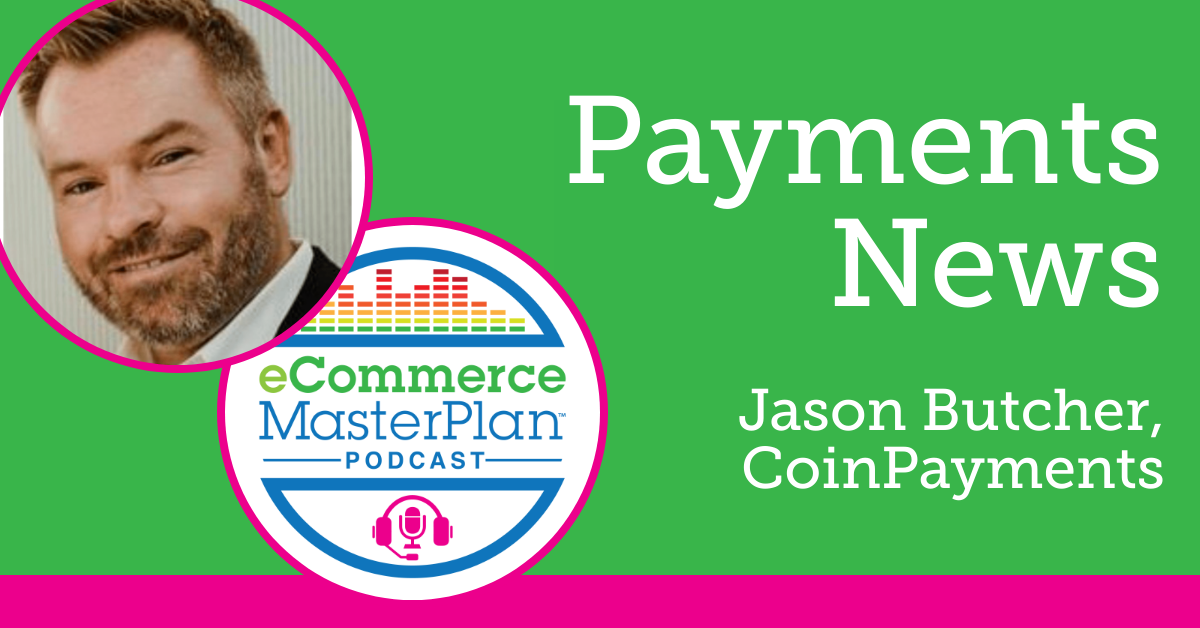 CoinPayments CEO Jason Butcher was recently interviewed by Chloë Thomas in the eCommerce Master Plan podcast, where they had an interesting conversation about the future of payments and discussed the latest opportunities available to Ecommerce businesses.
Here's a little sneak peek into their discussion:
Chloë Thomas: How did you end up in the world of payment solutions?
Jason Butcher: In the early 90's, I was involved in a company called World Shopping Network (WSN) and we were really at the forefront of the Ecommerce space. In the 2000s, I developed a payments platform and gateway for the Caribbean called CPay, which pushed me into credit card acceptance and merchant processing. In 2015, I was introduced as a mentor to the founder of CoinPayments. I was inspired by what they were doing and thought there was a good opportunity for me to support them further. A year ago, I took over as their CEO, and today we have clients in 180 countries and process well over $400 million a month in crypto payments for merchants.
CT: What are the biggest changes that have happened in payments in the last four years?
JB: Probably four years ago, payments would have been mostly around credit cards. Of course, there was the onset of digital wallets. Today, you see tremendous changes from that time, in different global markets.
Europe: a number of different networks, payments systems, and faster payment platforms like epayments and Wirex
Africa: people mostly making payments directly through wallets
Asia: WeChat Pay or AliPay are processing the majority of payments
Latin America: the launch of WhatsApp Pay and local payment systems where central banks have instigated direct instant payment solutions
Canada: more transactions are happening through Electronic Funds Transfer (EFTs) or email payments, where there is no attachment to a bank account or credit card.
Of course, you also see cryptocurrency adoption. Although it has been around for 10 years, we have seen incredible growth in the last 3-4 years in the digital currency space. With more and more people doing global payments, and Ecommerce growing so much, the payment options have had to adapt to how people are paying.
CT: Is it evolving so fast that even if you think you have the right payment method set up you should still be reassessing?
JB: Yes, reassessing your business as to who you are selling to, who you are targeting, and how you are targeting them is just as important as paying attention to the types of payment you are accepting. The value of the products you are selling may be more suitable for different types of payment, and you want to make sure a client doesn't look elsewhere for a global payment option.
CT: Let's start with the world of the mobile wallets. Are mobile wallets a crucial element in the payment space?
JB: It is undeniable that they are a part of the space. Apple Pay operates as a payment facility that connects to your bank, and credit cards. It's an easy form of payment on your phone. PayPal is the oldest and largest wallet system out there. I think the leaders in the space will be with other systems coming on board – the Revoluts for example. If you look at others that are fighting for financial inclusion, which are the WhatsApp-type facilities, allowing users immediate payment or facility to have exchange of value between others – that, I think, is truly where the leaders are going to be.
CT: What's the latest in the cryptocurrency space? How are consumers using that with Ecommerce business?
JB: The beautiful thing about cryptocurrency is that you receive payment instantaneously. There is no settlement timeframes or delay in those payments. It is also much less expensive and it makes chargebacks essentially a thing of the past. We are seeing 5,000-10,000 new merchants per month signing up to accept crypto as a form of payment. They understand that the more options you provide, the better customer experience and retention. We also see a change with people making payments with stablecoins over Bitcoin or alternative coins.
CT: What is the difference between a stablecoin and Bitcoin?
JB: A stablecoin has a consistent value, compared to other volatile cryptocurrencies. Where Bitcoin is like a digital gold that changes in price each day, a stablecoin maintains the same value. With other cryptocurrencies, you might accept it at one price, but a minute later it might be worth more or less. Stablecoins has consistent value based on algorithms and systems that are running to keep it at a steady value.
CT: Is a stablecoin more consumer friendly?
JB: I think it is both consumer and merchant friendly, unless you are open to speculating on other cryptocurrencies that you know will increase or decrease. We allow the merchant to take a portion of revenue as investment or speculation, and another portion in a stablecoin that remains the same as the value they would have sold their product or service for.
CT: Why should people use a one-stop shop for their crypto acceptance, like CoinPayments?
JB: In our digital wallet system, we support over 2,000 cryptocurrencies, and in the payment systems we support over 130 different options for people to make a payment in. We also offer education and instruction on how to integrate with website APIs, shopping cart plugins, and digital wallets.
CT: Did you say 2,000 cryptocurrencies? Isn't that more than there are normal currencies even if you include things like gold?
JB: Yes! We see the majority of our transactions in the top five or six cryptocurrencies. You can use a platform like CoinMarketCap to get an idea of crypto volatility, activity, and transaction volumes.
CT: Now, let's get to the Top Tips. First up, the Book Top Tip. If everyone listening to this podcast agreed to take Friday off and read a book to make their business better, which book would you recommend?
JB: It's not really a book but I really like the Abundance Digital and Abundance 360 program by Peter Diamandis. It provides insight into the world of innovation, technology, change, and growth. It is something I strongly recommend participating in.
CT: Traffic Top Tip?
JB: I think most people forget to ask for referrals. In our business, it is actually the biggest traffic generator, and we receive most new business from our current clientele.
CT: Tool Top Tip?
JB: If you have a team, I definitely recommend a collaboration tool like Slack. I also think that from a customer standpoint, you want to know who your customers are – their buying habits, what they've done, and how you can react to provide a better solution or service. Something like Salesforce is key to help move your business forward.
CT: Growth Top Tip?
JB: I would strongly suggest supporting all possible payment solutions for business growth. If you provide the option, there will always be somebody that wants to make a payment in that solution.
If you'd like to hear the entire podcast episode, you can do so here.