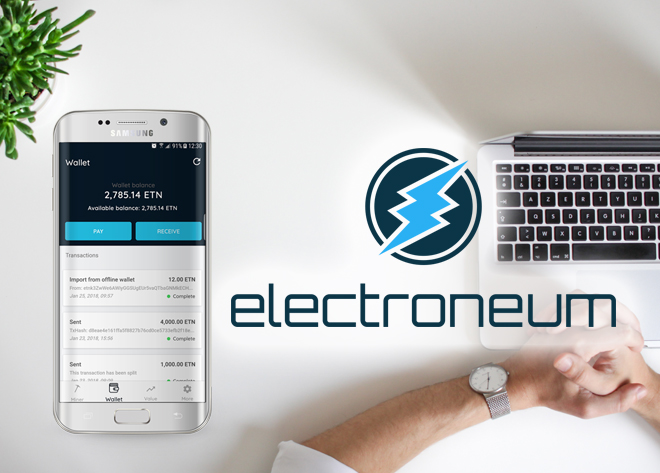 Electroneum (ETN): Mobile Cryptocurrency For Everyday Users
ELECTRONEUM QUICK STATS
| | |
| --- | --- |
| TYPE: | Currency |
| CREATION DATE: | November, 2017 |
| DEVELOPMENT STAGE: | Full Release |
| CURRENT SUPPLY: | 8,562,683,407 |
| TOTAL SUPPLY: | 21,000,000,000 |
| ALGORITHM: | CryptoNote |
| PROOF TYPE: | PoW |
| BLOCK TARGET: | 2 minutes |
Electroneum is a mobile cryptocurrency platform that has been designed with the everyday user in mind. Buying cryptocurrencies can be difficult for first time users, so Electroneum has constructed a mobile accessible platform that makes purchasing, mining and using cryptocurrencies easier than ever. Instead of needing the hardware for a desktop computer that can be used to purchase and mine cryptocurrencies, then downloading a digital wallet to your PC, all of this can be done through the Electroneum mobile app. Now Electroneum has gone a step further with an integration into the CoinPayments framework, to provide merchants and businesses with the option of Electroneum (ETN) payment processing.
How Does it Work?
Electroneum is an app-based service which is iOS and Android compatible. The goal of the project is to make participating in the world of digital currencies easier for the everyday user and to cater to the billions of mobile users across the world. The app requires no ID or card details to operate, and you can interact with the platform entirely through your phone.
Electroneum has a high money supply to normalize the amounts of the currency that are used in transactions. It also only uses two decimals places in its calculations, making it like fiat currencies in this manner as well. By implementing these psychological parallels to fiat currency, the hope is that adoption will be less of a shock to the average user.
The Electroneum blockchain itself has been designed with the individual phone user in mind. The blockchain itself cannot be mined with powerful ASICs like the Bitcoin blockchain can, enabling individuals and their phones to do so without competing with these massive players in the crypto mining industry.
Electroneum is for the everyday user, regardless of their technical knowledge – if you have a phone, you have Electroneum.
Why Choose Electroneum?
Electroneum is the go-to solution for the non-technical market wishing to participate the digital currency space. Not everyone has the know-how in cryptocurrencies to be able to set up a desktop-based system, and for emerging markets which have completely leaped over the computer and have gone straight to mobile, this platform allows for that seamless transition. The Electroneum platform has over 2.6 million registered users and is primed to grow as the market opens further and cryptocurrencies become more adopted through mobile.
So what are you waiting for? Joining the digital currency movement is now as easy as downloading a mobile app! You can even get a head start by starting to accept Electroneum (ETN) payments in your business today!
The integration of Electroneum into the CoinPayments platform is courtesy of CryTrEx, a digital currency exchange.
FURTHER INFORMATION ABOUT ELECTRONEUM
Electroneum Website  |  Electroneum Block Explorer  |  Electroneum on BitcoinTalk