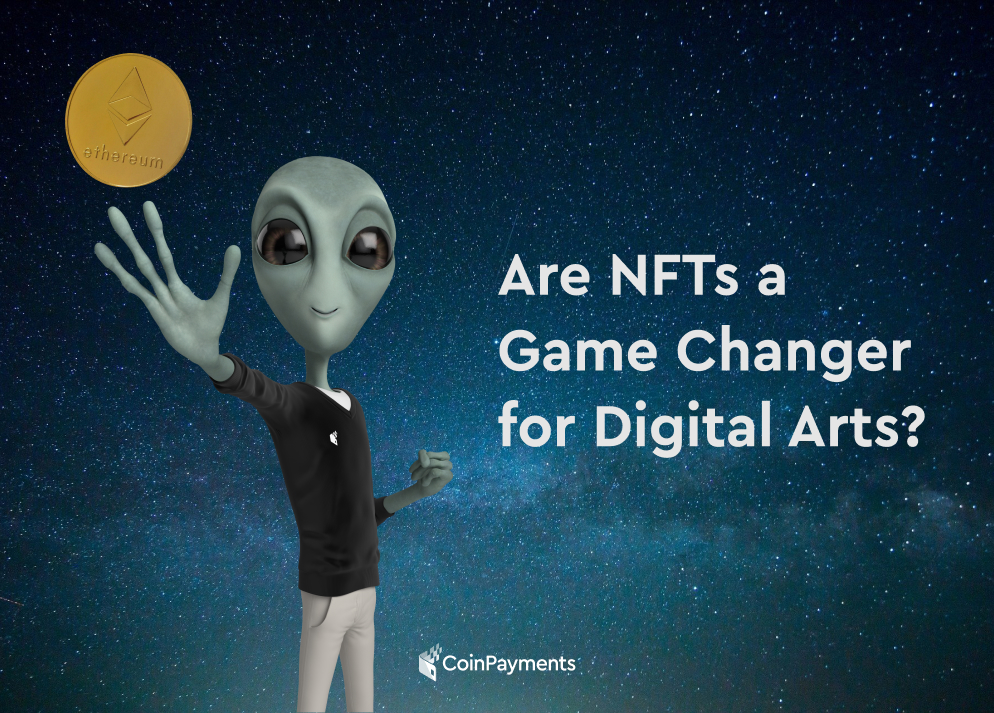 With each passing day, cryptocurrencies are becoming more popular. As digitally-native assets, this embrace seems fitting in a world that is increasingly digital. Blockchain has been around for a while but it seems the disruptive potential of its applications is only beginning to be recognized.
The latest application of blockchain technology taking the internet by storm is with non-fungible tokens – or NFTs. We're here to break down what you need to know about the NFT craze, and how it's making noise in a variety of industries that are eager to capitalize on the growing cryptocurrency market.
---
NFTs in Spotlight
NFTs are assets minted onto the blockchain that are unique. In contrast to fungible assets, like global currencies that are mutually interchangeable, non-fungible tokens cannot be traded for something of "equal value," as their value is dependent on market demand. Think, collectibles: whereas to some, they may seem worth next-to-nothing, to others, they can be highly sought-after products.
NFTs can be implemented on blockchains that support smart contract technology, a feature that the Ethereum blockchain is renowned for developing. Because of this, the majority of NFTs are minted on Ethereum, being bought and sold for the platform tokens.
"If Andy Warhol had been born in the late 90s, he probably would have minted Campbell's Soup as an NFT," according to an article published by the Ethereum organization. "It's only a matter of time before Kanye puts a run of Yeezys on Ethereum. And one day owning your car might be proved with an NFT."
To the general public, this statement may have sounded a bit radical a couple of years ago. However, blockchain-based assets are now making their mark in popular culture. Tesla officially started accepting Bitcoin as payment for its vehicles earlier this month, but that wasn't even the most notable part of the story. The CEO stated that they would be retaining the payments in their original form rather than converting them into fiat currency. The announcement is indicative of the company's belief that the cryptocurrency market is not just a momentary frenzy.
Now, the argument that NFTs could be the future of digital art doesn't seem too far-fetched.
Art, reimagined: NFTs for the creative industry
You may have heard of Beeple, an artist who made headlines when a collage of his digital artwork sold for nearly $70 million as an NFT. What you may not have known is, prior to the record-breaking sell, the most he had sold his work for was $100, according to an article from The Verge.
"I do view this as the next chapter of art history," the artist said. "Now there is a way to collect digital art."
The world of blockchain may be giving digital artists, especially those that may have once struggled to market their artwork, a platform that extends beyond the boundaries of conventionality. However, it appears even established industry incumbents are coming in to reap the rewards of the cryptocurrency movement.
TIME Magazine, a publication that has been around for almost a century, auctioned three NFTs of magazine covers earlier this month. Notably, one of the covers reads, "Is Fiat Dead?" — an intriguing play on the rising distrust in fiat currencies, which has sold for $130,000 in ETH.
Beyond visual art, players in the music industry have capitalized on the NFT marketplace. The American rock band Kings of Leon released their new album, When You See Yourself, as an NFT, coupled with additional perks like VIP experiences at their future concerts. And, they're not alone.
Grimes, a Canadian singer and producer, made nearly $6 million selling her digital artwork as NFTs, in a matter of minutes after putting them up for sale, according to an Insider article.
We've seen long-time incumbents laud the potential of NFTs to change the creative industry. What most don't recognize, however, is how the success of NFTs is really a testament to the revolutionary applications of blockchain technology, even beyond the financial system.
The word on the (digital) street: NFTs are all the rage
Jack Dorsey, the co-founder of Twitter, sold his tweet from 2006 — the first tweet to ever be posted onto the platform that now has over 192 million active users — for a whopping $2.9 million to Malaysia-based businessman Sina Estavi. According to an article from the BBC, Estavi likened the NFT to Leonardo Da Vinci's Mona Lisa, saying the tweet was "a piece of human history in the form of a digital asset."
Elon Musk, a known crypto advocate, tweeted a song about NFTs accompanied with a visual, which he said he'd sell as an NFT – and received plenty of bids. The highest bid was $1.1 million, also by Estavi, who appears to be an eager early adopter. While Musk's tweet has yet to be sold, his move has certainly contributed to the rise of the frenzy, which is seeing more interest daily.
More than tweets, however, NFTs are making a mark in unexpected places. Architecture, for one: a Toronto-based artist, Krista Kim, was the first to sell a virtual design for a home as an NFT in March. Fans of the NBA can now purchase video highlight reels as collectibles, in NFT form. NFTs have even cultivated collaboration between the fashion and gaming industries, making it possible for buyers to wear one-of-a-kind clothing items in video games. Virtually anything that is consumable can now be an NFT.
It's still early days for NFTs, so it may be too soon to tell if they'll live up to their revolutionary potential. One thing is becoming more certain, however: distributed ledger technology is being utilized to reimagine a variety of industries – from finance to health to art, and everything in between.