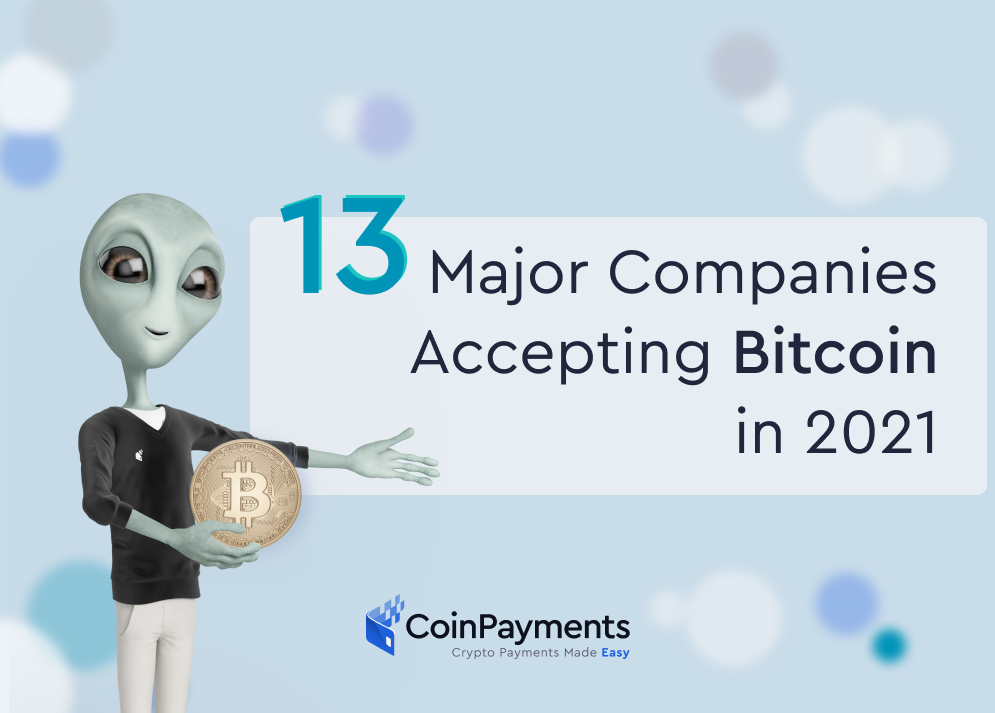 Cryptocurrency, especially Bitcoin, is one of the most hotly debated topics in business and economics. There seems to be debate over its use, production, sustainability, and veracity, along with countless other issues. Because of this, Bitcoin had an unsavoury reputation in its infancy. However, after continued debate and research, more and more people are beginning to come around to the idea of using it for payments.
Bitcoin has been around for over a decade, but it's only within the past few years that it's started to gain the world's popularity as a means of payment with major companies accepting it for their products and services. With Tesla, Microsoft, and other large tech companies accepting Bitcoin as a payment method starting in 2014, Bitcoin has turned a corner to be the most trusted cryptocurrency on the planet.
The question is, who still accepts Bitcoin as a payment method in 2021? Famously, Tesla (after first deciding to accept the payment in February 2021) pulled out of Bitcoin earlier this year due to its Bitcoin mining practices, saying they will resume accepting it once miners of the cryptocurrency can show roughly 50% clean energy. However many large companies still accept the first prince of the crypto market. This article will break down which major companies accept crypto in 2021.

AT&T
In 2019, AT&T announced that they were going to begin accepting Bitcoin. They became the first major mobile carrier to accept Bitcoin payment for monthly phone bills. As of today, AT&T is technically the largest company by volume to accept Bitcoin, and they don't accept any other cryptocurrencies.
Cyberghost
VPN service Cyberghost accepts cryptocurrency payment for purchasing subscriptions. However, Cyberghost works with third-party sellers and some may of them may have certain restrictions on crypto payments.
BMW
Some BMW retailers in the EU and the UK accept Bitcoin as a form of payment for automobiles. Although it is limited to which individual dealers are comfortable accepting the currency, BMW is still forward-thinking in accepting Bitcoin for payment. An interesting note on this topic: there are many used car dealers that also accept Bitcoin as payment for their car sales. As of today, BMW is the biggest car company to accept crypto, though many others, such as Nissan, are testing the waters.
The Home Depot
The Home Depot is the largest home improvement retailer in the US currently that began accepting Bitcoin in 2018 for their goods. They have an integrated checkout system that allows them to accept the cryptocurrency online or at their point of sale systems.
USAA
In 2016, the national banking system USAA began allowing users and clients to set up a cryptocurrency wallet and made waves as the biggest bank to recognize and accept cryptocurrencies. They still offer the service to their users.
Starbucks
While Starbucks, the coffee giant from the American Pacific Northwest, is not fully operational in the crypto world, they do have some locations that allow customers to buy their drinks with Bitcoin. They have started to test the viability of this form of payment by allowing customers to use Bitcoin to purchase gift cards on their app. This started in late 2019, and although they have not offered a timetable for a fully operational Bitcoin payment system, Starbucks could mark another big step forward in popularizing Bitcoin for everyday small purchases.
Rakuten
Rakuten has become one of the biggest online retailers of the last five years. In Japan, the eCommerce company has enabled users to exchange Bitcoin, Bitcoin Cash, and Ether for Rakuten Cash, which can be used at thousands of merchants across the country, including McDonald's and 7-11. With this feature, users also gain access to a variety of Rakuten products and services. Keep in mind that to enable crypto exchanges for Rakuten cash, customers must use Rakuten's crypto wallet.
Whole Foods
Whole Foods began accepting Bitcoin in 2019, and still continues to do so. Customers can pay for their groceries and other products using their crypto funds.
Yum! Brands Inc.
Yum! Brands is the umbrella company of recognizable brands such as KFC, Taco Bell, The Habit Burger, etc. While not every one of their subsidiaries accepts Bitcoin, they are experimenting as well. In different countries and different companies, they are testing sites for potentially accepting various types of cryptocurrencies in the near future.
Expedia
Expedia changed its policy on cryptocurrency payments in late 2020, allowing 700,000 listed accommodations–hotels, rentals, resorts, and more–to begin accepting reservations paid with cryptocurrency. Interestingly, Expedia had ditched earlier plans for accepting Bitcoin in 2018, but it looks like they had a change of heart.
Lush
A cosmetics company and Bitcoin might seem like an odd pairing but Lush was one of the first to foray into crypto–the company began accepting Bitcoin in 2017. The 28 Bitcoin payments Lush has received so far have totalled 1.5 million pounds in the U.K.

Coca-Cola
Coca-Cola's Asian subsidiary, Coca-Cola Amatil, has begun accepting Bitcoin payments for various services and products across Australia and New Zealand. For example, customers now have the option of using Bitcoin to pay for items at more than 2,000 vending machines.
NewEgg
A company well known for purchasing cryptocurrency mining hardware, NewEgg sells all types of computer hardware on every end of the spectrum. Therefore, in recognizing their popularity in the cryptocurrency community, NewEgg started accepting Bitcoin for their products.

How To Find Out Who Accepts Bitcoin Online
CoinPayments has partnered with Cryptwerk to deliver a comprehensive Cryptocurrency Store Directory, where you can find stores that accept Bitcoin and other cryptocurrencies as payment.
Bitcoin and Gift Cards
After reading about thirteen of the biggest companies that currently accept Bitcoin, there may be a question about ads you may have seen about using crypto to buy things on Amazon or Apple. Using crypto to make purchases on Amazon or Apple would require using a third-party company. The companies themselves do not accept Bitcoin, but they accept their own gift cards.
Other Cryptos and Where They Are Accepted
This article is mainly geared toward those looking for where they can use their Bitcoin to purchase goods or services, so next time they can pay for their order with crypto.
Ethereum is a popular alternative payment method and is accepted by many companies around the world. You can see the full list of available cryptocurrencies on the CoinPayments website.
Conclusion
Bitcoin has seen large increases in value over the past few years. Because of this, CoinPayments is an important tool to use when browsing the world of cryptocurrency because it conveniently allows all of the coins that you have to be in the same place.
With so many companies beginning to or already accepting Bitcoin and other cryptocurrencies, it is important to have a wallet set up in one place that can hold all of your coins and transfer and trade between them anytime, anywhere from your pocket in your mobile device.
CoinPayments has integrated with various eCommerce platforms, such as Shopify, WooCommerce, Magento, and others to give their users a plethora of shopping options. In all likelihood, with the advancement of payment processors accepting Bitcoin worldwide, Bitcoin and other cryptocurrencies may soon experience a far greater acceptance rate akin to both Visa or Mastercard in the near future.
Sources:
Why Bitcoin is Different than other Cryptocurrencies | Medium
AT&T becomes first big mobile carrier to accept Bitcoin payments | ComputerWorld.com