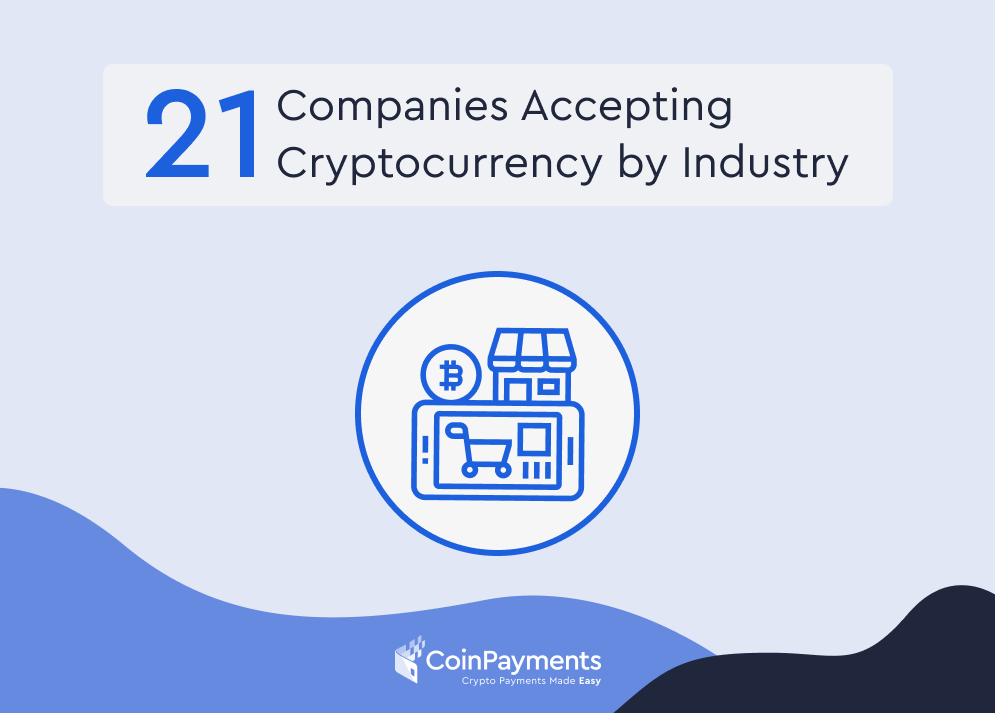 As cryptocurrencies become more mainstream, more people and businesses all over the world are using them daily. Crypto provides the consumer with efficiency and technological sophistication. Bitcoin and other cryptocurrencies have completely changed the concept of currency, catalyzing the market towards digital currencies – rather than fiat money.
Consequently, the result is that an increasing number of businesses, retailers, and merchants accepting cryptocurrency as a payment option in exchange for their goods and services. And, if the radical growth of crypto options and the voluminous growth in Bitcoin's worth are any indicators, the number of companies using crypto will compound until the businesses that refuse to enter the crypto market will suffer great damage to their profits.
So which companies have decided to enter the cryptocurrency era of digital transactions? Not surprisingly, many major companies in all different industries have decided to include cryptocurrencies as a payment option. Below are 21 companies that accept cryptocurrency payments.
Tech Companies
It makes sense that companies on the edge of advancing technology that constantly create and innovate were some of the first to accept cryptocurrencies as a form of payment.
1. Microsoft
Microsoft is the company that changed the world and continues to do so. In 2014, Microsoft began accepting cryptocurrency deposits into users' Microsoft accounts, enabling customers to spend their cryptocurrency on movies, games, apps, and other entertainment available on the Xbox and Windows stores.
2. T-Mobile
Since 2018, T-Mobile has allowed different parts of Europe to fill their prepaid phones with cryptocurrency. Their provision acts as a sort of test run to see if the company wants to include cryptocurrency payment gateways as an option in more areas around the globe.
3. Virgin Galactic
Virgin Galactic, one of the many company headings under Richard Branson's vast collection, accepts Bitcoin for their spaceflights. Most consumers can't afford the $250,000 ticket price for Virgin Galactic's commercial space flights. But Virgin Galactic is another tech company specializing in space travel promoting Bitcoin as an available payment option, and that's good news for the future of cryptocurrency transactions between major companies and individual consumers.
4. Dish
Another tech company that took the risk of accepting Bitcoin early (2014, five years after Bitcoin's invention) was Dish, the American television provider. If an American watches television, they've most likely subscribed to Dish for their services.
Fast Food
It is somewhat surprising that next on the list would be food providers. It is not just tech industries that have ventured into Bitcoin and cryptocurrency payment options. So too have food services and fast food chains. As they often cater to a younger crowd, one that is traditionally more open to technological advancements – the digitalization of currency being one such advancement – one can see the rationale for fast food and delivery places accepting crypto payments.
5. Pizza Hut
Notably, Pizza Hut began accepting Bitcoin payments in November 2020. Not only does Pizza Hut cover Bitcoin (BTC) but several cryptocurrencies: Ethereum (ETH), Dash, Litecoin (LTC), Binance Coin (BNB), Tether (USDT), DAI Stablecoin, and Cryptobuyer's token XPT. Feel free to pay for that delicious pepperoni pizza with Bitcoin next time the delivery driver pulls up.
6. KFC
Next on the list for allowing crypto payments is the famous Kentucky Fried Chicken. In a campaign in 2018, KFC Canada allowed one of their special Bitcoin Buckets to be purchased using Bitcoin. The campaign was very successful and led to an incredible amount of media exposure. Currently, KFC has no plans to incorporate Bitcoin as a payment option permanently, but their brief incursion leads to great success.
7. Subway
While there are very few Subway Sandwich stores accepting cryptocurrency as a valid payment option, a couple, including one in Buenos Aires, have entered the crypto territory. It shows a certain intuitive premonition that led one franchise owner to accept crypto payments as early as 2013.
8. Burger King
On September 3, 2019, Burger King Germany incorporated a crypto option for their mobile app and online payments through a subsidiary app that delivers. Not only do they accept Bitcoin, but Dash, Litecoin, Ethereum, and Tether as well.
Travel Companies
Given the international nature of travel, major travel companies have been seeking to incorporate a universal global currency into their payment platforms to ensure further security, cheaper transactions, and ease of use for both buyers and merchants alike. It seems like inventions like Bitcoin and the further virtualization of currencies are perfect for travel companies, airlines, and international agencies to organize and regulate individuals worldwide with different national currencies.
9. Cheap Air
For booking an airline ticket or vacation online, Cheap Air provides a cryptocurrency payment option, all since 2013. Not only do they support Bitcoin transactions but also Litecoin and Dash. However, keep in mind that cryptocurrency transactions like this cannot be refunded traditionally. Problems like these led to Expedia is no longer accepting Bitcoin as of 2018.
10. Norwegian Air
Founded in 1993 by Bjørn Kjos, Norwegian Air runs 195 aircraft flying over 500 routes all over the globe. In 2019, Norwegian Air began accepting Bitcoin payments for those living in Norway, launching their Norweigan cryptocurrency exchange platform called Norwegian Block Exchange.
Payment Platforms
As currency continues to digitize, payment providers have to catch up to provide their best services to their merchants and consumers. The pressure is on to supply the most current demands of financial transactions with a secure and fluid experience. Thus, there is little wonder why the companies listed below have decided to provide cryptocurrency options on their payment platforms.
11. PayPal
Another one of Tesla CEO Elon Musk's many hats, PayPal has provided seamless customer payment experiences since 1998. In 2021, PayPal decided to offer Bitcoin and other cryptocurrencies as a viable payment option for their platform.
12. Square
Since 2018, Square has been paving the way in novel technology for accepting Bitcoin and other cryptocurrencies on their payment platform. Square enables many businesses that would otherwise not have the means to gain an entirely new available way to pay, and therefore an increased target audience for all their products.
13. Shopify
Shopify is an online platform for e-commerce that powers businesses. They provide payment processing services and models for website transactions, as well as in-store exchanges. Now, Shopify supports transactions with over 300 different cryptocurrencies, allowing for an incredibly diverse payment network for businesses of any size.
14. Intuit
While not technically a payment platform, Intuit is the company behind the likes of TurboTax and QuickBooks. In 2014, they announced their add-on, which allows businesses to transact with Bitcoin and other cryptocurrencies.
Entertainment Companies
It is inevitable that the entertainment industry, already fluent with the language of technology, would adopt cryptocurrency as a viable option for their services.
15. Twitch
As the most comprehensive online streaming platform, Twitch hosts nearly 26.5 million people visiting daily. Last year, in 2020, Twitch began accepting Bitcoin as an available option when donating to streamers, which is a huge step forward for crypto's journey towards mainstream support and adoption.
16. BigFishGames
BigFish Games is a top-rated game design company that engineers many of the world's most-used smartphone apps and games. It is one of the first gaming companies of its sort to accept Bitcoin as a legitimate payment option.
17. MovieTickets
MovieTickets is the resulting partnership between Hollywood.com and AMC. Buying movie tickets through them means that Bitcoin is now a payment option for customers in many theaters.
Other Companies
While by no means small companies, the following list comprises a mix of companies that cannot be defined with one cohesive descriptor. Instead, they are titans of their fields, and it makes sense that they have each successfully sought to incorporate cryptocurrency payment options into their transactions.
18. The Miami Dolphins
Starting in 2019, the Miami Dolphins NFL team partnered with Litecoin to begin accepting cryptocurrencies. Litecoin is now the official cryptocurrency of the Miami Dolphins football team.
19. Lamborghini
In January 2021, Lamborghini in Newport Beach, California, began accepting Bitcoin and other cryptocurrencies as a payment method for vehicle purchases. It is a reasonable and intelligent decision for a luxury car brand to move into the crypto space. Unlike Tesla's short-lived trip into digital assets, which began in February 2021 and abruptly ended in May 2021, it looks like Lamborghini's acceptance of crypto is here to stay.
20. Wikipedia
As of 2020, Wikipedia started accepting cryptocurrency for its online donations. Their available options are Bitcoin, Bitcoin Cash, and Ether. For a website that is continually on the edge of information collection and provision, accepting Bitcoin is another major step towards the currency's popular adoption.
21. Overstock
The American online retailer Overstock also allows Bitcoin transactions on their site, making Overstock the largest online retailer that has welcomed the Bitcoin cryptocurrency with open arms. Overstock also allows other cryptocurrencies, including Bitcoin Cash, Ethereum, Litecoin, Monero, and Dash.
Wrapping It All Up
For modern business, the ubiquity of virtual transactions is quickly approaching, and the digital wallet is looking like a better investment than ever. Other large businesses and online stores like Starbucks, Whole Foods, Etsy, and Xbox Stores have taken a step in the right direction, either allowing the purchase of gift cards using crypto or allowing crypto to be exchanged for store credit, showing that the movement towards normalizing cryptocurrency is quickly moving along. It will be striking to see which of these 20 companies accepting Bitcoin and other cryptocurrency decide to follow in their predecessors' footsteps.
Sources:
More companies, including PayPal and Xbox, are accepting bitcoin and other cryptocurrencies as payment. Others are weighing up their options. | Business Insider
Cryptocurrency Exchange Payment Methods | BestBitcoinExchange.io
What You Need to Know Before Accepting Bitcoin Payments | Inc.com