Set up Your Merchant Wallet Account
As a merchant, the first step in accepting cryptocurrencies is to set up a merchant wallet account. The top merchant wallet account providers are CoinPayments.Net, Coinbase, BitPay, and CoinGate.
Unique public wallet address will be provided in a form of 26–35 alphanumeric string of characters as well as an associated QR Code for your POS System. The address allows customers to send payments to your wallet. A private key will also be provided to you to help you access your wallet anytime you wish.
It is important to understand the types of cryptocurrencies your merchant wallet account can accept. With CoinPayments.Net, they accept over 80 cryptocurrencies from all over the world, so it important for you understand the type of cryptocurrencies your wallet account accepts due to some provider only accept bitcoin. With merchant wallet account, all transactions are automatically converted to cash, so there is no downside to accepting multiple forms of cryptocurrencies.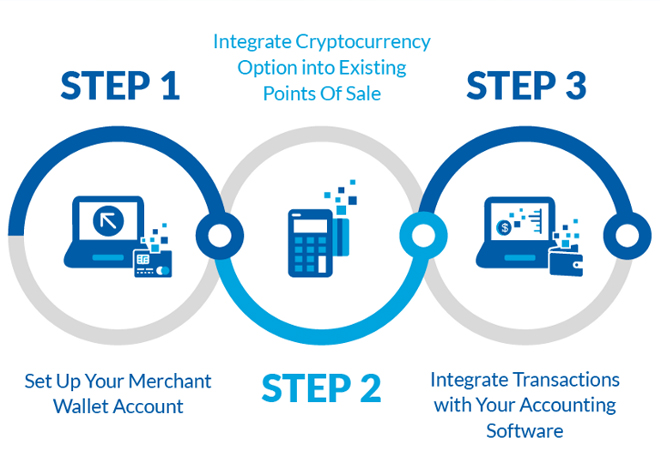 Integrate Cryptocurrency Option into Existing Points Of Sale
After setting up your merchant wallet account and receiving both public address and private key, then you can start accepting cryptocurrencies through physical POS system, an online shopping cart, and with a digital and physical invoice.
Physical POS System
Merchant wallet account will provide you with an app generated QR Code that allows your customers to scan your QR Code and send you their payments. With every transaction generated, a specific amount and a transaction ID will allow you to accept and track every payment. Smartphone and tablet are acceptable ways of using the app.
Online Shopping Cart
If your business is based on the internet, the merchant wallet account will provide a shopping cart and online payment plugins, checkout pages, APIs and much more. It is easy to add cryptocurrency as a payment option because PayPal and Stripe accept Bitcoin; however, you will still need a wallet.
Digital & Physical Invoices
Accepting cryptocurrency can be done through digital and physical invoices. For physical invoices, you can include your QR Code or wallet address on your invoice in the same section as your bank account and other payment information. The customers have the choice to either use their smartphones to send payments or manually type in your address online.
For the digital invoices, you will need to create a live link with your wallet address that will allow your customers to click on it and send payments directly to your wallet.
With invoicing, you might have to quote your prices at the time you send your invoices due to your business being exposed to the market fluctuations.
Integrate Transactions with Your Accounting Software
When accepting cryptocurrencies as a form of customer payment, you must integrate/import and track your cryptocurrency transaction using your accounting software. QuickBooks and Xero are some of the leading accounting software you can use. However, your merchant wallet typically provides documentation on how to manually import your transactions if you do not have an integrated accounting software.