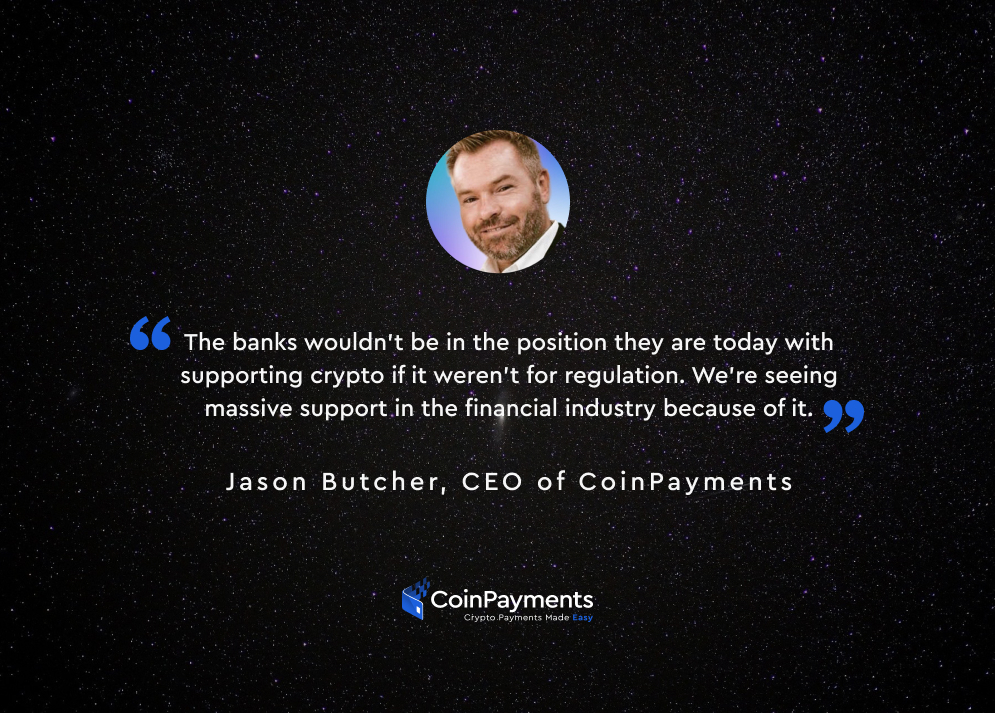 The pandemic has accelerated us into the digital life of Zoom meetings, video calls, and virtual conferences.
One such conference is the 7th Annual Fintech & Financing Conference (#FFCON21), an event that went live on May 11 that aimed at highlighting interesting developments in the financial industry. This year's event hosted a discussion on the growing popularity of cryptocurrencies and CoinPayments' CEO Jason Butcher shared some interesting insights on a panel entitled "Mainstream Adoption of Digital Currencies and Investing in Alternative Assets."
Eric Richmond, COO at CoinSquare, led the discussion, which also included Ryan Wang, Founding Partner, Outpost Capital, and Alice Davidson, VP and General Council at Mogo.
Here's a snippet of their discussion:
Is mass adoption closer than we think?
Despite cryptocurrencies sweeping headlines as of late and more capital entering the space, there is still more that needs to happen before mass adoption is reached.
"I think that mass adoption will come when we are able to use crypto as a currency… as more people accept it as a form of payment," noted Mogo's Davidson.
However, mass adoption may not be as far away as most think.
"Different markets react to adoption slightly differently," said Butcher. "We're seeing mass adoption because it's in the news, but we're also seeing support from regulators and more process efficiencies."
What's more, businesses and institutions are growingly embracing cryptocurrencies. With bitcoin being the best performing asset class in the last two years, institutions were quick to look to the leading crypto and alternative coins to offset any economic burden caused by the pandemic.
"There are 50 companies that have cryptocurrency on their balance sheets, holding about 1.3 million bitcoin, which would be about US$70 billion," said Mogo's Davidson. "You have companies like Tesla, Square, Mass Mutual, banks, and traditional Wall Street institutions seeing crypto as an asset class, which is helping to fuel adoption at the consumer level."
When it comes to venture capital, Outpost Capital's Wang shared a different perspective: "Adoption is not easy to happen."
"The tech has to mature enough, the infrastructure has to be in place, and people's access and understanding need to be ready. I think we are at a new chapter, but it is something that is going to take time."
Future Trends for Crypto
The trend should be towards the recognition that cryptocurrencies are here to stay.
"Cryptocurrency has been demystified," said Davidson. She believes there will be a continuing trend toward consumer awareness and understanding. "People have easy access to legitimate, safe and secure crypto trading platforms or can invest in an index or ETF."
When it comes to payments, the trend looks positive, according to Butcher.
"We've seen a dramatic shift into stablecoins," he said. "I think over the next five years, we're going to see more Central Bank Digital Currencies (CBDC's), national bank currencies, and more digital currencies that are crypto-based, which will mean more adoption from a transactional standpoint."
Outpost Capital's Wang said he believes the utility value of crypto will be further developed.
"DeFi and non-financial features could leverage the security of tokens. The recent activity is good for gaming, social media, content creation, influencer network, and the intersection between crypto and Artificial Intelligence (AI)," he said.
What's going on in the world of crypto regulation?
The panelists agreed that regulatory clarity is coming.
"For the first time, the VC Security Commission clearly defined the separation between commodity, security, and currency," said Butcher. "They are getting a firmer hold of how to regulate, and it will help organizations understand where they stand. The banks wouldn't be in the position they are today with supporting crypto if it weren't for regulation. We're seeing massive support in the financial industry because of it."
To Davidson, the move towards regulation in the crypto space represents a convergence between what is known and what is new.
"Regulation sends a strong message to the industry that you've got to do things the right way, and I think, in turn, it will increase consumer confidence and accelerate adoption," she said.
According to Wang, regulation is a positive for innovation. "People are trying to navigate the gray area. Clear guidelines are definitely necessary for the industry to grow further and to encourage mass-market adoption."
Ready to start your journey with crypto?
You can contribute to the adoption trend and stay relevant in your marketplace by adding cryptocurrency as a payment method to your established forms of acceptance.
Your CoinPayments business account is just a few minutes away. With no setup or monthly fees, and simple activation, CoinPayments makes it easy to accept crypto online and in-store. Take advantage of auto-convert features to avoid market volatility and choose settlement options that work best for your business.
Be ahead of the rising crypto adoption tide by offering cryptocurrency in your business today.