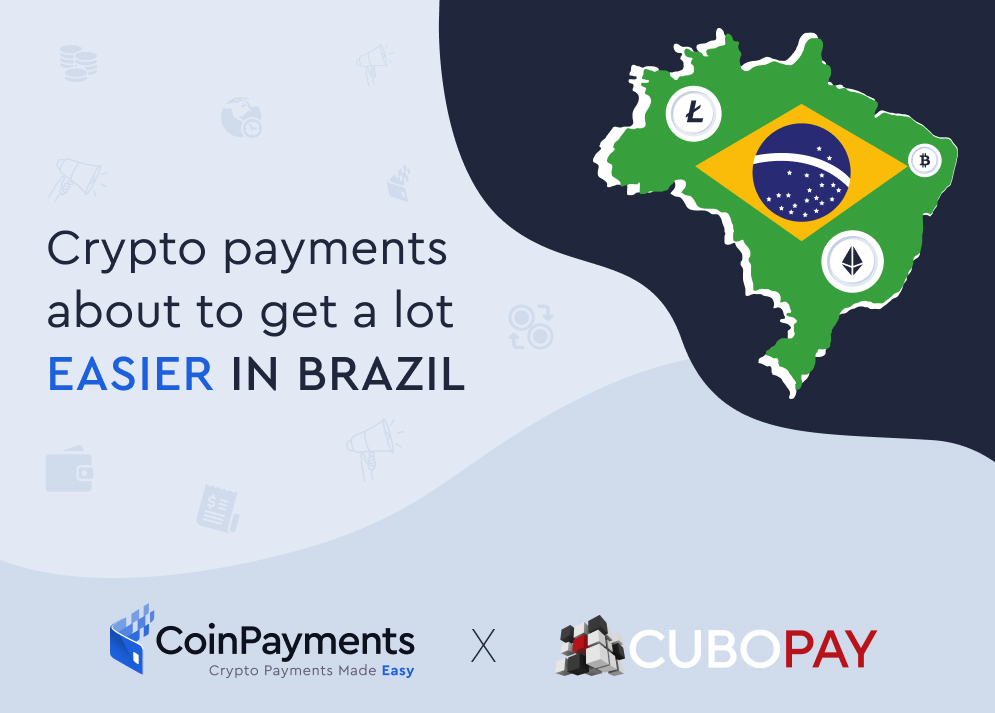 Even as the crypto market frenzy seems to be teetering off, the latest numbers reveal that widespread adoption remains on an upward trend. Notably, as data consultancy firm GlobalData demonstrated, the acceptance of cryptocurrencies by large companies worldwide increased by 200% during the first half of the year.
Brazil is one country that has shown special interest in cryptocurrencies and the adoption of their underlying technology. In fact, the market for digital currencies in the country brings together more investors than the Sao Paulo Stock Exchange. In 2019, this market had a transaction volume of over $8 billion Brazilian reais (approximately USD $2 billion).
With CoinPayments and Brazilian fintech company CuboPay joining forces, more merchants can accept crypto payments and provide customers with the freedom to choose their preferred payment method. As for eCommerce merchants, there are many benefits associated with accepting crypto payments – the main one being the elimination of fraudulent chargebacks. All transactions are final, letting retailers have the final say on whether to refund a consumer.
Furthermore, due to blockchain's anonymity, customer payment information remains confidential. Accepting cryptocurrency payments means clients can grow their customer base and market size, including any potential customers without credit cards and bank accounts.
As the world-leading crypto payment gateway, CoinPayments is active in more than 180 countries and processes over $650 million in crypto payments every month.
When it comes to finding the right payment platform, reliability should be a key criterion. Both merchants and consumers want to feel safe when conducting any transaction, stressing the need for payment processing software to be failure-proof. That's where CuboPay comes in as a dynamic payments platform in Brazil that provides fast, simple, and low-cost ways to pay and get paid internationally.
Meet CuboPay: a local payment solution with global benefits
CuboPay offers an array of services to meet merchants' distinct business needs. Their international payment network facilitates rapid payments, so that business owners can maximize their earnings and minimize fees. In this way, CuboPay enables companies to reach their full potential in high-growth markets by transacting locally with minimal operational exposure and maximum reach.
Blockchain provides trust; this has opened countless opportunities for new business models based on a 'trustless' system. Blockchain is the future and CuboPay has the expertise to help clients design, develop, and deploy their innovative blockchain ideas.
CuboPay is a payments technology and gateway company focused on developing a payment ecosystem in Brazil, increasing financial access to underserved and underbanked communities. The fintech firm delivers value to customers across industries through their integrated solution approach for process standardization, simplification, and optimization.
At CuboPay, the goal is to provide the most innovative technology services related to the financial industry. Today, as the world gets increasingly connected and business gets more competitive, companies are looking for a way to find their product market fit efficiently. CuboPay's vision is to be part of a new and evolving corporate and technological world, creating innovative solutions for its clients. For more information, you can write them at merchant@cubopay.net