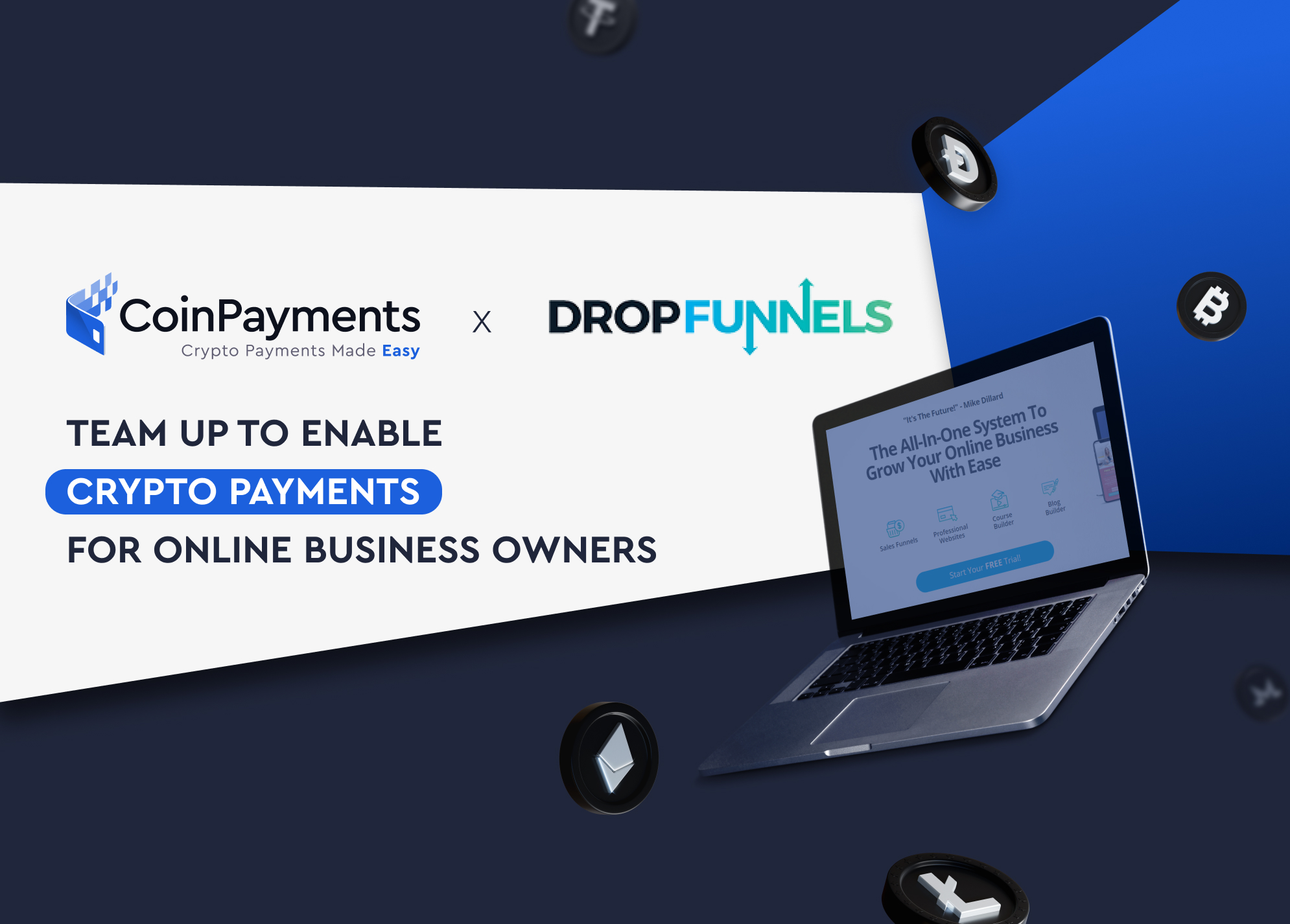 2021 is behind us and with it a long list of important events that helped the cryptocurrency ecosystem grow exponentially. But, cryptocurrency adoption continues its growth path, this time within the marketing industry.
At CoinPayments, we are delighted to announce our partnership with the all-in-one marketing solution for online businesses, DropFunnels. From December 2021, users of the platform can receive cryptocurrencies as a form of payment for their digital goods and services.
Let's learn more about what DropFunnels is and why it is an industry standard in the field.
Meet DropFunnels: the ultimate tool to grow any online business
DropFunnels is a marketing solution designed by Jordan Medirich, a world-class affiliate marketer and funnel builder. After working for some time with funnel builders, he realized the issues they faced and decided to build his own solution. That's how DropFunnels came to life.
In his words, DropFunnels is an all-in-one marketing system where you can build:
Split testing sales funnels.
Professional websites.
Online courses.
Fast loading pages.
Link trackers.
Blog platforms.
Membership subscriptions.
Unlimited landing pages
Autoresponder Integrations.
DropFunnels is a fantastic option for beginners just entering the world of online business, but also for start-ups, bloggers, online shops, and entrepreneurs.
It's quicker, faster, and cheaper than other similar solutions, and now it can boast that it is the only sales funnel builder that accepts crypto as a form of payment.
DropFunnels moves first on the crypto payments option
The DropFunnels team is aware of the long-term potential of cryptocurrencies. They also knew that crypto is becoming an increasingly used payment method among businesses and individuals.
So, they decided to integrate early to become the first platform of its kind to enable crypto payments to users.
Thanks to the partnership with CoinPayments, DropFunnels members now have many competitive advantages.
Benefits of the integration with CoinPayments
Increase brand awareness. Crypto payments are booming. More and more companies are joining this trend, boosting their visibility, and getting brand exposure just for accepting cryptocurrencies.
Reach more customers. Digital currencies are global so new customers from all around the world will be able to purchase their products and services.
Minimize fees. While accepting payments with credit or debit cards adds a 2%-4% surcharge, accepting crypto payments through CoinPayments only adds 0.5%. A significant boost to your bottom line.
Faster transactions. Unlike traditional payment systems, with cryptocurrencies, you will not have unwanted delays. They operate 24 hours a day, including weekends, holidays, and working days after 5 pm.
Prevent "friendly fraud". Cryptocurrencies are based on blockchain technology: an immutable ledger. That means that every payment made with crypto is secure and non-reversible, a feature that will help your business avoid chargebacks.
Increase income. Just as adding new payment methods opens up new revenue streams, accepting cryptocurrencies as a payment method also adds a new source of income for the business.
Competitive advantage. Using DropFunnels gives its users a big edge over its competitors, but accepting crypto with CoinPayments takes the advantage even further.
Multi-crypto acceptance. Some crypto payment gateways just allow you to accept Bitcoin or a few more coins. With CoinPayments, you can choose what to accept from over 120 cryptocurrencies.
Easy integration. Accepting crypto payments with CoinPayments is now easier than ever. In fact, you can do so by following the simple steps in this CoinPayments integration guide.
Accept crypto payments in your sales funnel today with CoinPayments
If you are planning to create a professional funnel that generates leads, or an optimized blog to rank in Google – DropFunnels is one of the best marketing tools for your business. Plus, since its integration with CoinPayments, we can say that it is the first solution of its kind.
Now, all DropFunnels users can accept crypto payments for their products and services in over 120 cryptocurrencies, with everything set up quickly and easily, following the CoinPayments integration guide linked above.
Do you want to accept crypto payments in your business today? You can do it in just a few minutes. Get started by visiting coinpayments.net and signing up for a free Business account now.