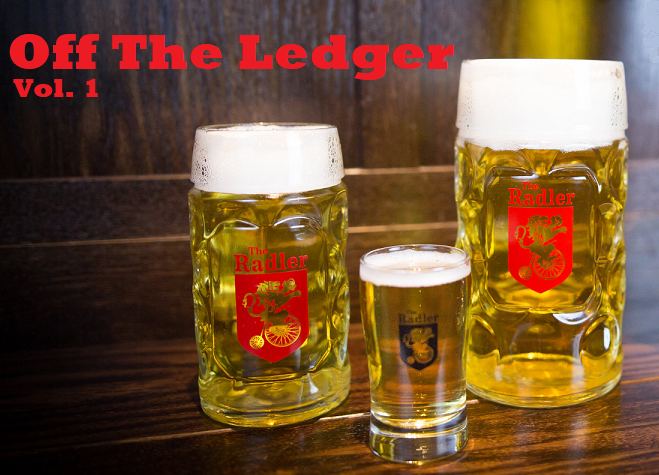 Welcome to the first issue of Off The Ledger with Andrew Brough, Marketing Coordinator for CoinPayments. Off The Ledger is a blog series where I interview longstanding CoinPayments customers from all over the world during my travels*. From corporate heavyweights to small business owners, e-commerce gurus to mom n' pop shops, this section of our blog is dedicated to understanding the needs of the most important part of CoinPayments… our customers.
Recently, I was in Chicago, Illinois for Loyalty Live 2018, a conferenced focused on the relationship between blockchain and loyalty programs around the world. I took this opportunity to speak with local restaurant owner Adam Hebert, who owns and operates a Bavarian-inspired pub/restaurant called Das Radler.
A staple of the historic Logan Square neighbourhood in North-East Chicago, Das Radler is the brainchild of a man who has spent his entire working career in food service and hospitality. His resume includes restaurants like Two Michelin Stared Corton and celebrity owned Tribeca Grill in New York, Piccolo Sogno and Vie in Chicago, The Grand Hotel in Waterford Ireland, Fresh Tracks Chalet in Chamonix France and countless others.
Here is his take on food, crypto and the future of payment solutions for restaurant owners:
Andrew: Thank you so much to taking time out of your busy schedule to speak with me today, why don't you start by introducing yourself.
Adam: Sure! My name is Adam Hebert, I am the owner of Das Radler in Chicago, located in the Logan Square neighbourhood of the city. We have been in business for about 5 years now. I personally have been in the restaurant industry my whole working life, starting out as a dishwasher at 14 years old, working my way up to chef, eventually transitioning to management for Myriad Restaurant Group in New York before opening my own place here in Chicago, which is a German-style beer hall.
Andrew: What are your experiences with crypto currencies and how did you stumble upon CoinPayments?
Adam: Well, my initial entry into crypto currencies was out of curiosity. I took interest in the potential of a global currency.  I became more interested as I saw a potential to receive electronic payments almost instantly. That is compared to the credit card processing time of 1-2 business days before funds hit the account. Make the transaction on a weekend or a holiday (FYI: that's most of our transaction) and the time frame can stretch as long as 5 days before we receive the business receives the payment funds. I have also done a decent amount of traveling and I can say first hand that the costs associated with converting from one country's currency to another certainly add up, even if the currency you happen to be converting to is worth less than the original.
Andrew: So more so geared towards speed of available funds and globalization of currencies?
Adam: Exactly. I believe that this doesn't just affect the business that transact globally, but also affects the business that only transact locally. If you want true globalization, you need to have the active participation of small communities that will create that use-case scenario for large scale adoption. It cannot just be the big players, such as large multi-national companies. It needs to be every brick and mortar, every retailer, every online shop… we need everyone's participation.
Andrew: Agreed. So how did you conclude that crypto currencies would be a possible solution to this issue?
Adam: The more that I read about crypto currencies, the more videos I watched… basically the content I was consuming started to make a strong case for their real-life applications. Other areas of inspiration came when I started trading a little bit, researching more into certain coins that interested me, asking myself "how we as a business can accept them", what their purposes are and what's really driving their value. The concept reminded me of credit cards, where there will be many players in the market. For us its about determining the ease of converting funds, asking the question "Can I go from one to another quickly, efficiently and inexpensively?" Honestly, that already exists with crypto. The next step is to figure out how to get people to use it. Most of the people I follow on Twitter, or blogs that I read pertaining to crypto, what I have realized is that a lot of people in the cryptocurrency industry are not in the industry of person to person communication, or growth at that level.
Andrew: Yeah, they built the framework for P2P transactions to exist, but at the same time it feels as if they have removed some of the human interaction elements from it.
Adam: Absolutely, and that in itself is the most important aspect for adoption. If cryptocurrencies are going to do what I hope they do, it's going to require help from individuals who are able to garner those P2P relationships and help move those consumers in the right direction. After a little more than a year in the crypto space, I am at the point now where I am asking myself "Where do I fit into all of this and how can I help get other into this ecosystem?", if you will. Some people are into development others into speculation and trading, but I think its time for some focus on usability and mass adoption.  I think that's where I can help most.
Andrew: What are some of the current issues you see with accepting cryptocurrencies as a physical storefront?
Adam: Looking for actions on how we accept the payment is number 1. If we are going to use it, it needs to be easy to do. Currently, the only way it will be able to work is if I, myself, am here to receive it. This is because we don't have a way for employees to safely access the payment platform without having access to everything.  It would be nice to see separate employee logins. This would also allow us to monitor employee productivity. There are also some serious user experience breakdowns in the whole system at this time. Integration with current POS systems is a necessity!
Andrew: How do you believe the gap will be bridged?
Adam: This is the link that I think is missing; it has absolutely nothing to do with the understanding of something. If everyone in this country understood our dollar, no one would want to use it. They don't care. Nobody wants to care. They just want to believe in and trust in something, and that's it. All that must be done is build trust in the system and make that system easy enough to use. Ideally eliminate barriers for use.  If I create an account on CoinPayments for example, it will take the same amount of time as it will for me to create an account for my online banking. The difference between the two is that it is more complicated and time-consuming to put the money into that digital wallet versus a bank account, or at the least it's perceived to be by the majority of the population. In addition, how do I use my money if I don't have internet or a phone? I think multiple forms of relay will be required in the long term.
Andrew: You mentioned earlier that in order for people to use crypto as a source of payment, it need to be made simple. Same could be said for how servers accept those payments as well.
Adam: Without question. It is the primary reason I reached out to your team. I noticed over the last 8 months that while other payment processors are falling short, CoinPayments is making strides where others are not. I believe we are close to finding that common ground where we will be able to accept crypto as payment. Here is the issue:
I have a P.O.S. (Point-Of-Sale) system that was built and designed for a restaurant. Super easy to use. To move outside of that system that is already in place, creates challenges for us as a business. An easy example is the delivery app that we use, which comes with its own P.O.S. including a monitor. We only receive around 5 to 6 orders a night on the monitor, so it can be forgotten from time to time. Whereas the system we have is small, fits in your pocket and all of our staff is on it all the time. That is one transference: "How often is it being used?" "Do people forget how to use it?"
The answer will come in the form of creating an integration with these long-standing P.O.S terminals, instead of having to rely on multiple P.O.S. systems that will just create more confusion.
Andrew: Well Adam, I cannot thank you enough to giving us your insights both in the crypto world but also the payment processing world.
Adam: It was my pleasure. I love what you guys are doing and look forward to seeing what you guys have in store for the future.
Das Radler is located at 2375 North Milwaukee Avenue in Chicago, Illinois.
Visit https://www.dasradler.com/story/ to learn their story.
*For interview inquiries, please email marketing@coinpayments.net