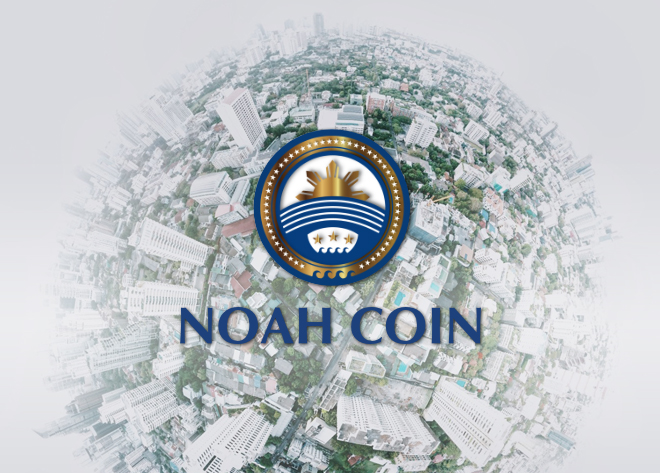 Noah Coin (NOAH): Building a Borderless New World
NOAH COIN QUICK STATS
| | |
| --- | --- |
| TYPE: | ERC20 Token |
| CREATION DATE: | October, 2017 |
| DEVELOPMENT STAGE: | Full Release |
| CURRENT SUPPLY: | 32,687,957,978 |
| TOTAL SUPPLY: | 91,584,000,000 |
| ALGORITHM: | ERC20 |
| PROOF TYPE: | ERC20 Token |
| BLOCK TARGET: | N/A |
Noah Coin (NOAH) is a virtual currency network that primarily focuses on enhancing the Japan-Philippines exchange market and trade. Its overall goal is to bridge the gap between Filipino and Japanese citizens, businesses and travelers, by using blockchain-supported apps for Remittance, and B2C and B2B payments.
The NOAHCOIN will be introduced in Japan in 2018 in an Initial Coin Offering (ICO) and will be used as a digital utility token for several projects in the Philippines including a mixed-use resort in Mindanao.
The humanitarian goals of this project have helped create a large and thriving community of user and evangelists. CoinPayments is pleased to support this worthy cause by completing the integration to support Noah Coin (NOAH) payment processing for businesses and individuals.
How it Works?
The Noah Platform aims to use major cryptocurrencies, along with its own token called Noah Coin (NOAH), as a way for its users and members to participate in exclusive projects in the Philippines spearheaded by the Noah Foundation.
In early 2016, the Noah Project successfully completed its first token pre-sale stage from Japanese contributors, offering a discounted sale price to preferred early token buyers. Shortly after, it completed its second stage of token pre-sale with the announcement of the Noah City project in the Philippines. In these two stages, it raised a total of US$110 Million.
The next stages of the Project will now start with the improvement of the cryptocurrency platform and ecosystem, as well as more exciting projects and opportunities for its members and users.
Following the success of the first two stages of the project, Noah has begun development of its cryptocurrency platforms for cross-border remittances, business payments, and its own cryptocurrency wallet for its users and customer base.
This development will allow all users to use its own cryptocurrency platform designed with the project in mind. Users will be able to store, transfer, and trade cryptocurrencies and NOAHCOIN tokens within the Noah Ecosystem as well as in all its upcoming development projects.
Why choose NOAHCOIN?
The Noah Platform was built to address specific challenges faced in the Phillipines. These challenges include, but are not limited to:
Underdeveloped payments infrastructure
Only 3% credit card penetration
More than 70% unbanked
Cost to send money to the Philippines is between 6% to 10%
Inefficient online banking system
The Noah platform will allow for frictionless transfers, fast settlement, and special promotions for its users and members. The NOAH tokens are issued to conduct payments inside the ecosystem of core projects, the ecosystem is committed to offering lucrative prices in NOAH to lure customers to pay in tokens, subsequently creating demand for NOAH.
Help further the payments, settlement and development infrastructure of the Phillipines by supporting this worthy cause and start accepting Noah Coin (NOAH) payments in your business today!
FURTHER INFORMATION ABOUT NOAH COIN
Noah Coin Website  |  Noah Coin Block Explorer  |  Noah Coin on BitcoinTalk