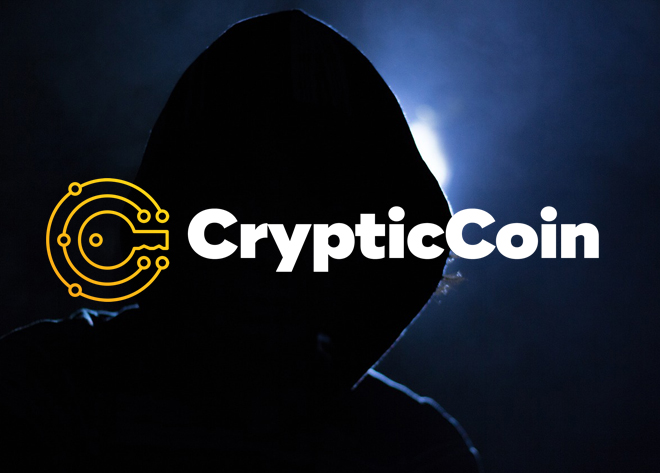 CrypticCoin (CRYP): Enhanced Privacy and Anonymity
CRYPTICCOIN QUICK STATS
| | |
| --- | --- |
| TYPE: | Currency |
| CREATION DATE: | April, 2018 |
| DEVELOPMENT STAGE: | Full Release |
| CURRENT SUPPLY: | 4,235,111,504 |
| TOTAL SUPPLY: | 7,600,000,000 |
| ALGORITHM: | Equihash |
| PROOF TYPE: | PoW |
| BLOCK TARGET: | 30 seconds |
CoinPayments is happy announce the integration of CrypticCoin into our platform, providing merchants with the ability to start accepting it for payments via any of the pre-built plugins and integrations. Adding CrypticCoin (CRYP) payment processing support on the CoinPayments platform allows users another option for transacting in a privacy focused coin.
As per the company's non-technical whitepaper: "CrypticCoin gives our users the ability to choose, compare and eventually use the confidentiality mechanism that best suits them. CrypticCoin is a coin designed for the discretion of users by offering them the appropriate tools."
How Does it Work?
CrypticCoin was built by combining several technologies into the creation of one coin. The coin was built with a mix of an enriched version of the ZeroCash Protocol (zk-SNARK systems protocol) and a hybrid version of Verge (Stealth Addressing Technologies). It is a decentralized, open source cryptocurrency which aims to connect best practices regarding the privacy and anonymity of its users. Since a typical crypto transaction can be seen by all on the blockchain, and through the analysis of metadata the user's anonymity could potentially be compromised, CrypticCoin aims to build robust processes to eliminate the leveraging of metadata to discover user identities.
Users have the option of making private or public transactions. Public transactions are recorded on the public ledger in an unchanged form, while private transactions are made using a one-time public key which is generated by a special algorithm. Such transactions are not traceable on the public ledger and cannot be uniquely mapped to another transaction. This means there is not way for someone to analyze the activity of another network member using the public ledger.
Why Choose Cryptic Coin?
For users of crypto who enjoy the benefits of a global payment network and low payments fees, but still have concerns about security and their online privacy being protected, CrypticCoin has addressed them through their development of this high security cryptocurrency, allowing:
The choice of type of transaction you want to make (private vs. public)
Use of Hybrid Sealth Addressing, and
Use of IP Obfuscation to eliminate information trails
There are plenty of ways for the security-conscious crypto user to enhance their online identity protection in the cryptocurrency ecosystem using CrypticCoin. Get more involved in the community and learn more about the privacy focused features by starting to accept CrypticCoin (CRYP) payments in your store today!
FURTHER INFORMATION ABOUT CRYPTICCOIN
CrypticCoin Website  |  CrypticCoin Block Explorer  |  CrypticCoin on BitcoinTalk